Nothing is more rewarding than welcoming friends and family into your home and making their stay as comfortable and enjoyable as possible. 
With a little thought and some clever interior design choices, you can ensure that your guests arrive and leave feeling relaxed and well looked after in your guest bedroom.
What should a guest bedroom have in it? 
Fundamentally, your guest room should contain the following elements to ensure it's a comfortable and welcoming space for your guests:
A comfortable bed with fresh bed linen 
Storage options for your guests to store their belongings
Adequate lighting including bedside lamps for reading
A mirror to allow your guests to get ready and check their appearance 
Privacy from onlookers via window shutters or blinds
Special touch
20 Guest Bedroom Decorating Ideas
A soft, cosy colour scheme
A soft, neutral colour scheme will ensure your guests feel relaxed, calm and comfortable in their own space. 
Keep the wall and ceilings neutral with warm tones of beige and cream, and accessories with tonal shades to retain the serenity.
Credit: Instagram - @danicamaewhite
An inviting bed
A comfy, inviting bed can make all the difference to a pleasant stopover. 
Ensure your guests receive a good night's sleep with a good-quality mattress, plush pillows, clean bed linen and a season-appropriate duvet or cover. Make your guests' sleep space even more enticing with scatter cushions and a warm, cosy bed throw.
Credit: Instagram - @mylittlehome.xo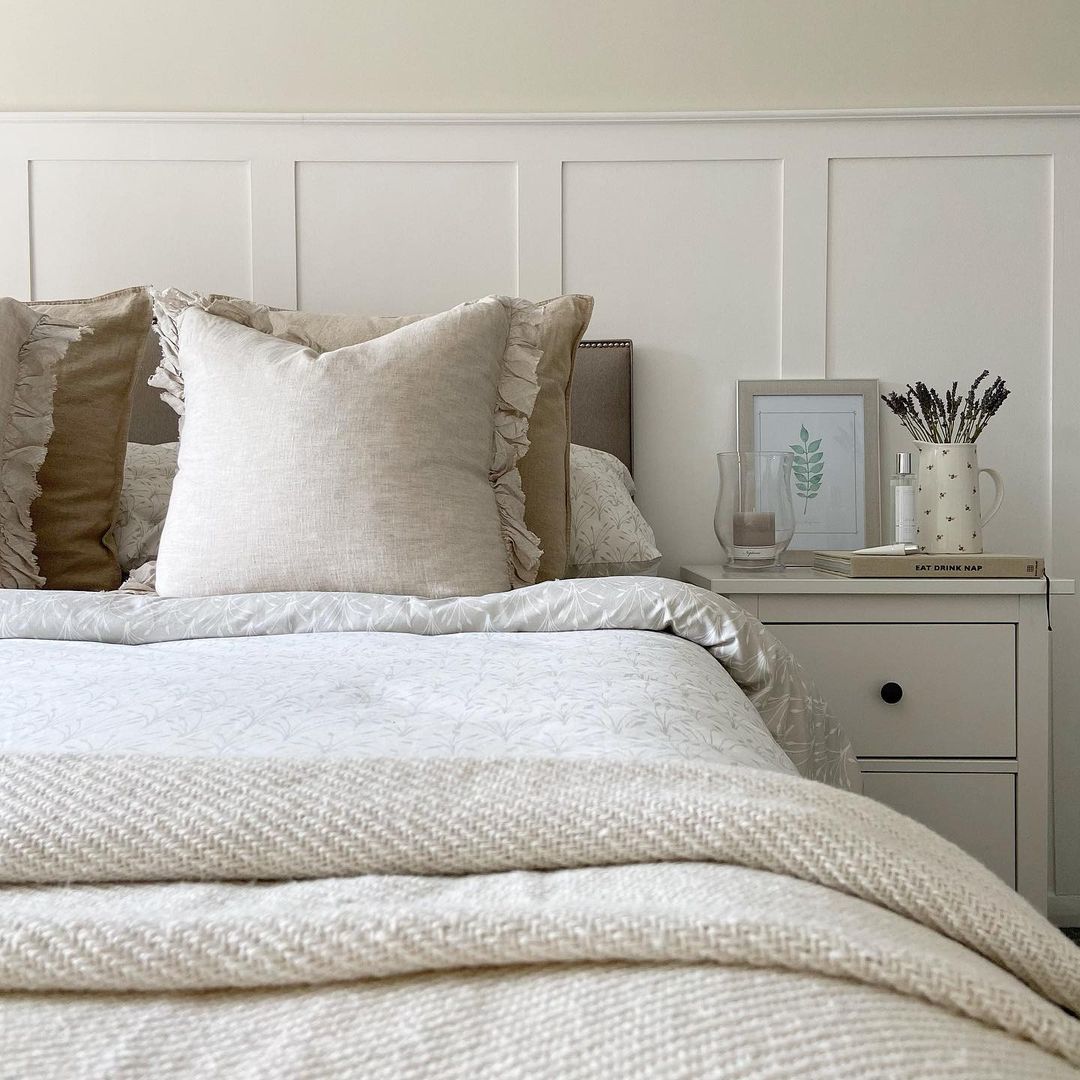 Floral vibes
Florals offer a friendly and familiar feature so your visitors can feel at home away from home. 
Subtle florals on bed linen and accessories can help to inject some colour and charm into the space while adding a vase of freshly cut flowers next to the bed is sure to make your friends feel extra-special.
Credit: Instagram - @thegreyhousestories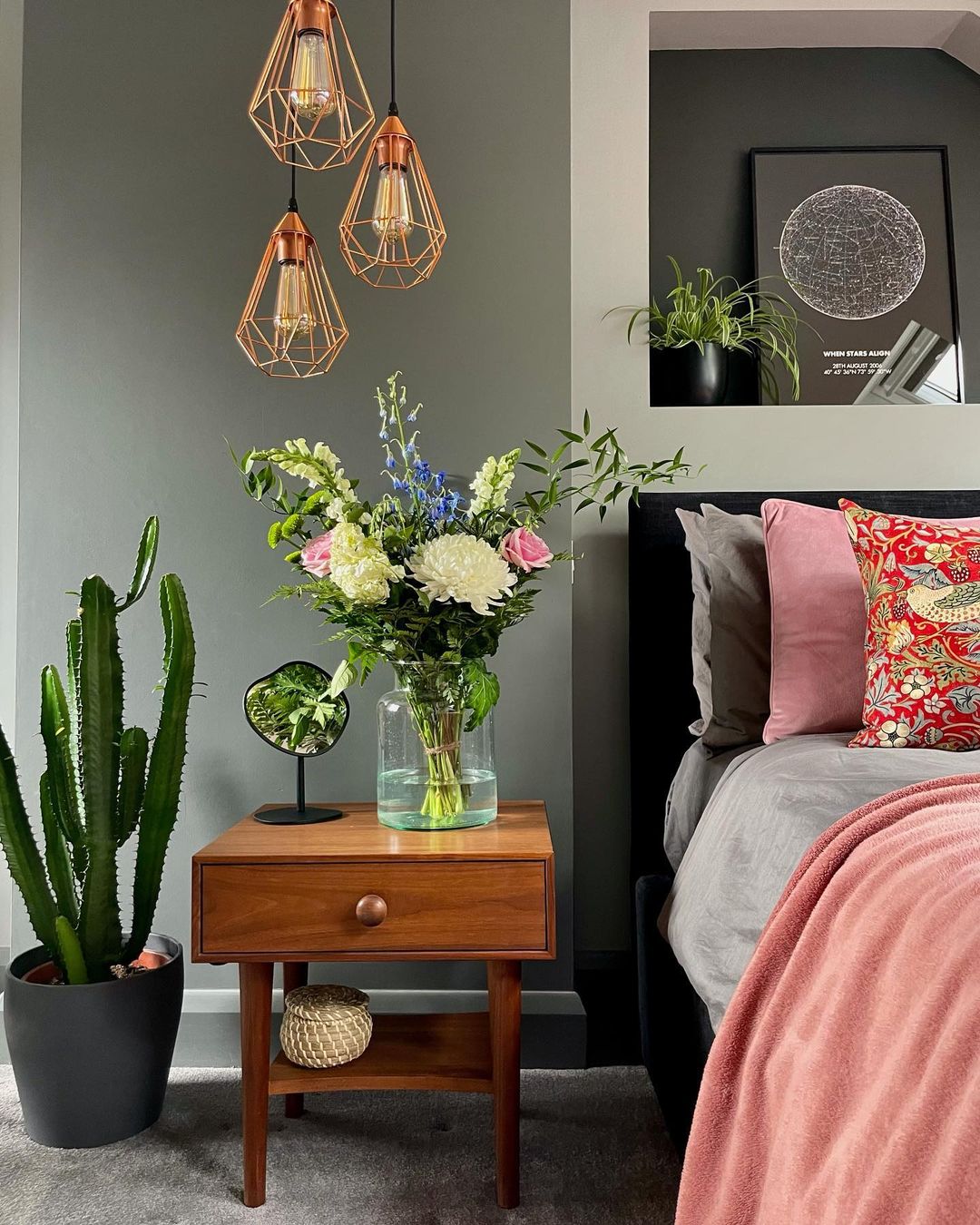 Pops of colour
Add pleasant pops of colour to an otherwise neutral guest bedroom theme with the use of scatter cushions and soft blankets on the bed. 
Burnt orange and blush pinks are warming shades that offer depth to the space, as well as a beautiful, romantic charm. 
Credit: Instagram - @styleatno5
Blissful blues
Blue is an ideal colour for a guest bedroom because of its soothing and serene qualities. 
Create a calming backdrop with blue wall paint, and accessorise with pale greys and pinks for a feminine and friendly feel. 
Credit: Instagram - @sarah_dreamofhome
A comfy place to sit
If space is available, offer guests an alternative place to sit other than their bed, such as a comfy armchair or beanbag. 
If space is limited, consider a daybed, which doubles up as a cosy reading space to chill during the day and a bed for the night.  
Credit: Instagram - @nicatnumberfive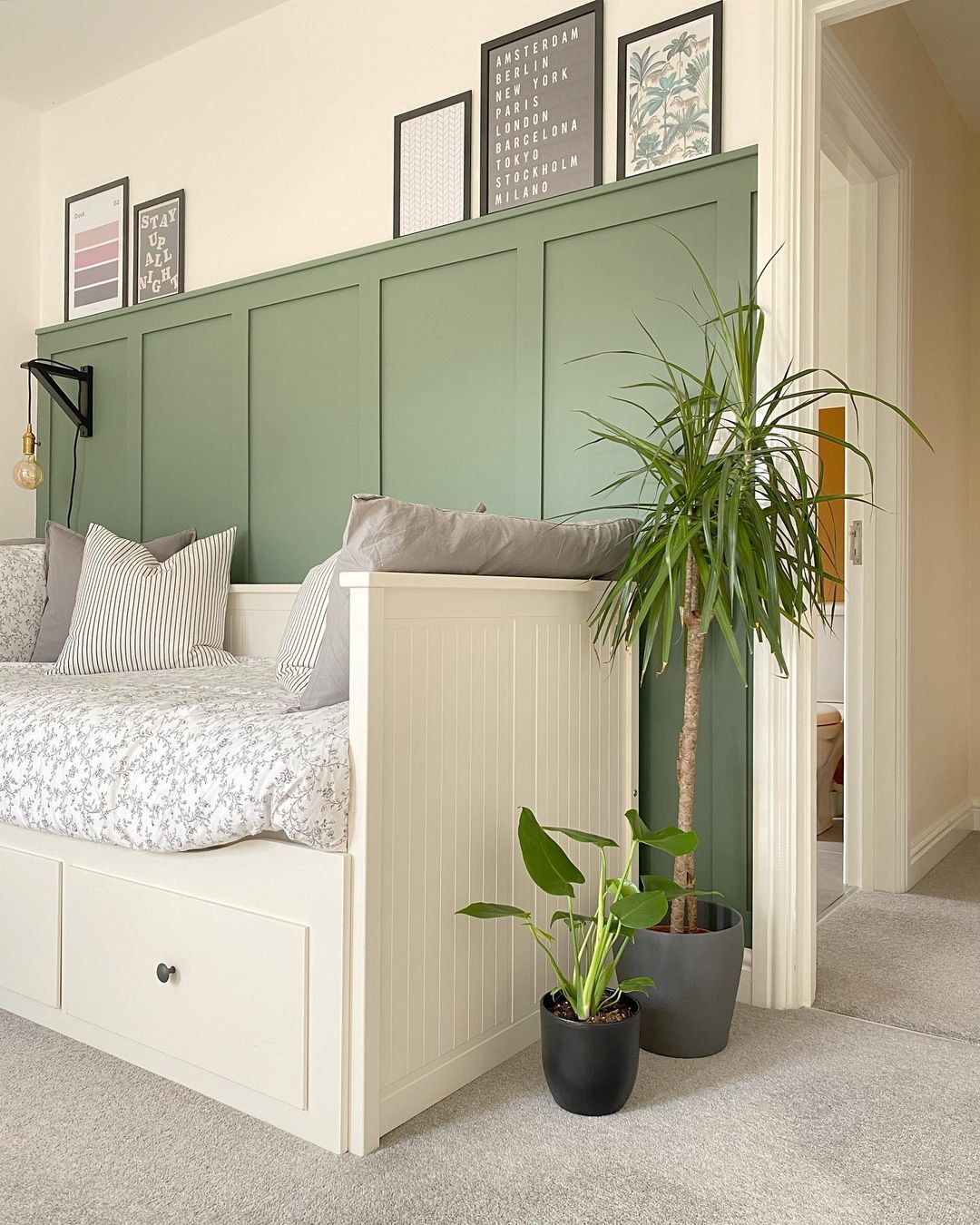 A great spot to read
Many of us enjoy reading a few pages of a good book before we drift off to sleep. 
Therefore, ensure that your guest bedroom features ample bedside lighting within easy reach for your guests as well as a place for them to pop down their book when it's time to turn off the lights.
Credit: Instagram - @13durstonhouse
A statement headboard
A statement headboard in your guest room will not only add visual interest to your space, but according to the principles of Feng Shui, it will also provide a well-structured energy and an added layer of stability inside your bedroom space. 
Keep things soft and friendly with a curved headboard shape rather than one that is angular or sharp - in Feng Shui terms, pointy-edged materials on a bed act like a 'cutting chi' also coined as the poison arrows!
Credit: Instagram - @our_yorkshire_acacia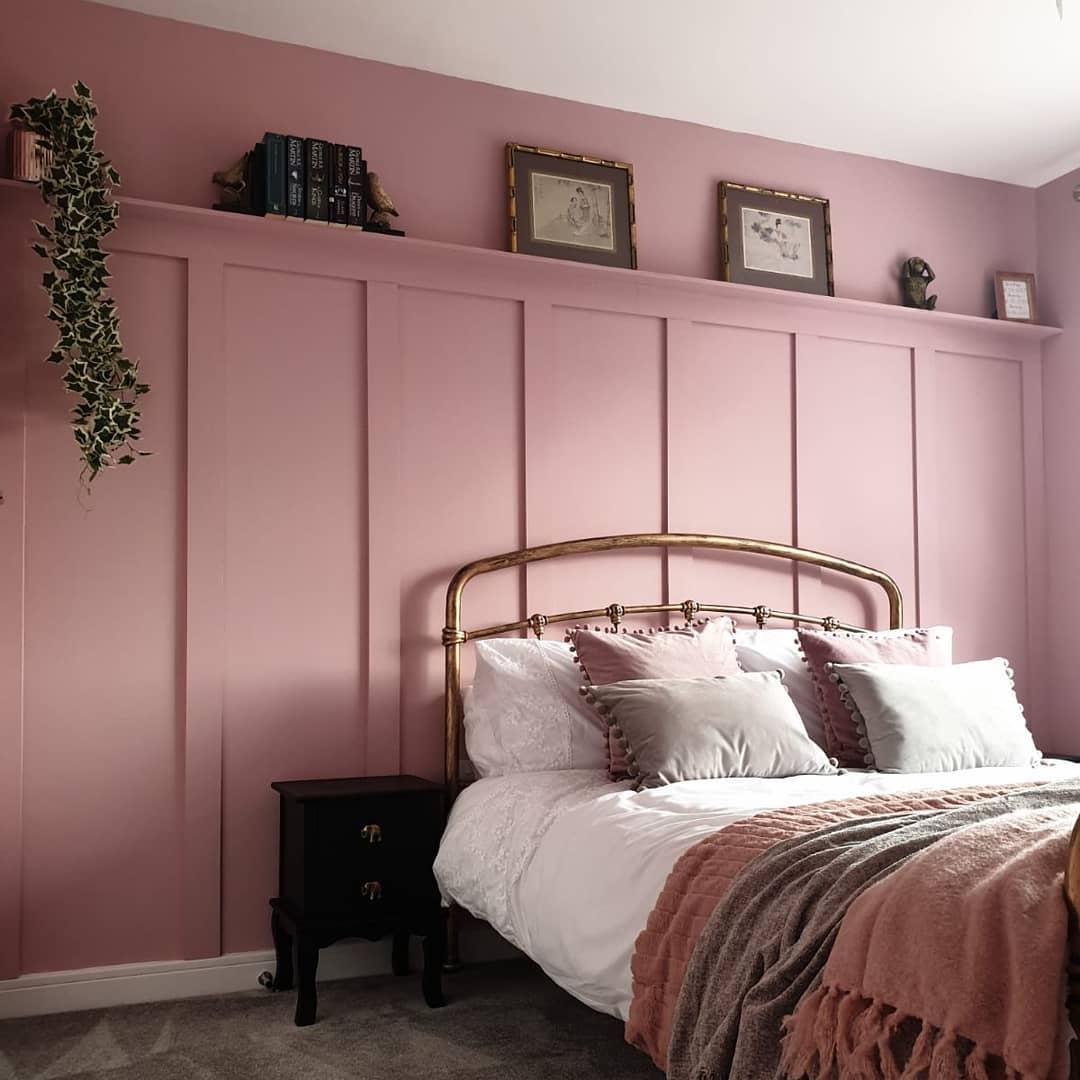 Mirror image
Offer your guests access to a full-length mirror so that they have somewhere to check out their appearance before heading out of the room. 
The mirror will also help to add the illusion of more space in a smaller guest room, especially if positioned opposite a window with incoming natural light.
Credit: Instagram - @rosedale_1939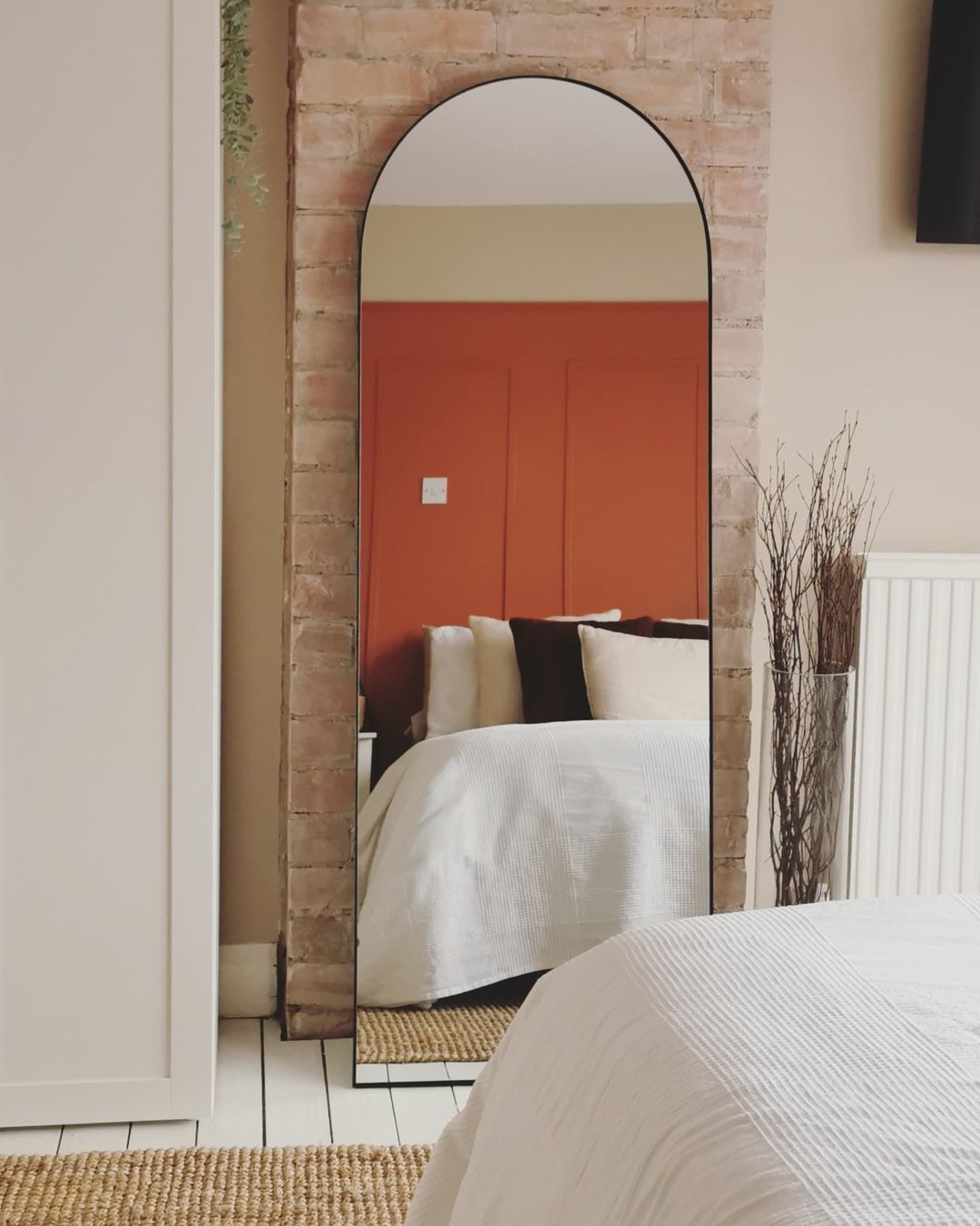 Textured layers
Add texture and depth to your guest room with cosy rugs under the bed as well as piles of blankets and throws that they can layer as much as needed.
Give texture to walls and ceilings with beading or panelling as well as adding coving and skirting boards.
Essential privacy
Privacy is important in a guest bedroom when you want your friends to feel safe and secure in their own temporary environment.
Use curtains or blinds to give guests privacy from bedroom windows and consider safety latches or internal door locks in case your guests want a little more undisturbed time to themselves.
Luxury hotel essentials
We all love those extra-special treats we receive when checking into a lovely hotel room. 
From a spare toothbrush and a mini hand lotion to a jar of freshly-cut flowers by the bed, there are many ways to welcome your guests and give them a hotel-like experience at home. Also, remember to leave the WiFi passcode handy for them to log in as they wish!
Quirky touches
Personal touches can make all the difference to a beautiful guest room. 
From quirky sculptures to interesting artworks, choose a few key pieces to display around the room on shelves and bedside tables to add visual interest.
Credit: @stangoes_by_the_sea
Bedside table manner
Select a great bedside table for your guest room that is both functional and stylish. 
The size of your bedside table should be proportionate to your bed with enough space to ideally accommodate a lamp, a book and a glass of water. Storage drawers or shelves are ideal for keeping other guest bedroom essentials out of the way.
Credit: @beatie.at.home 
Chic panelling
Painted wall panelling creates a chic back frame for your bed headboard, as well as incorporating more texture into the overall space. 
Decorating the panelling in a slightly darker shade to your walls and ceilings will make it more of a focal piece, as well as adding warmth and depth.
Credit: @lovedbyleannehome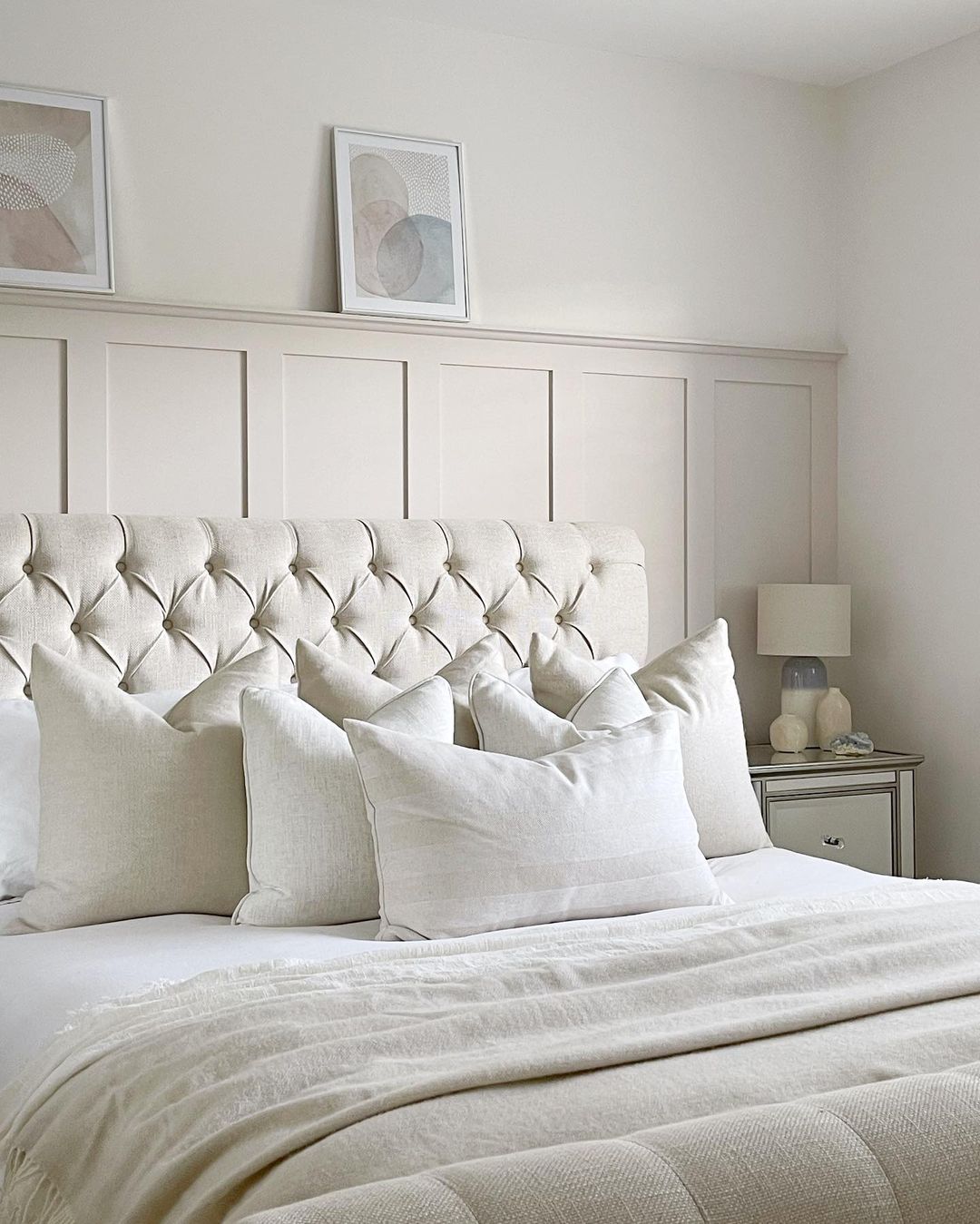 Fireplace Dreams
If your guest room is lucky enough to feature a fireplace - working or not - then make a real statement of it using colour and accessories. 
This stunning black fireplace is a stark contrast to the powder pink walls, making it a real eye-catching focal piece to display candles and floral displays.
Credit: @homeatheathfield 
Tray service
When your guests arrive, why not leave a small tray close to their bed with a nice drink and some homemade treats? 
They will be sure to feel valued and welcome if they arrive with a delicious plate of flapjack or freshly baked brownies and a cup of tea! Be sure to also add a water jug and glass to the tray to make sure they stay hydrated during their stay.
Stimulating the senses
Your guest room shouldn't just look lovely and relaxing, but it should also stimulate your guests' other senses too. 
An aromatherapy diffuser will ensure the room smells amazing and fresh, while some quiet music played via a Bluetooth speaker will add a calming experience. Ensure that the room is also set to the right temperature so that it's not too hot or cold in the space.
Clever storage
A guest room is quite often a dumping ground for last season's clothes or washing waiting to be ironed. Therefore, clever storage is essential to ensure that all your things are out of the way when guests arrive, and also so your friends have a place to store their clothes and belongings while they are with you. 
Built-in wardrobes, ottomans and chests of drawers are all great storage options, but if you are short on space then consider under-bed storage solutions or over-the-door organisers to store shoes and accessories.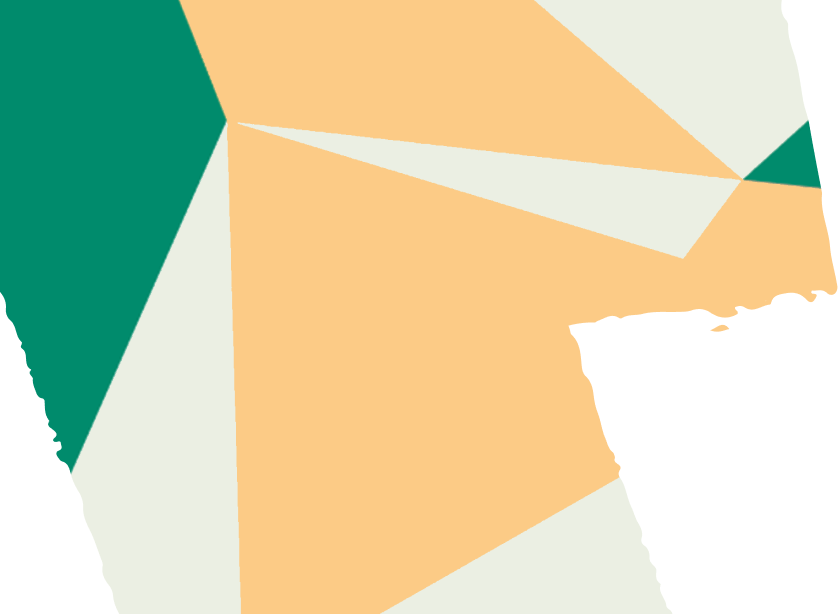 Colour match your guest bedroom with Valspar
Our Valspar Colour Match paint allows you to decorate your guest room with a shade that is completely personal to you. 
Found a gorgeous guest room shade on your travels? Simply take a photo of it and upload it online using our colour-match tool.