WHAT THE TRADE IS SAYING ABOUT VALSPAR TRADE
We love to hear why the trade is switching to Valspar Trade, so we've dedicated a whole section to your reviews.
Take a look at our latest submissions below – and if you're interested in contributing your own review, get in touch.
Wayne Armstrong / WGA Decor – Wakefield
Before the trial, I wasn't really aware that Valspar even had a trade version of its paint. I recently tried the Valspar Trade Matt in 'Moonshot' on a staircase and was pleasantly surprised by the quality. It was very easy and smooth to apply, in fact I felt like it spread more evenly and went further than my normal matt paint. When I needed to touch up after a couple of marks, it blended in perfectly.
Overall, the finish was excellent, and I was very impressed. I'll definitely be using the Valspar Trade range of paint again on high-quality jobs in the future.
Zoe McVaigh - Imagine Wall, Stockport
One of the main reasons Zoe loves Valspar Trade paint is its durability. "I've been back to clients where I've used Valspar Trade, maybe years later and the rooms that I've done still look really crisp and really clean, like they were just done last week."  For more reasons why Zoe chooses Valspar Trade, watch our video.
Emma Gilyead – Leeds
Before trialling Valspar Trade paint, my perception of the brand was that many professionals didn't class it as a 'trade' paint but more of a DIY product for consumers.
For the trial, I used the Valspar Trade Tough Matt and had it colour matched to the existing hall, landing and stair carpet, which was a lovely stone-grey colour. The paint was really nice to apply, very thick and creamy. It had excellent opacity, to the extent that I would imagine you could get away with just one coat in certain circumstances. I found it very smooth to roller with really good coverage. As a comparison, I used 15 litres last time I painted this same hall, landing and stairs, whereas this time I used 10 litres.
I was really happy with the final result and finish and have already recommended Valspar Trade to my clients. Clients love being able to choose their paints from B&Q, so now I tell them to get Valspar Trade colour matched.
Nick Torrano-Harling, NTH Decorating, Leeds
Nick has been using Valspar Trade for a number of years and is particularly impressed by the 'no splatter'.  "With Valspar Trade you don't even really need to sheet up, you get no splatter at all.  I like the ease of use, it applies really well and I think it actually speeds up my work too."  For more on what Nick has to say about Valspar Trade, watch our video.
Robin Gofton - Wokingham Decorating Services
"Valspar Trade Knot Block is like nothing I've ever used. To perform as well as it does, and still be so quick and easy to use is a masterpiece in my honest opinion. I can't wait to start seeing the feedback from other decorators."  Read more of Robin's review here: https://www.thedecoratorsforum.com/valspar-trade-knot-block-review/
Ian Crampsie
"One benefit of using Valspar Trade Tough Matt over its competitors is you can touch this paint up and everything blends! I'm not sure whether that has something to do with the sheen level, or just the way this paint sits on itself, but it's a real bonus. I can't think of any other durable matt in the same price bracket which touches up."  Ian' full review here: https://www.thedecoratorsforum.com/valspar-trade-tough-matt-review/
"I would say that Valspar Trade Vinyl Matt is a decent product – neither the best nor the worst that I've used. And in a way that's what surprised me; because my first impression was that it looked different to what I was expecting, I was expecting it to perform differently too, either in a positive or negative way, and in the end, it was neither, just a good vinyl matt."  More on Ian's review here: https://www.thedecoratorsforum.com/valspar-trade-vinyl-matt-review/
Jacksonheim Property Group
For its portfolio or ultra-luxurious serviced apartments in Manchester City Centre JacksonHeim Property Group uses Valspar Trade, for the "durability, longevity and quality of the products".  They tell us more in this video.
GARETH ALLEN / GJA PAINTING & DECORATING – FLINTSHIRE
I recently trialed Valspar Trade's Matt Emulsion in Cornwall Blue in my bathroom at home. 
In terms of application, it was really easy and with no overspray. I was particularly impressed with the level of coverage achieved and the fact that it only takes one hour to dry is an added bonus. 
The trial has definitely changed my perception of Valspar Trade and I'll be looking to use their products again in the future.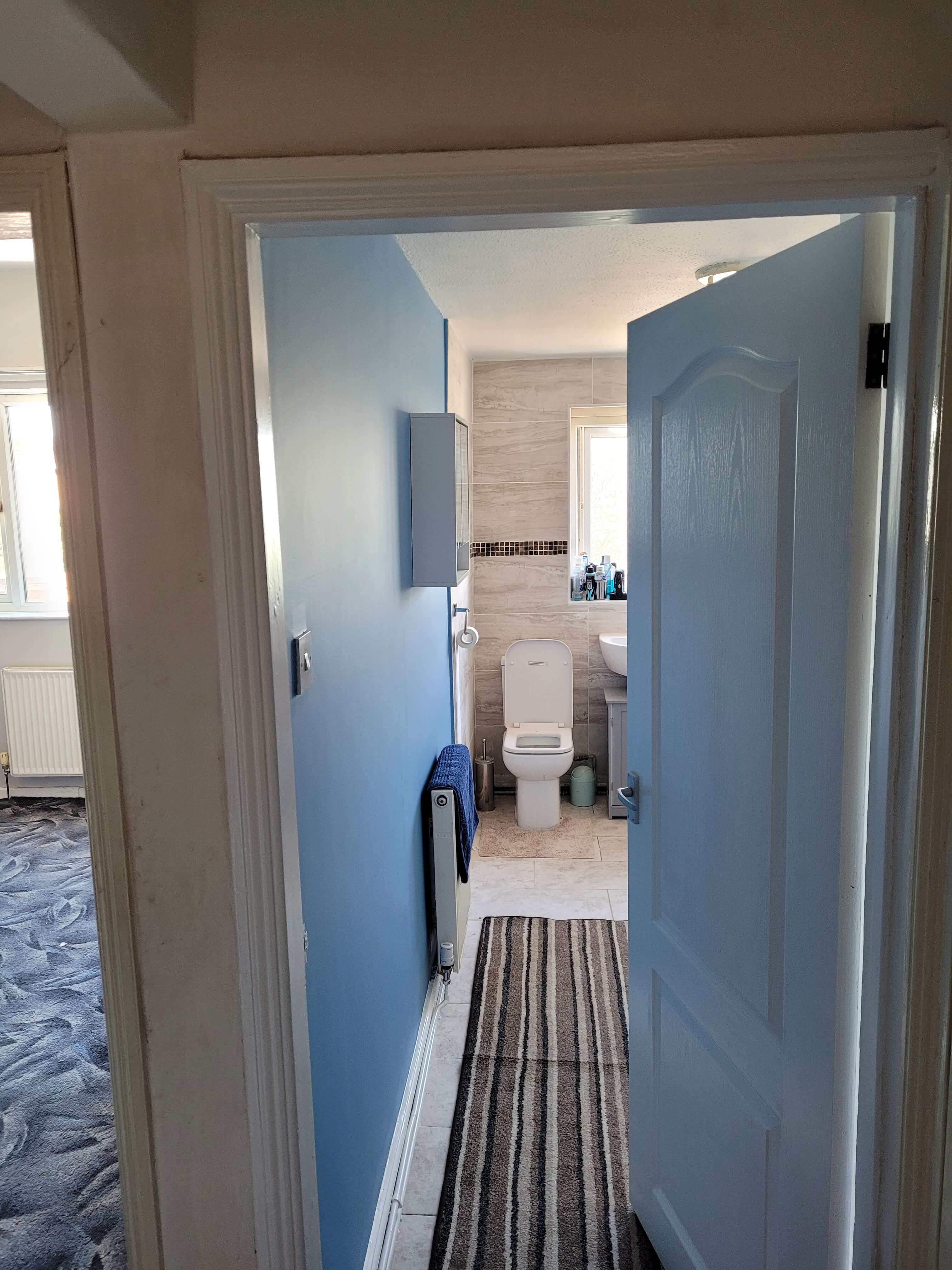 WAYNE CLARKSON / FIELD VIEW JOINERY – NOTTINGHAMSHIRE
Before the free trial, I didn't have a great perception of Valspar Trade, primarily due to having had negative results in the past. 
The paint I chose to trial was Valspar Trade Matt White and Matt Magnolia (the standard colours on our jobs), as well as the Primer & Undercoat in White, with a finish coat in Eggshell White for all gloss work. On application of the paint, I really was pleasantly surprised at how good it was. The finished results were fantastic – even better than the other trade paints I've used. 
Since taking part in the free trial, we've finished a second refurbishment job and have another booked in and all the paint has been Valspar Trade. It's a shame that it took a free trial for me to realise that it's as good, or even better, than the trade paints I normally use – I'd have been using it long ago if I'd have known. It was honestly an eye-opener. 
I now buy Valspar Trade; the coverage is truly exceptional and it's even saving me money. I look forward to continuing to use the paint products within my company going forwards.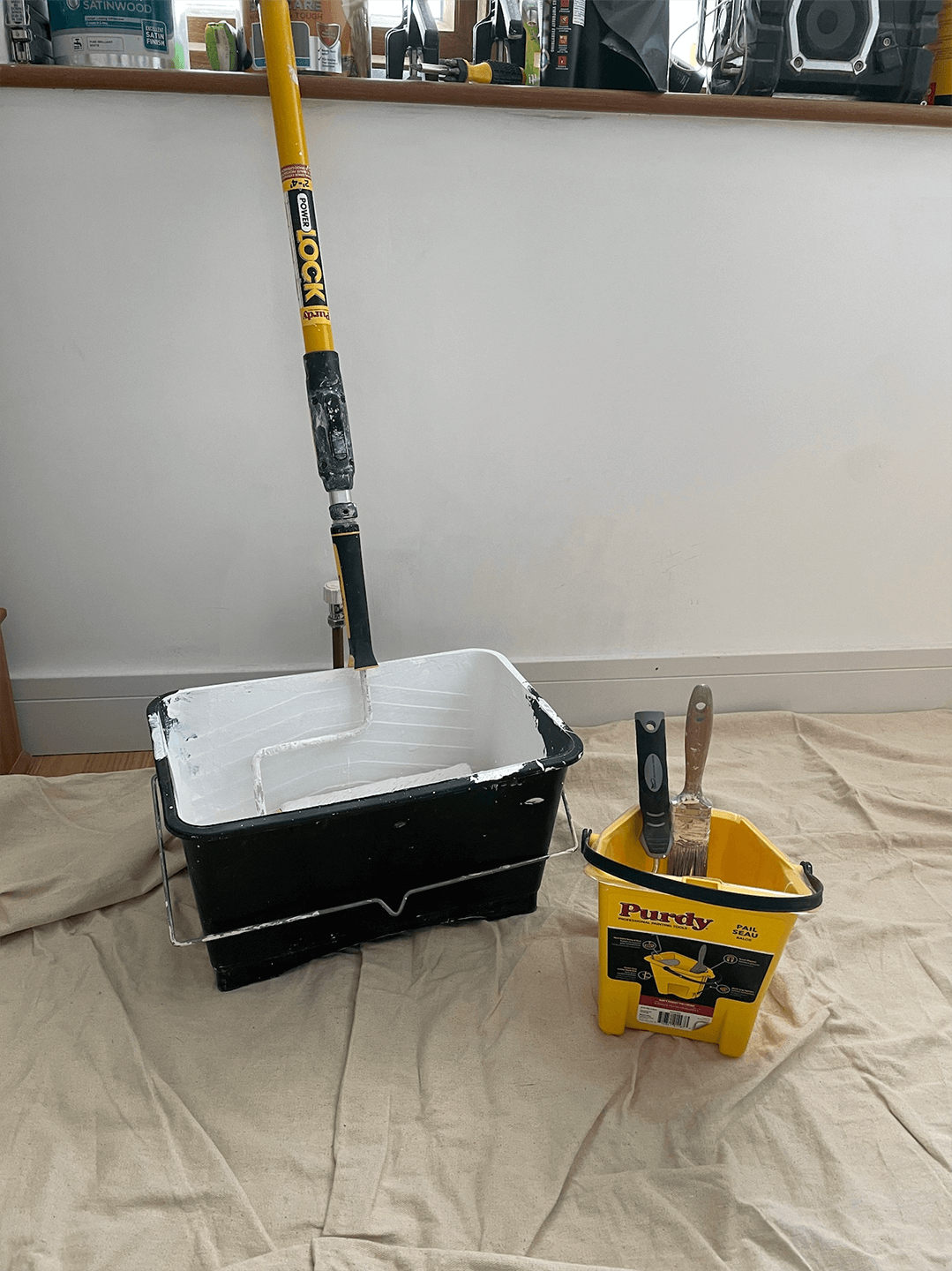 JASON WHITEHEAD / JASON WHITEHEAD PAINTER & DECORATOR – SOMERSET
Before the trial, my perception of Valspar Trade admittedly wasn't great, largely due to the stories within the trade of past issues, so this had made me avoid the brand. However, having now trialled the Valspar Trade Matt Emulsion on a recent decorating job (lounge and conference centre), I have to say that this has now definitely changed my opinion. 
The Matt Emulsion was really nice to apply and the finish was outstanding, great flow with no flashing or grinning when dried. I will definitely consider using Valspar Trade paint again in the future.
DANIEL REYNOLDS / DAN'S DECORATING SERVICE – DERBYSHIRE
I recently trialled Valspar Trade Matt paint on a stairs, hallway and landing job. We had the colour mixed to Dulux Nutmeg White and it was a spot-on match. The paint went on really easily, especially in the tropical heat that we were having at the time. While there were a few niggles with the paint, overall I thought the finish was good.
Moving forwards and I will definitely consider using Valspar Trade as a back-up to my usual supplier, as they do come in at a better price. While I generally tend to avoid Trade paints, Valspar Trade is the best trade paint that I have used up to now.
GAVIN BAKER / GAVIN BAKER SERVICES - LITTLEHAMPTON
Valspar Trade is my go-to for all projects, unless the customer supplies a different product for me to use.
I'm especially a fan of the Valspar Trade Tough Matt, which I use all the time for everything from walls to ceilings. It's a dream to use as it flows nicely off the brush, provides great coverage, and goes a mile! Additionally, when it dries it has a lovely matt finish and is very hard wearing, which my customers really appreciate.
I also use the Masonry Smooth and Direct to Wood and Metal paints from Valspar Trade's exterior range, which I've found to perform similarly as Tough Matt.
The Primer and Undercoat with knot blocking is another product I've used a few times, and which performs well. I think it's perfect to use on bare wood, but I use it as an adhesion primer on top of old gloss woodwork, before applying the topcoat.
Overall, I've used a variety of Valspar Trade's products and they've always provided positive results for me, as well as being good value for the money. The local reps are also great, providing help and advice on solutions. They're great people to have on speed dial! It is for these reasons that I go back to Valspar Trade time and time again.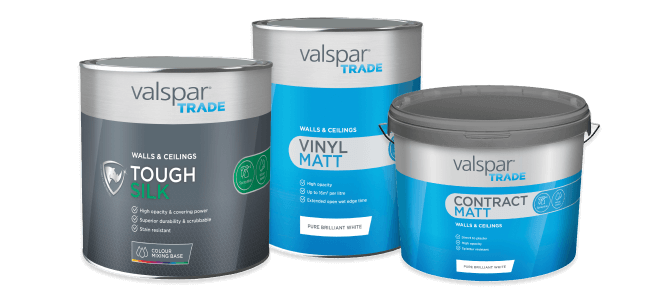 GET 20% OFF ALL VALSPAR TRADE PRODUCTS
Shop in-store or online.
Offer available until 21st December.
*TradePoint members only. Tradecard required upon purchase. See trade-point.co.uk for details.
Shop now