Best Colours For Sleep
Hear from our experts and create a cosy cocoon of dark tones to mimic twilight and relax your brain ready for bed.

The Colour Effect: The best calming colours for sleep
We've all been there. Too hot, too cold, too fidgety, too uncomfortable. You lie awake at night conscious that you're not asleep, often making the problem worse.
Our bedrooms should be a sanctuary, and difficulty sleeping is the last thing you want. But did you know that calming colours can help settle your brain for bedtime and put it in sleep mode?
What is sleep trouble?
40% of adults will experience sleep issues at some point in their lifetime.
A minor sleep issue can turn into a disturbance within three months. If that disturbance continues for another three months, it can grow into a sleep disorder. So, it's vital to act soon when early symptoms appear before it turns into chronic insomnia and requires specialist treatment.
There are several factors that can affect how you sleep at night, including:
Exposure to blue light (like phones or laptops)
Excessive alcohol or caffeine
Stress
Poor sleep hygiene (habits that promote a good night's sleep) and a bedroom you can't switch off in can both trouble your sleep.
While counting sheep is one way to help, there are also colours that can help you sleep too. We've partnered with sleep experts and colour psychologists to create a colour palette that turns your bedroom into an oasis.
"
We spend a third of our lives in bed, but all too often, we overlook the importance of what a bedroom actually means in getting great sleep. It's a place away from the distractions of life and a place to go for peace, quiet and to be ourselves – we often have a great emotional attachment to our bedrooms." - Lisa Artis, Deputy CEO, The Sleep Charity
 Calming colours for your bedroom
Here are some inspiring sleep colours to give you inspiration for your bedroom décor: 
The sea is natural calming and soothing, so what better colourway to have in your bedroom than this beautiful sea green shade. 
With the warming tones of a finely baked tart, Crushed Nutmeg is a nurturing shade that is sure to fill your sleep with delicious dreams. 
Just as the name suggests, this shade is one associated with kindness and joy. It can be paired with paler, tonal shades of soft pink for a beautiful, feminine, and peaceful bedroom backdrop.
Not quite cream, not quite pink, Pink Alabaster is a really flexible and adaptable colour that works well as a backdrop for many bedroom interior styles. It offers a silky, mellow space to relax and meditate in. 
Blue is another soothing colour that can be mentally calming and stimulate clear thought. This shade of blue has warm red tones to give a perfectly balanced and rounded shade, which is ideal for a bedroom feature wall or bed backdrop. 
Warm and welcoming, it's easy to imagine snuggling up in your cosy bed surrounded by this rich and enveloping colour shade. 
Pink is a colour often associated with fun and happiness, and this shade certainly nurtures both of these emotions. That said, it's a very muted and mellow shade of pink that is simultaneously very calming and tender making it a perfect tone for a peaceful bedroom setting. 
For those of you who feel relaxed and comforted by darker shades, this is a captivating shade of blue that conjures up all sorts of dreamlike fairy-tale images. Just like an enchanting ocean beneath a glistening night sky, it's a wonderful colour to help you drift off into a magical slumber. 
How to use this calming palette
You want your bedroom to feel like a cosy cocoon, and a great way to do this is by painting the ceiling and the walls in the same colour so you can really envelope yourself in the shade for maximum effect. Whether you use two different tones of the same colour or one block colour, continuous colour is both soothing and calming.
Alternatively, by pairing a colour with another, more neutral shade, you can create a balance of light and dark into your bedroom space. This bedroom décor option works especially well in larger bedrooms with more space to cover and when you have the luxury of lots of natural daylight.
"
Colour is uniquely placed to prepare our subconscious for rest and sleep. Nestling within warm-based mid-tones allows us to let go, helping us feel more relaxed and grounded. When we choose a softly indulgent shade from the colour family that we love, we can create a deeply connected private space." Justine Fox, Applied Colour Psychologist, Calzada Fox
Tips for a creating a calming bedroom
Building good habits and a routine before bed goes a long way to restful sleep…
First, make sure your bedroom is free from noise and distractions. Keep your laundry, phone, and other stress-inducing elements (like laptops and to-do lists) out of the room.
Create a space that you want to spend time in. Buy bedding that you love and choose lamps and finishing touches that contribute to a chilled-out atmosphere.
Create a bedtime routine. Before going to bed, read, meditate, or relax away from screens to get you in the mindset for sleep.
Combine these behaviours with a calming colour scheme, and you'll have a bedroom designed for a great night's sleep.
Already found your perfect sleep colour? Find out more about our instore colour matching to see how we can help you create your ultimate shade.
About the experts
Lisa Artis, Deputy CEO, The Sleep Charity
Lisa has worked in the realm of sleep for more than 10 years. A qualified children's sleep practitioner and experienced sleep advisor, Lisa is responsible for the strategic and operational aspects of the charity. She is pivotal to the charity's campaigning around the importance of sleep to health and wellbeing, as well as advocating sleep on the Public Health agenda.
Lisa is a member of the British Sleep Society and sits on several steering groups around sleep. She has a keen interest around adult sleep, workplace wellbeing and the link between sleep and mental health with qualifications in Mental Health Awareness and Children's Mental Health Awareness as well as being a Youth Mental Health First Aider. Lisa has a love of learning and has also received a diploma in cognitive behavioural therapy, is a CBTi certified clinician and a RSPH Health Champion.
Justine Fox, Applied Colour Psychologist, Calzada Fox
Justine is a consultant with a unique understanding of applied colour psychology, colour trend, insights and colour ergonomics with future thinking. Her multi-disciplinary perspective on colour creates engagement with people through product development, social content, publications and immersive installations.
Calzada Fox's multidisciplinary background covers architecture, citizen experience, branding and graphic design. Their driving philosophy is that the power of colour goes beyond aesthetics and should be explored for its ability not just to enhance, but to add value and impact to specific projects in specific locations. Sometimes colour is quiet and sometimes it is vibrant, but it is never about us, it is always about the place, the people and the story.
If you need more information about getting a healthy night's sleep, or to seek professional advice, visit the NHS website.
Seasonal Affective Disorder
Change the tone of winter with shades that reflect as much natural light as possible. Explore a taste of colour theory with our expert colour psychologists.
Learn More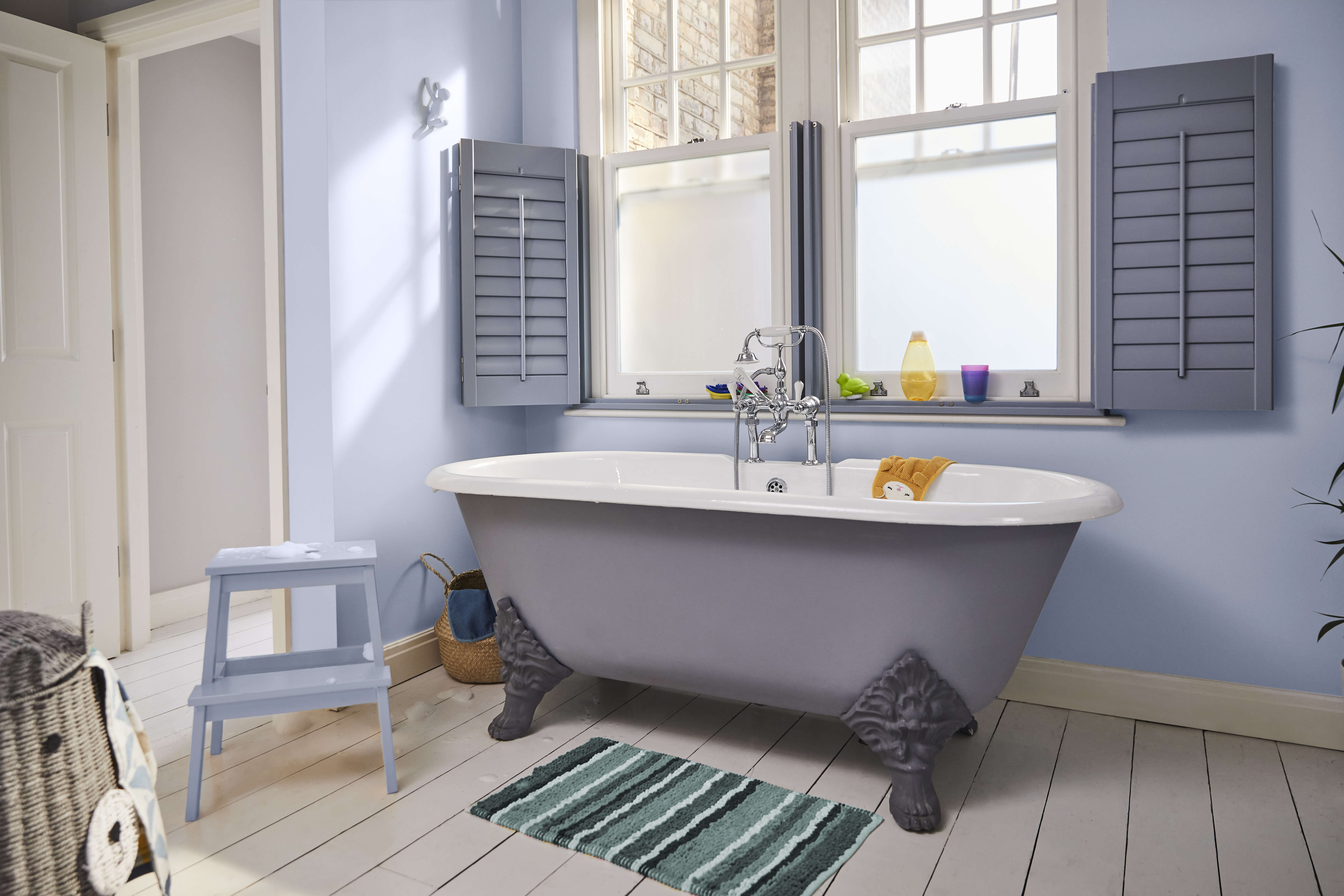 Colours to help with stress
Stress is often a sign of over-stimulation and a busy brain. When used right, colour can help you unwind and decompress. Combat stress and soothe your mind with tonal and uniform colour combinations.
Colours To Help With Stress