Chic and Aesthetic Room Ideas

Looking to invest in the aesthetic interior room trend? Read on for ideas and inspiration to help with your decor project.
What is an aesthetic room? 
Aesthetic decor refers to a stylish interior room style that makes use of visual decor elements with a very personal feel. This interior style is about much more than creating spaces that are just visually attractive - it's more about making personal expressions and adding character through objects curated together thoughtfully in a space. 
How can I make my room more aesthetic?
Here are 5 simple ways to make your room more aesthetic:
Decorate with paint that represents your personality
Collect individual items from your travels 
Personalise walls with artwork and photos
Embrace plants and flowers to add life and soul
Add texture with layered soft accessories 
Chic and aesthetic room decorating ideas 
Use colours that reflect your personality
When you want a room to feel personal to you, it's essential to choose colours that reflect your personality. 
This beautiful lounge uses pops of pink and yellow which give a cheerful and optimistic feel to the room. Perfectly complimented by plenty of natural light and open space. 
Credit: Instagram - @118_thevictorianvilla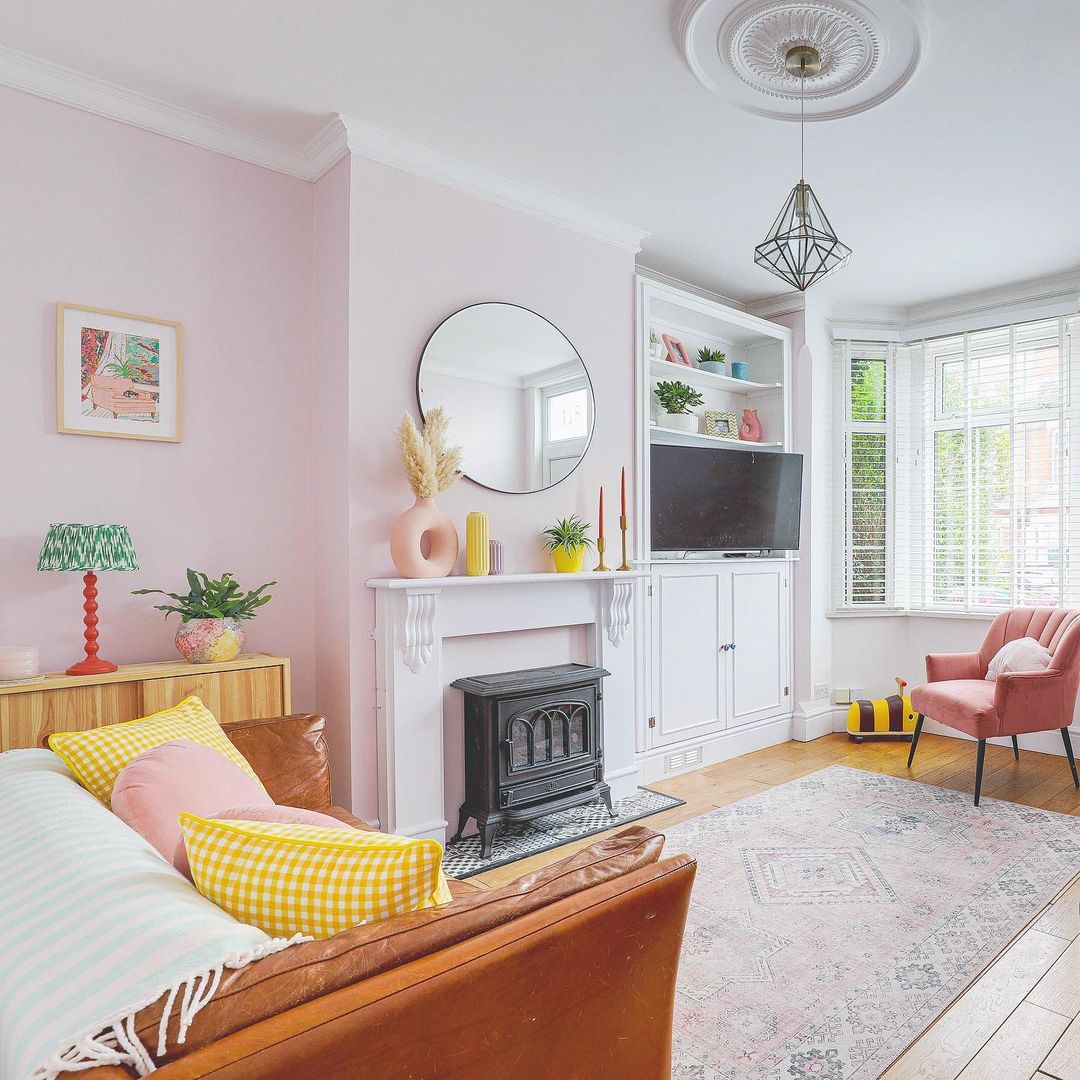 Colour drench with your favourite shade
Found a shade that you totally adore? Well, don't just use it subtly - go all out with colour-drenched decor. 
From the walls and ceiling to the fireplace and furniture, colour drenching means using various shades of the same colour in all areas of the room to create a characterful and cosy feel. 
Credit: Instagram - @lara.bezzina
Personalise your bedside
Your bedside space is sure to be one of the most personal spaces in your home - therefore, it's the perfect place to create an aesthetic display of all the things you love. 
From books and beautiful lamps to pretty trays and artwork, personalise your bedside table with all the things that will make you feel happy as soon as you wake up.
Credit: Instagram - @housemouse_farmhouse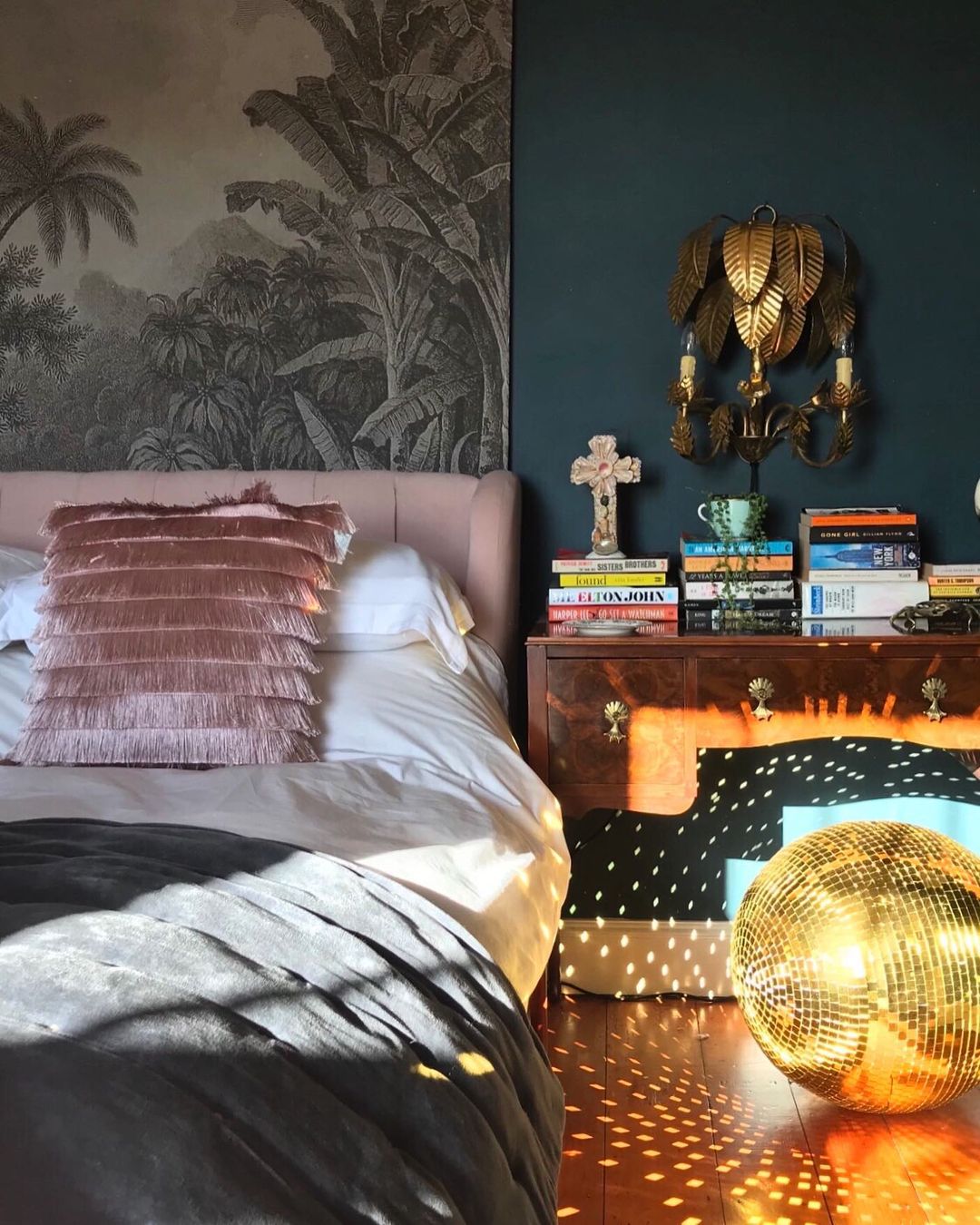 Deep Blue Spruce
X107R203A
Fill your shelves with beautiful items
When storage space isn't at a premium, you can afford to use your shelving space to curate a beautiful collection of visually attractive items. 
Whether it's vases you've collected from your travels or things that have been handed down from past generations, take your time to create a shelving display that captures your imagination.
Credit: Instagram - @ourmonktonheathfieldhome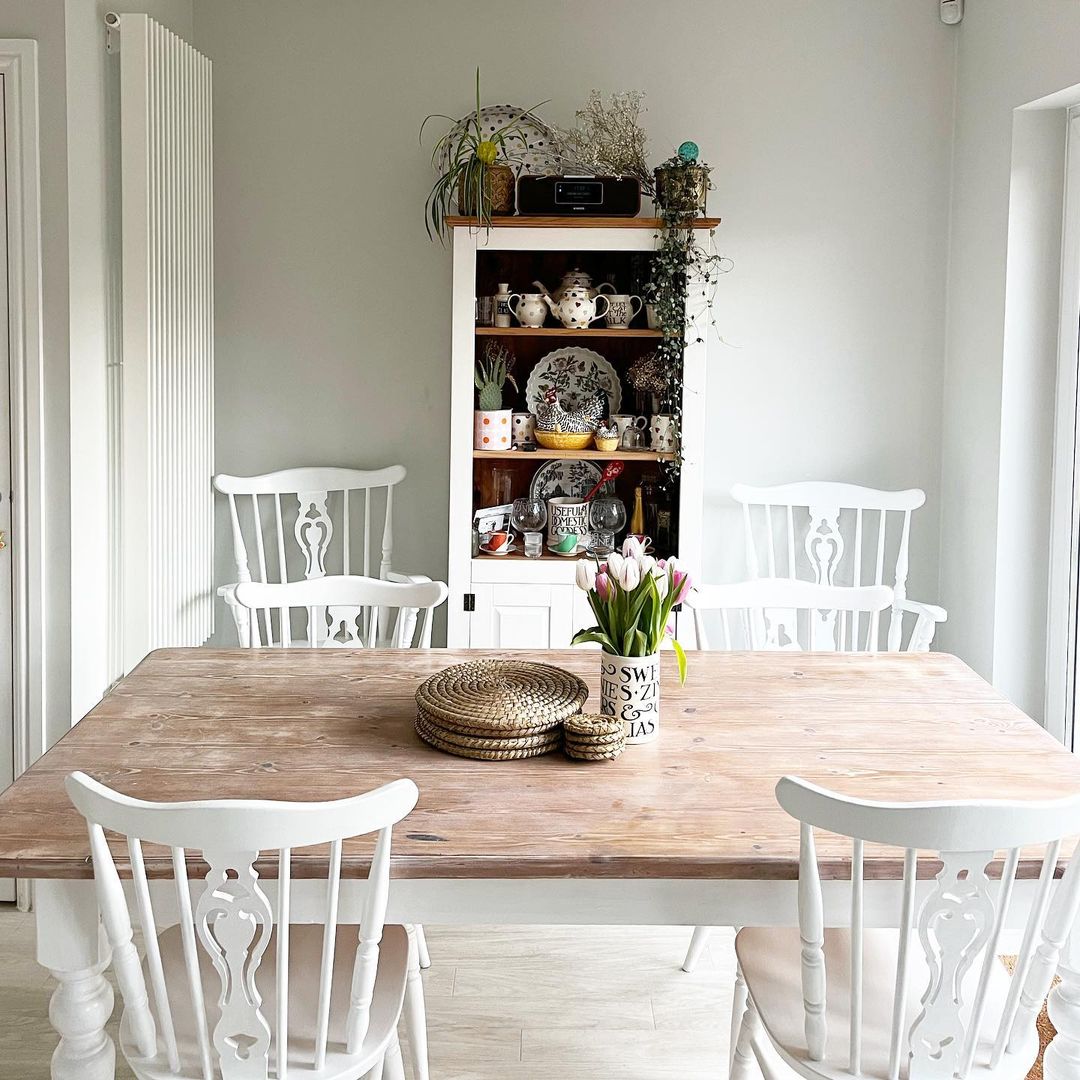 Give your room life with plants
Household greenery adds a wholesome aesthetic to any room - from the kitchen to the bedroom. Place plants on shelves, coffee tables, bedside tables and window boxes to add a visual connection to nature. 
Not only are plants visually pleasing, but they are also extremely beneficial in boosting your mood and oxygen levels too! 
Credit: Instagram - @atnumber_24
Pick your slogan
We all have words and phrases that mean something to us, so why not display your favourites within your home interior? 
From neon signs to wall murals or graphic prints, display your perfect motivational quote or favourite movie line so that you can read it and appreciate it day after day. 
Credit: Instagram - @emeraldterrace
Go wild with print
Fans of zebra print will love this monochrome-inspired dining space. From printed rugs to printed plant holders, embrace the trend with soft accessories and table displays. 
Pops of bright colour provide an eye-catching contrast to the monochrome, which projects a lively personality and friendliness into the space.
Credit: Instagram - @zebra.homeinspo
Colour a feature wall
A feature wall allows you to display your favourite colour within a room, without overwhelming it. 
This dark green feature wall offers an earthy and natural feel to the dining space, complementing the wooden table, benches and large houseplant.
Credit: Instagram - @life_at_no3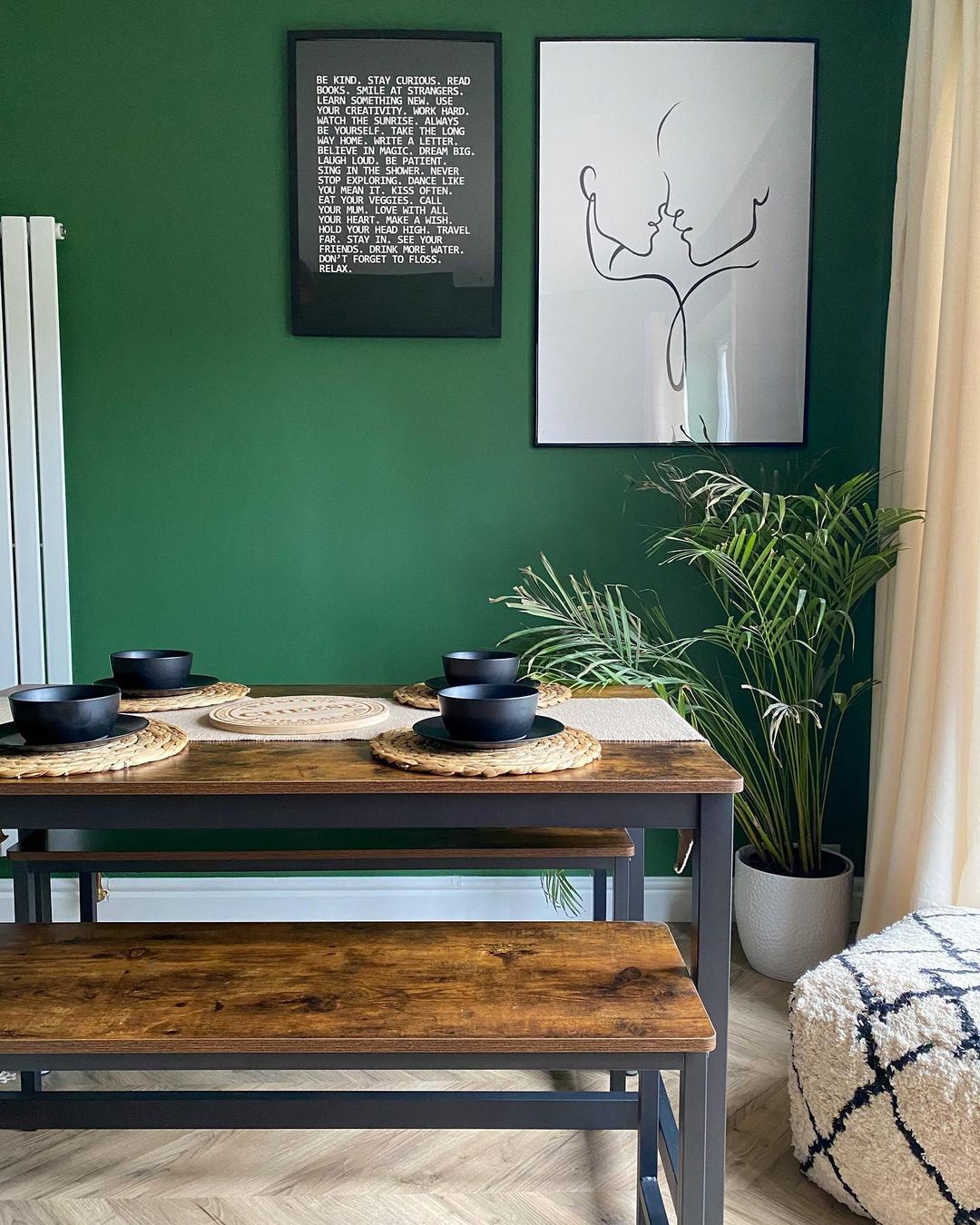 Create a gallery wall
A gallery wall is one of the most personal ways to finish off your aesthetic room design. 
Whether you use photos, framed prints or sculptures - or a mix of all three - be sure to think about the colours, sizing and spacing of the items to ensure they are balanced and harmonious together on the wall space.
Credit: Instagram - @maisonderock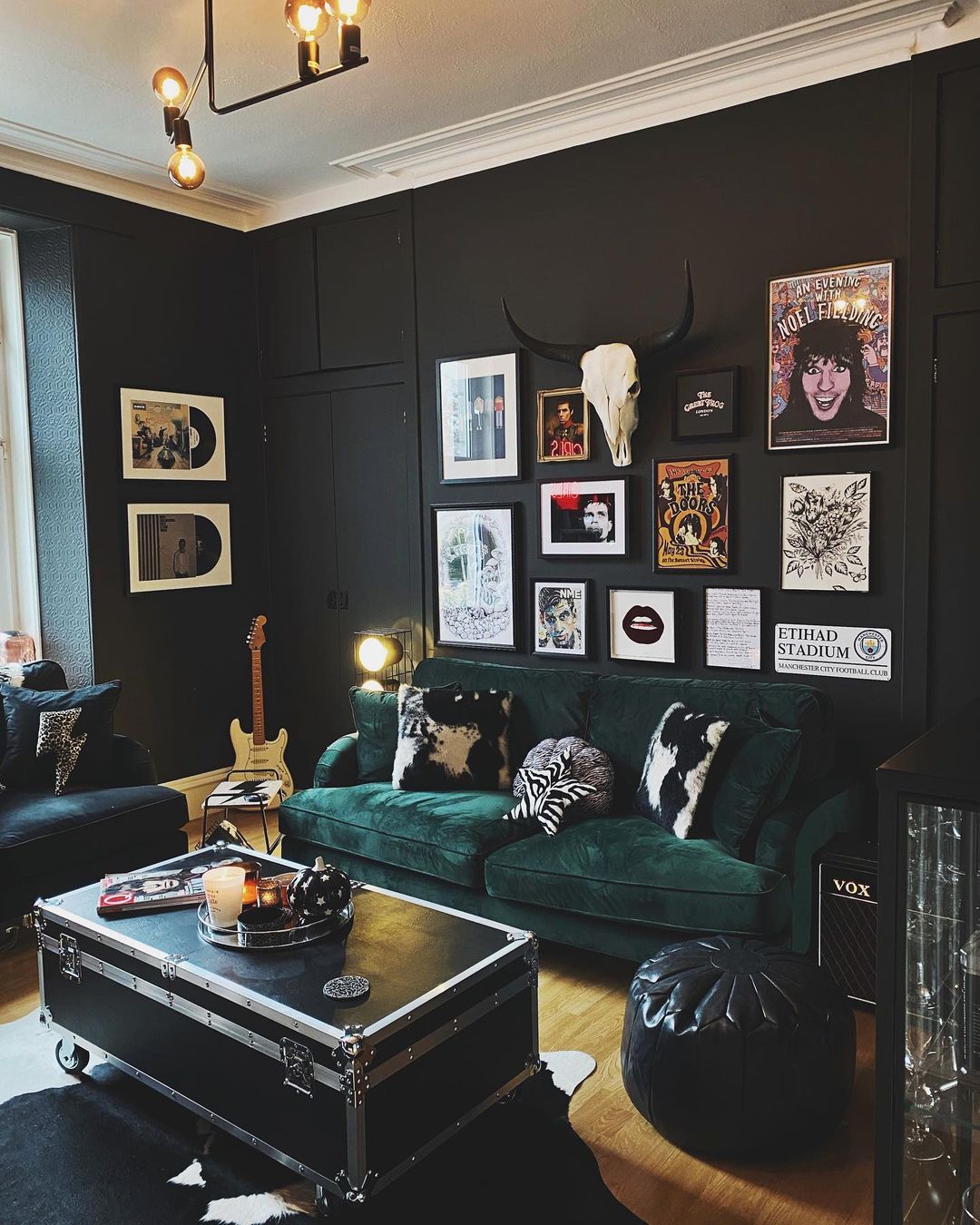 Play with shape
Rooms don't always have to be angular. Curved lines tend to soften the appearance of a room, as well as creating visual interest and charm. 
The circular paintwork in this living room not only frames the sofa area neatly, but it also adds character and depth to the overall aesthetic of the space.
Credit: Instagram - @life_at22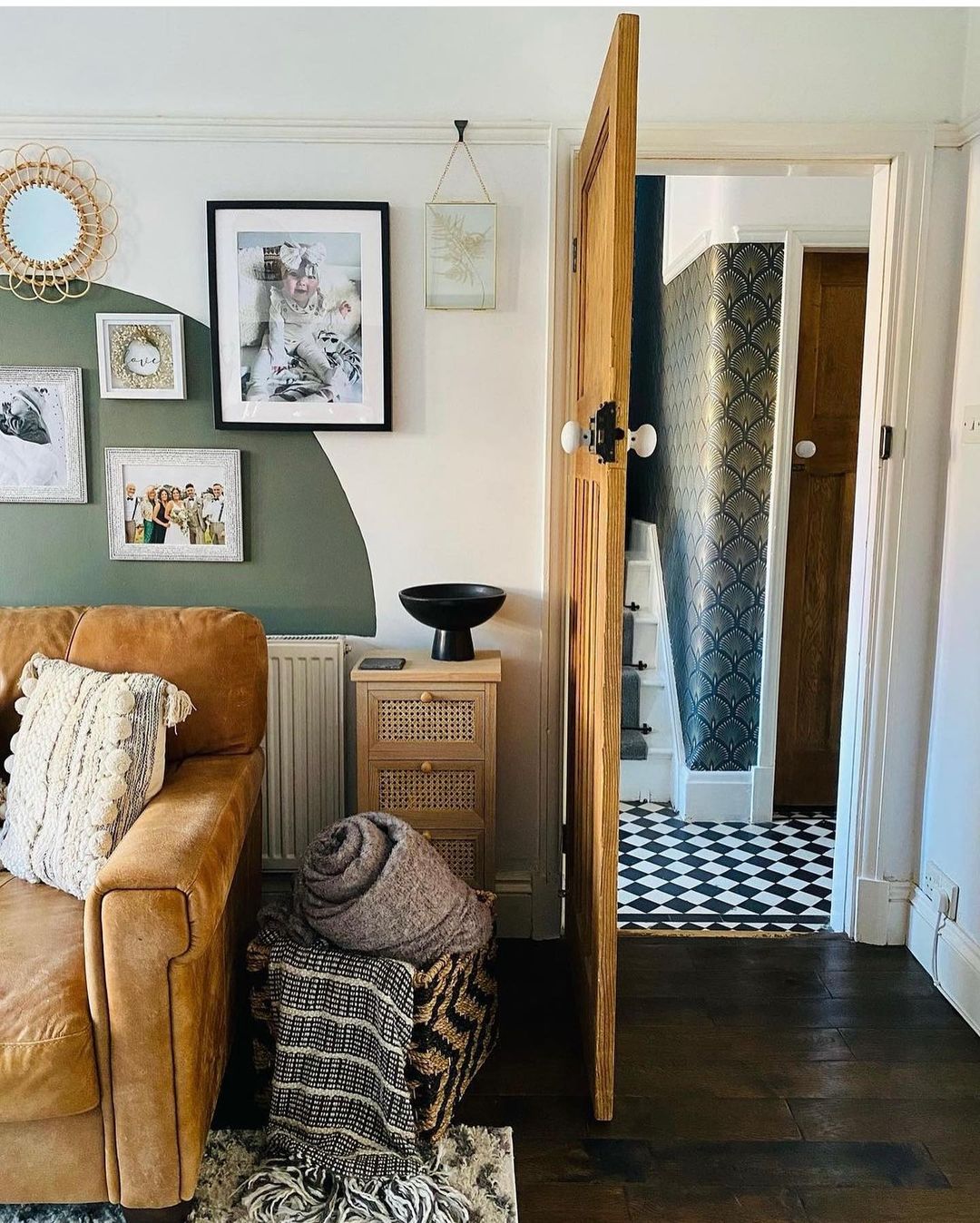 Bring your travels home
Artworks, soft furnishings and room accessories are great items to pick up on your travels and return home with you. 
Not only do they provide you with oodles of memories of amazing times, but they also add individuality and bohemian vibes to a room's interior.
Credit: Instagram - @homehouseabode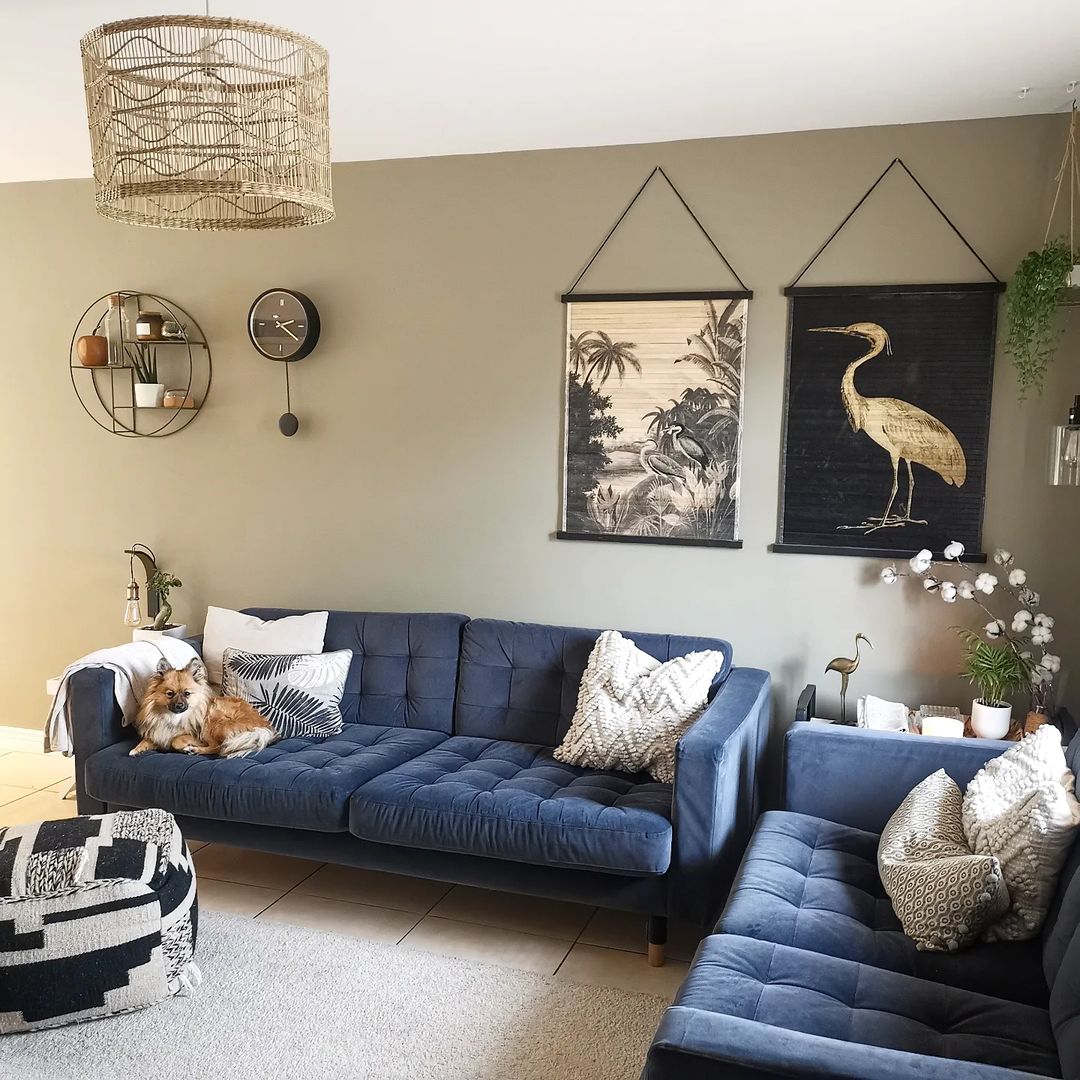 Embrace your home's quirky features
Your aesthetic room decor should always work around the natural features of your home's build and layout. 
Be creative with sloping walls, curved doorways and different floor heights to create quirky and interesting spaces instead of trying to hide them.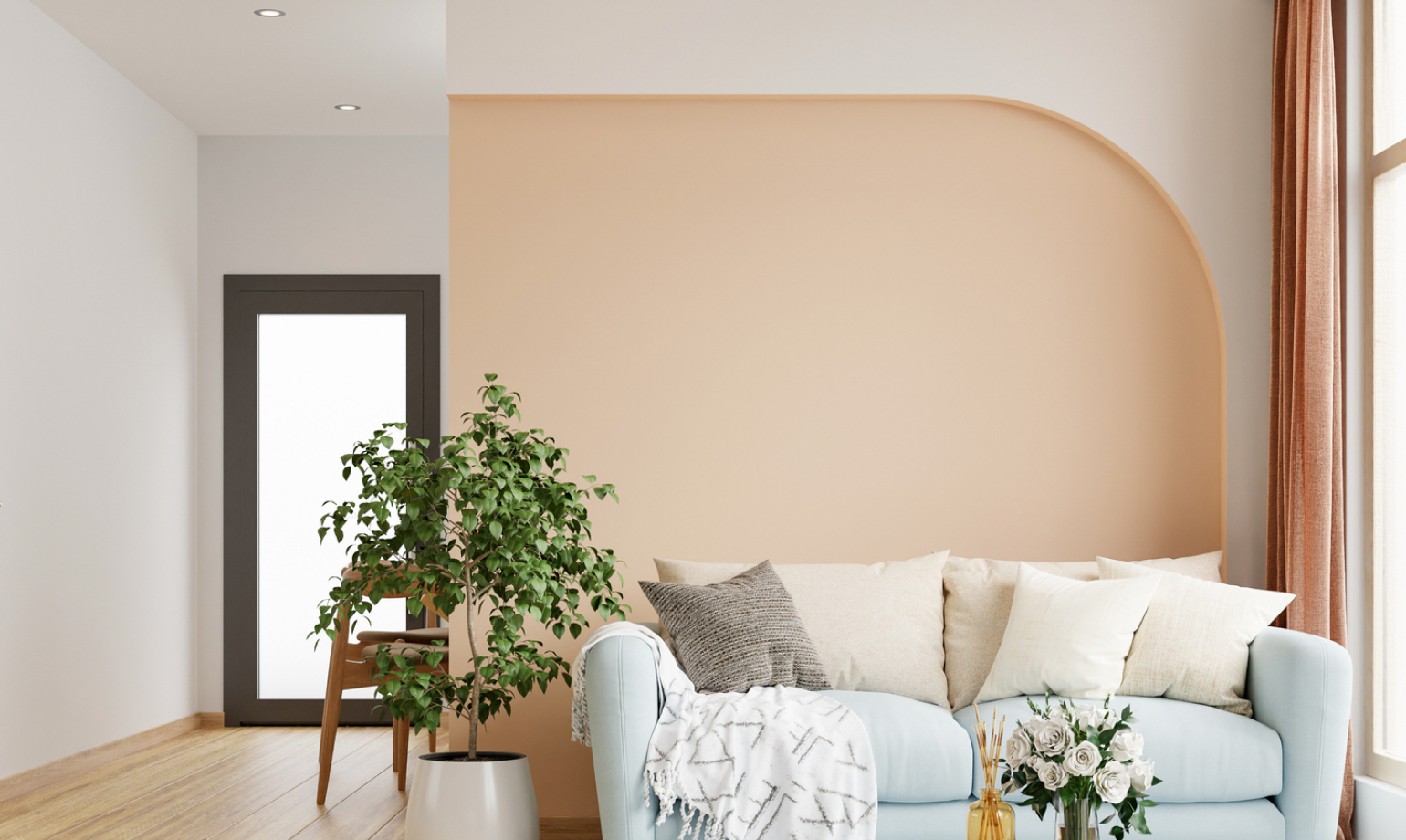 Accent with rattan
Rattan offers a wonderful, rustic aesthetic within a nature-inspired home. It blends beautifully with shades of green and blue, and neutral palettes too. 
Select rattan framed wall mirrors, bedhead headboards and storage baskets to accessorise your bedroom or living area.
Credit: Instagram - @bryonycritchley
Get creative with wall art
Feeling extra creative? If so, painted wall art is a great way to showcase self-expression in your home as well as inject life and colour into otherwise neutral colour palettes. 
Use a stencil to apply painted shapes to walls or ceilings, or try something freehand for a totally bespoke and unique statement!
Credit: Instagram - @katieellenherrington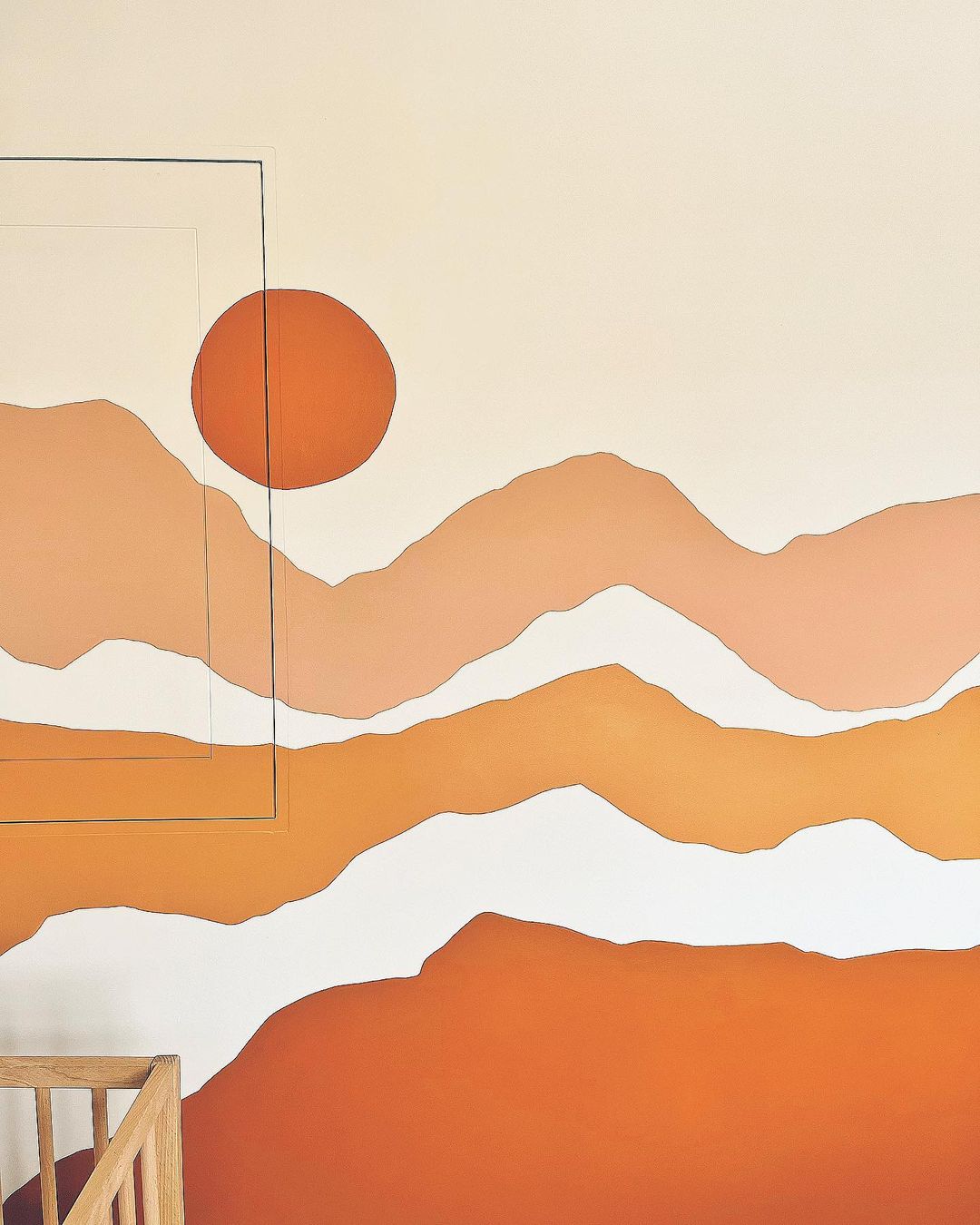 Maximise your fireplace glamour
When it comes to originality and glamour, fireplaces are a fantastic feature to focus on in living rooms and bedrooms. 
This lively, yellow, colour-drenched space gives a firm nod to the chic and aesthetic interior trend, as well as showcasing plenty of individuality with printed artwork and friendly houseplant displays.
Credit: Instagram - @ourhomeisajungle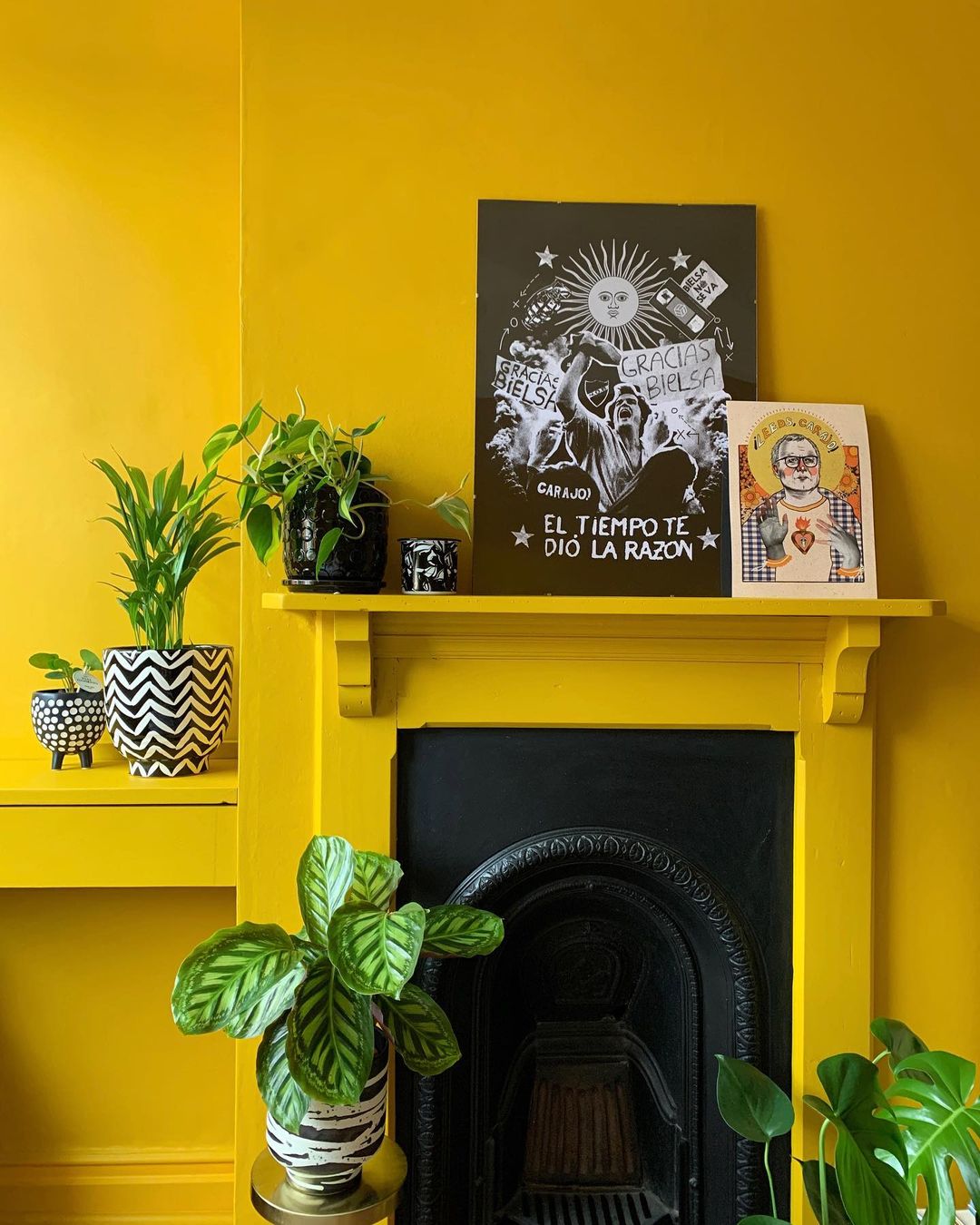 Our Valspar Colour Match feature allows you to decorate your home interior with  colour shades that are completely personal to you. 
Simply take a photo of a colour or item that inspires you and upload it online so we can colour match it for you.