Hallways are often less thought about than other rooms in your home, with many remaining uncoloured and unloved. Luckily, with a bit of colour and creativity, they can be transformed into beautiful spaces that take you on a journey from one room to another. 
The colour of your hallway can make a huge difference to the overall look and feel of the space and how it blends against other shades in neighbouring rooms. From pleasing neutrals to vibrant bold shades, in this article, we will explore many possible options.
What colour paint makes a hallway look bigger?
20 Hallway Colour Ideas 
In general, lighter colours will make your hallway appear bigger with the illusion of more light and open space. Small, narrow hallways tend to suit a white, cream, or pale grey colour scheme, whereas darker shades are often used in larger, wider hallway entrances to add warmth and depth. 
Aside from colour, there are also other ways to manipulate a larger looking hallway space including the use of glass doors and windows to let in natural light, as well as hanging mirrors to reflect light around the space better.
20 Hallway Colour Ideas 
Here are some of our favourite hallway paint colour ideas to inspire you…
Pop brights
When your hallways are painted bright white to maximise light and openness, you can add pops of colour to inject personality. 
Painting your internal doors in different shades can help distinguish between the different rooms in your home, whereas painting the staircase gives a quirky and fun feel.
Credit: @lindsey_isla
Warm greige
Greige is a calming shade for a hallway and colours like Soft Pelican combine tones of grey and green for a warming finish.
It offers depth and contrast next to bright white shades, and provides an earthy approach to your hallway, especially when finished with plenty of greenery and plants.
Credit: @langfordlife_withrach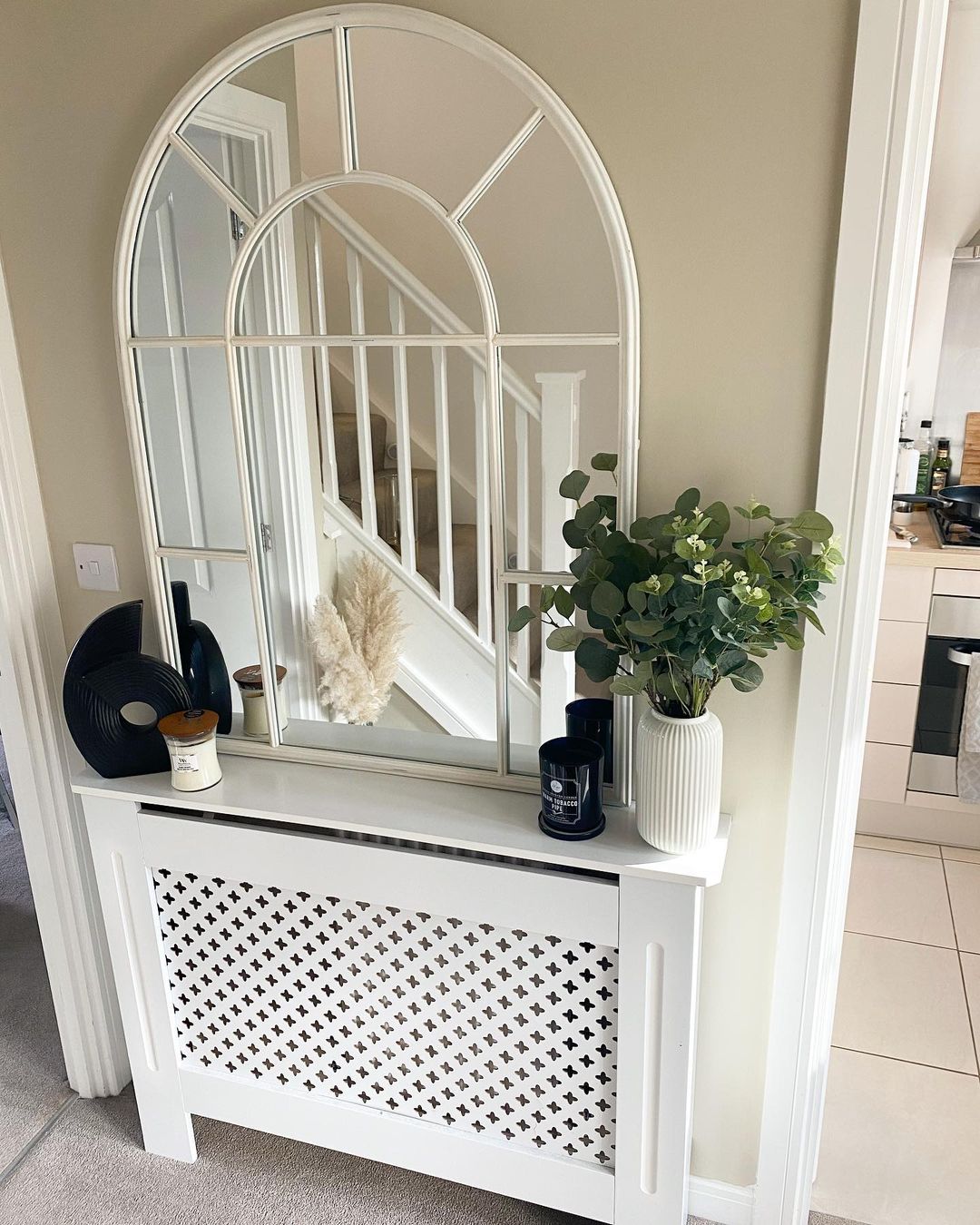 Black chic
Chic and stylish, a monochrome hallway helps to create a Parisian hotel vibe, particularly when combined with elegant artwork and quirky furniture pieces. 
Keep the hallway walls white and paint the staircase black for a dramatic contrast.
Credit: @1930s_semi_charmed_life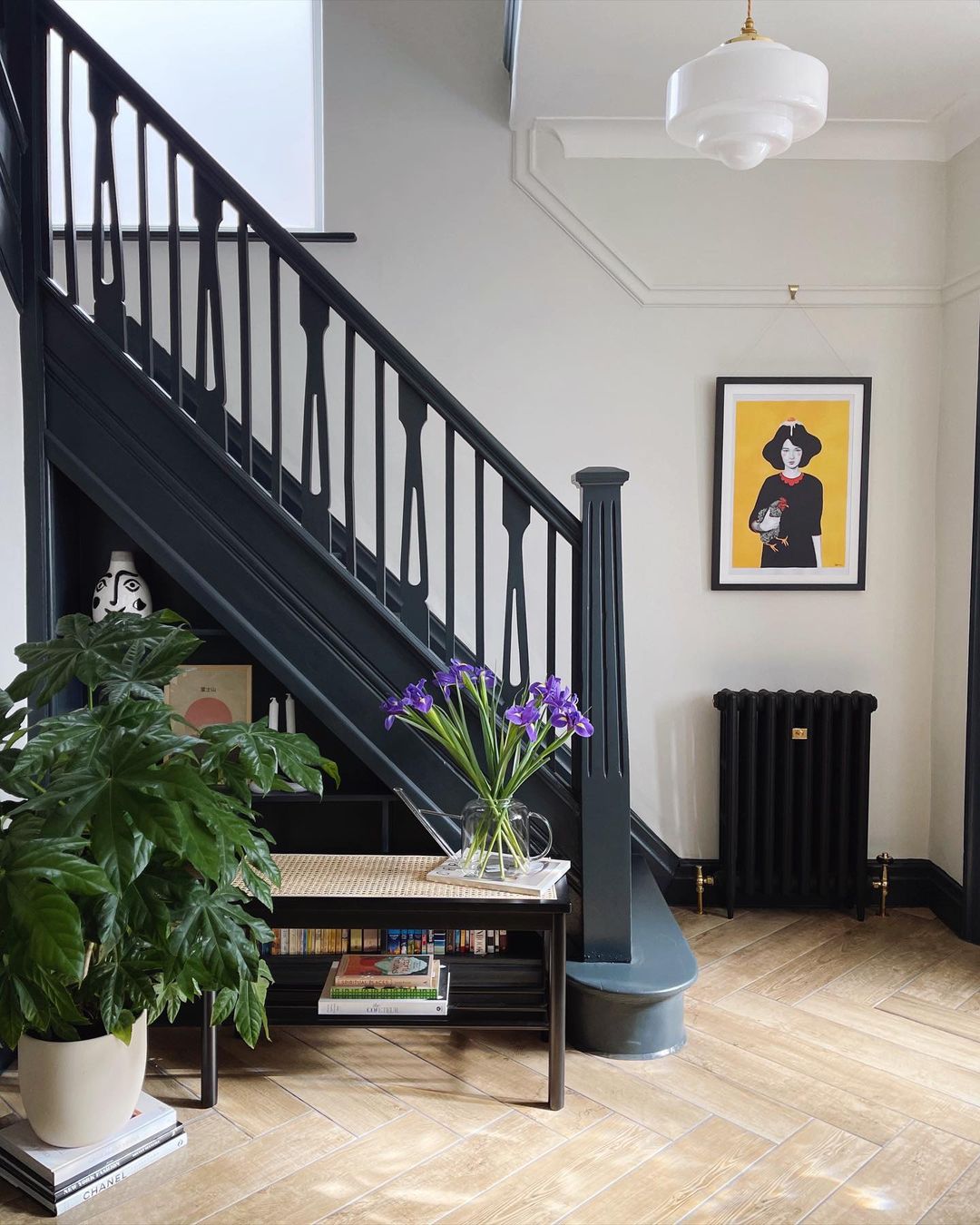 Timeless navy
Navy blue is a timeless and classy shade that can help make a large, wide hallway appear cosier and warmer. 
Contrast with white panelling and brightly coloured artwork for a contemporary, modern feel.
Credit: @sheremadness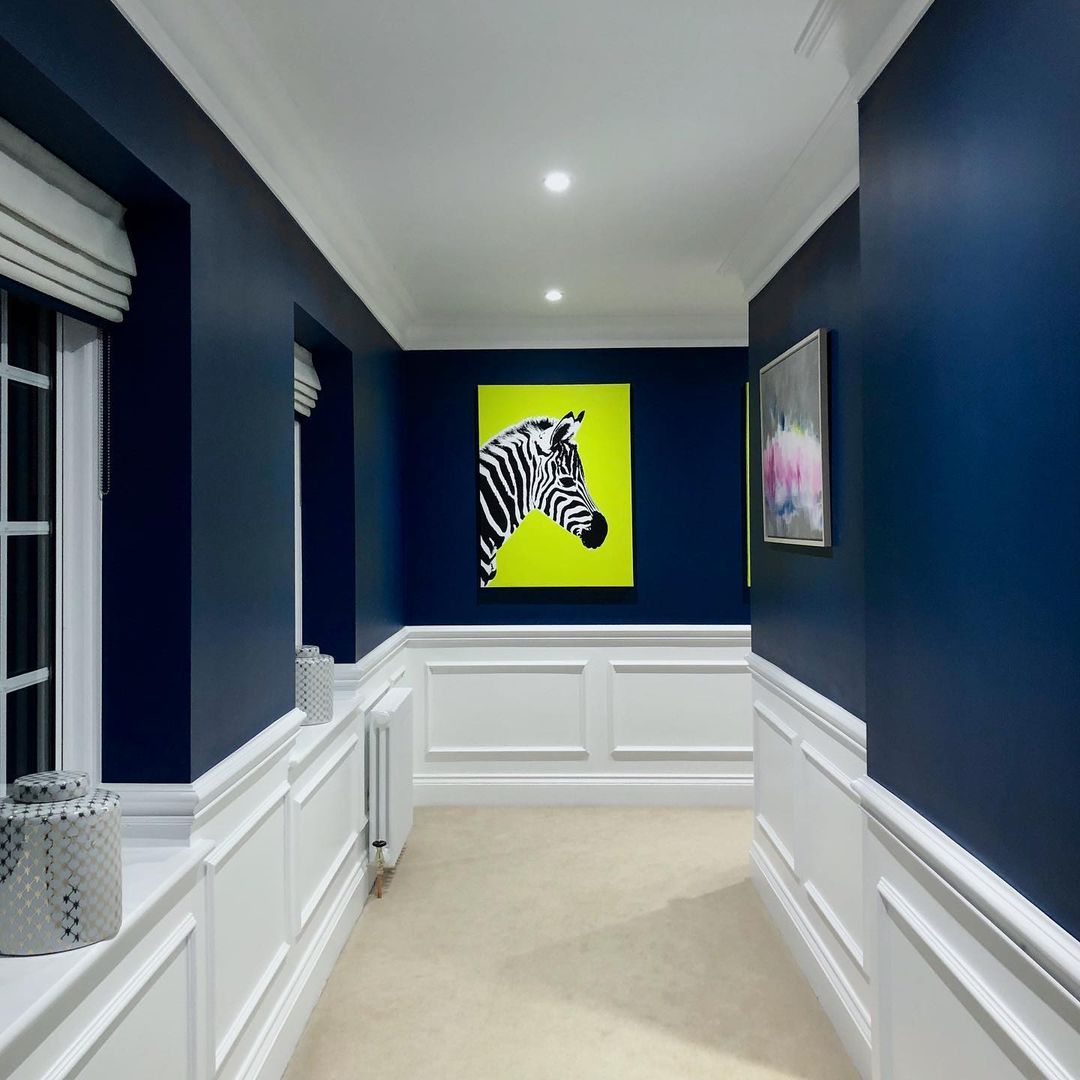 Pops of Orange
A pop of orange in a hallway can feel sunny and tropical, especially when a dusty shade such as Sandy Peppers is used. 
Fancy something a little redder in tone? You can achieve a warm terracotta orange hallway scheme using Sunbaked Brick or Paprika Sprinkle. 
Credit: @at.home.with.the.marchants.
Soft Blue
Blue is a calming and relaxing colour that provides serenity in your hallway space. 
Lighter shades of blue can make a hallway feel brighter and more spacious while pairing it with a variety of accent colours will add interest and character to the space.
Credit: @girl.franks
Regal teal
Rich and regal, a teal-painted hallway oozes style and opulence. 
In the right shade, such as Trailblazer, a teal paint works beautifully as the backdrop for an Oriental-inspired interior. Especially when paired with coral shades, as well as interesting pieces of upcycled furniture and artefacts.
Credit: @renovating_the_graham_gaff
Earthy Green
When you are focussing on an earthy interior scheme throughout your house, a warm green shade in your hallway can help tie it all together. 
Grey greens appear organic and raw, blending beautifully with natural fibres and textures, such as wood and linen.
Credit:@thelandchome 
Soothing sage
Sage is another earthy tone of green that is a calming and soothing colour in a hallway. 
It can work well in a variety of settings and colour schemes and pairs well with neutral colours like white, grey, and beige, as well as other soft, muted tones like blush pink, lavender, and light blue.
Credit: @ourwoodfield3storey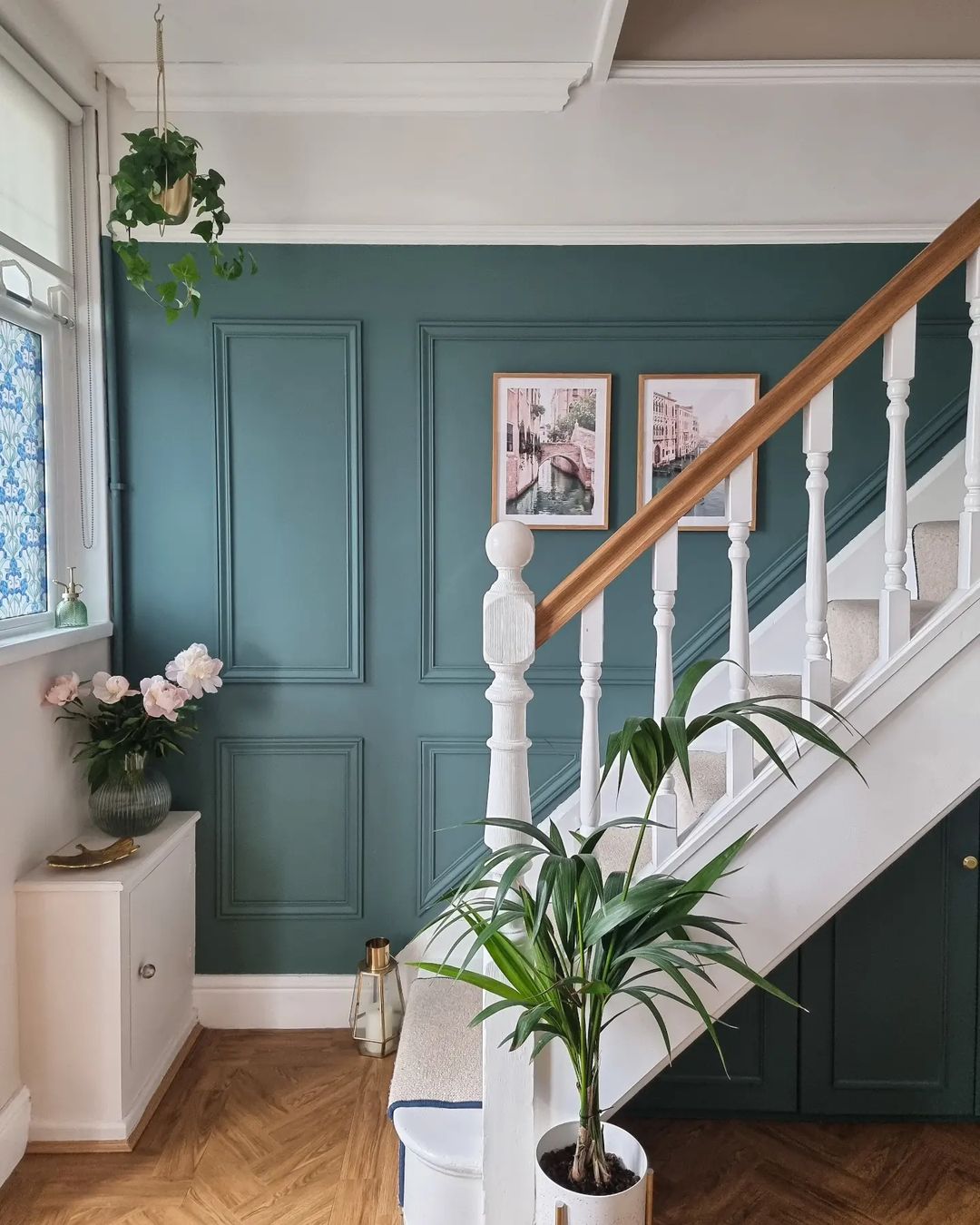 Soft reds
Red is often a colour associated with loudness and danger, but if you pick the right muted tone of red and combine it with warm neutral beige shades, you can create a stylish and inviting hallway colour palette.
Credit: @thewrighthouserenovation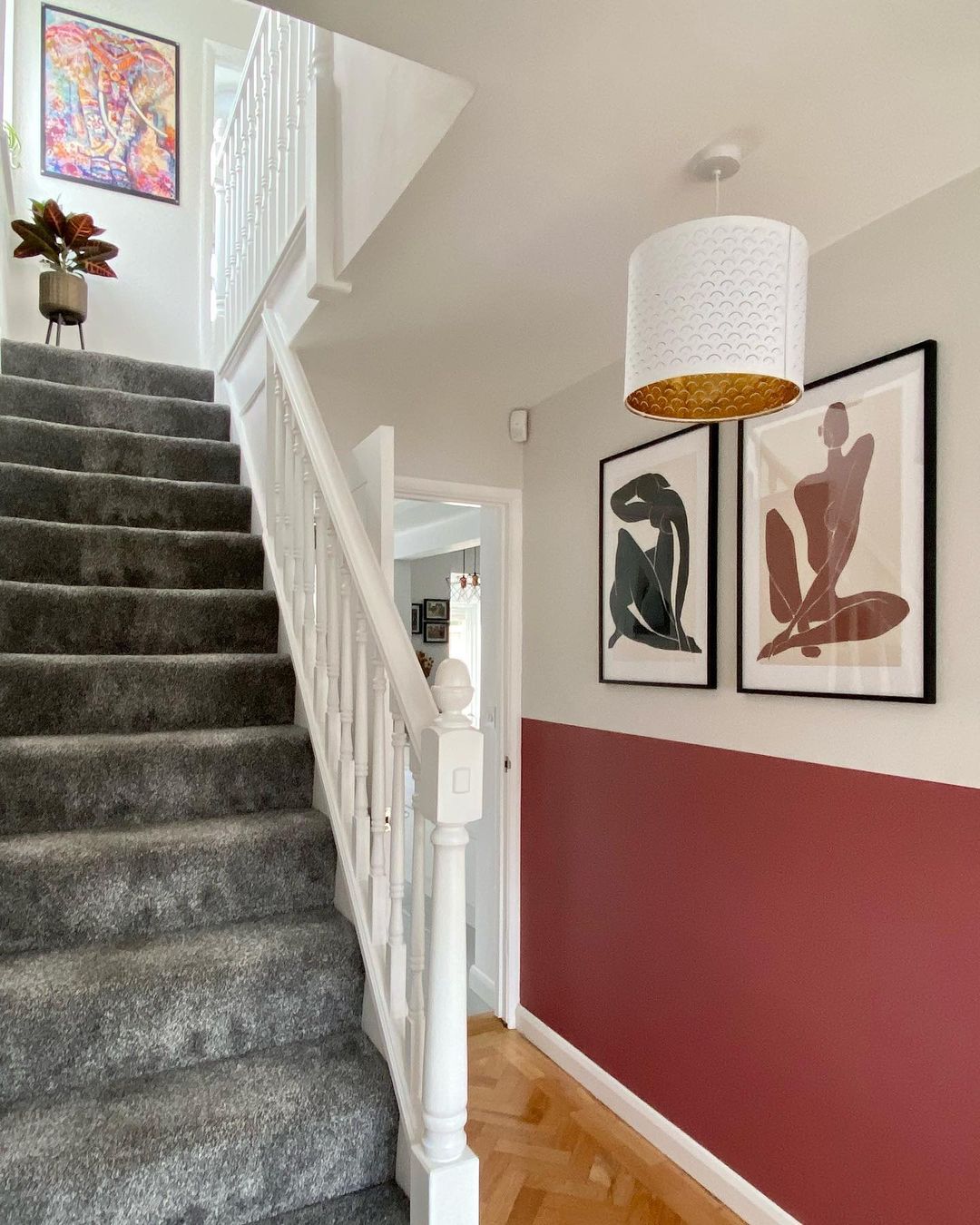 Warm yellow
This burnt yellow shade is a stunning choice for a classic, wide hallway. 
The depth of the shade is warming and comforting and would pair well with dark mahogany furniture, shades of black and terracotta.
Credit: @phillipcorpsflowers
Flemish Tapestry
L11dW23d
Modern charcoal
A charcoal and white colour scheme provides instant modernisation in a hallway setting. 
Avoid the space looking too clinical with elements of wood and plenty of greenery in the space. 
Credit: @home_for4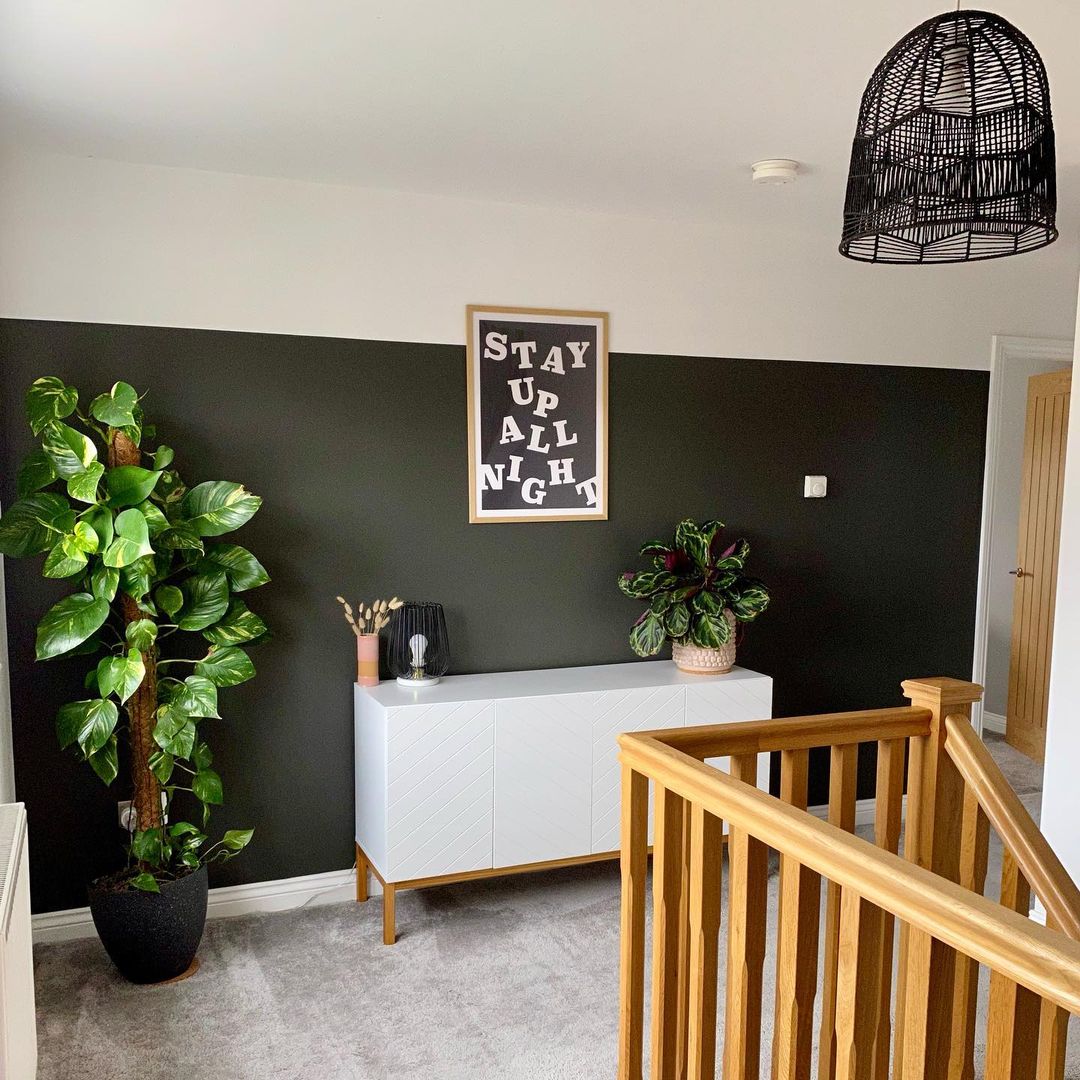 Reflective grey
Still in keeping with a modern theme, paler shades of grey can make a hallway feel brighter and more spacious. 
Team with plenty of mirrors and reflective surfaces to further brighten the space with oodles of reflective light. 
Credit: @santina_at_home 
Lively Lilac
Lilacs and lavenders are wonderful, under-used shades in home interiors, that are soft and calming. 
Choose these for a narrow hallway to inject brightness and soul, and team it with white wall panels for a romantic, Provençal feel.
Soft Green
The soothing effects of a soft green colour scheme is perfect for an upstairs hallway leading into bedrooms. 
Tranquil and relaxing, it will put you in the right frame of mind for sleep after a busy day.
Credit: @thewalmsleyhomestead
Shades of Pink
If you dig pink, then your hallway is the perfect place to show it. Keep the walls light and neutral as a backdrop for pink-themed artworks and prints. 
Plus, painting your staircase treads with a spectrum of pink shades will make climbing the stairs to bed each night so much more enjoyable!
Credit: @amelia_home_edit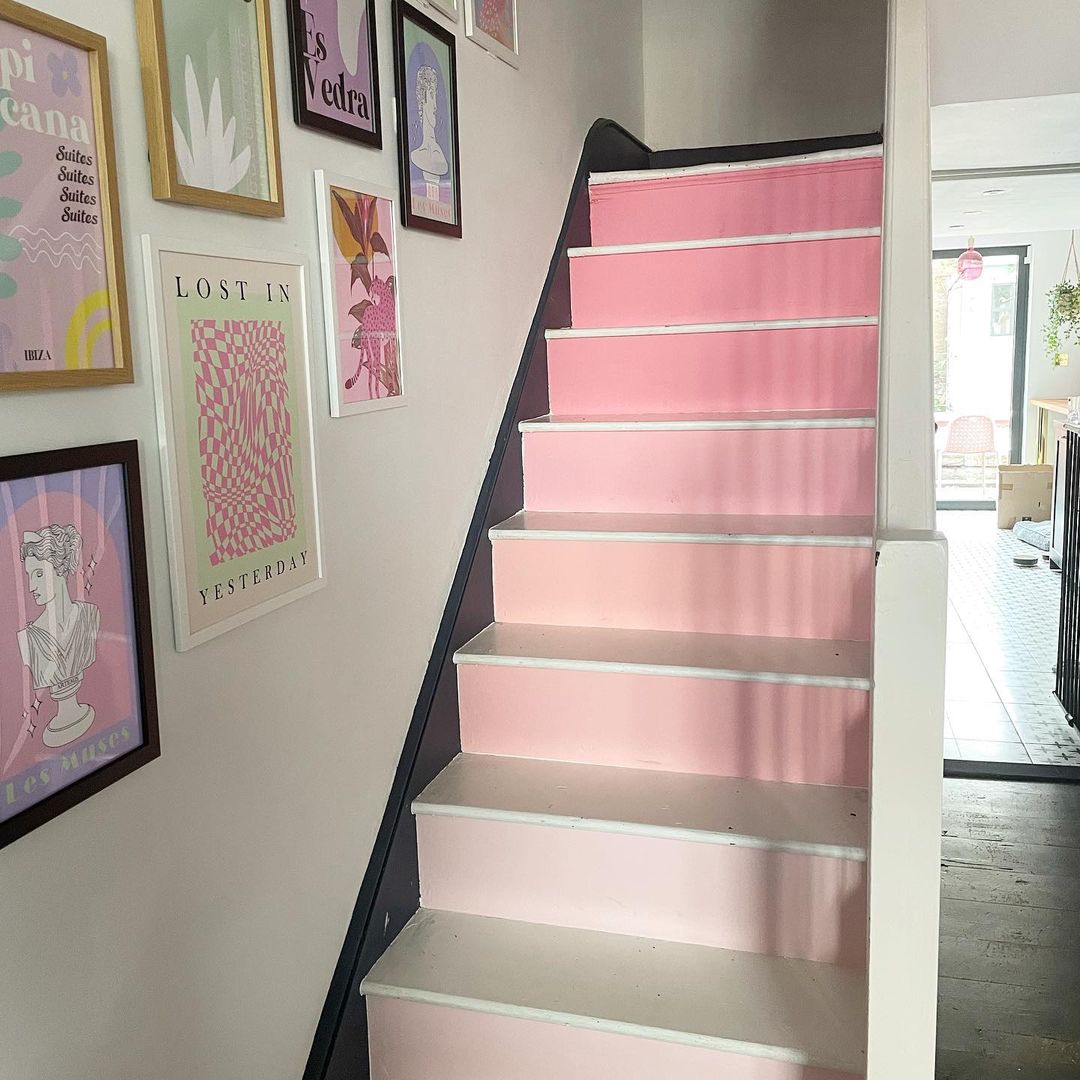 Light Beige
A light beige hallway paint provides a little more depth and warmth than white paint would. 
It's ideal for combining with an otherwise monochrome colour scheme that could otherwise appear a bit cold or stark.
Credit: @tools.tears.and.tantrums
Personality Pops
Your hallway is likely to be one of the first places you and your guests see when they enter your home. So, be sure to keep it reflective of your personality with plenty of bright colour and positivity. 
Painting radiator covers is an easy way to add colour to an otherwise neutral hallway and consider a collage wall, featuring an eclectic mix of all your favourite pieces collected over the years. 
Credit: @ouremporium
Green Tropics
If you love the outdoors, then why leave it outside? Transform your hallway space into an indoor rainforest haven with a vibrant green, such as Vibrant Hosta. 
The key to perfecting this interior theme is with over-the-top foliage everywhere possible, and plenty of artworks and sculptures representing nature and wildlife.
Credit: @thebresidence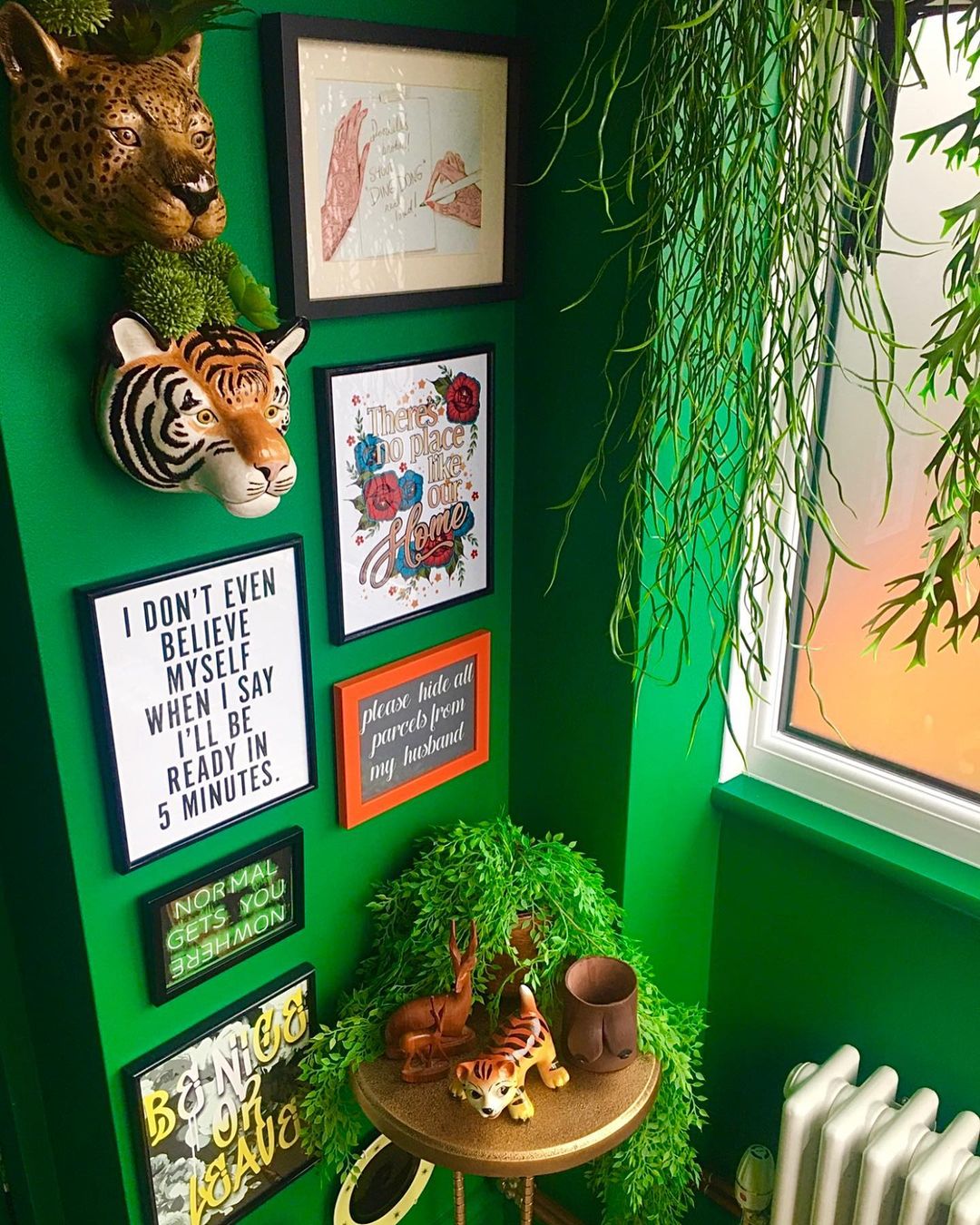 Rainbow Vibes
Want to inject some fantasy into your all-white hallway? The good news is that you don't need to touch the walls. 
Simply buy tester pots of your favourite pastel shades and paint each of your staircase steps in a different shade. The result is whimsical and unicorn-like!
Credit: @epocalypse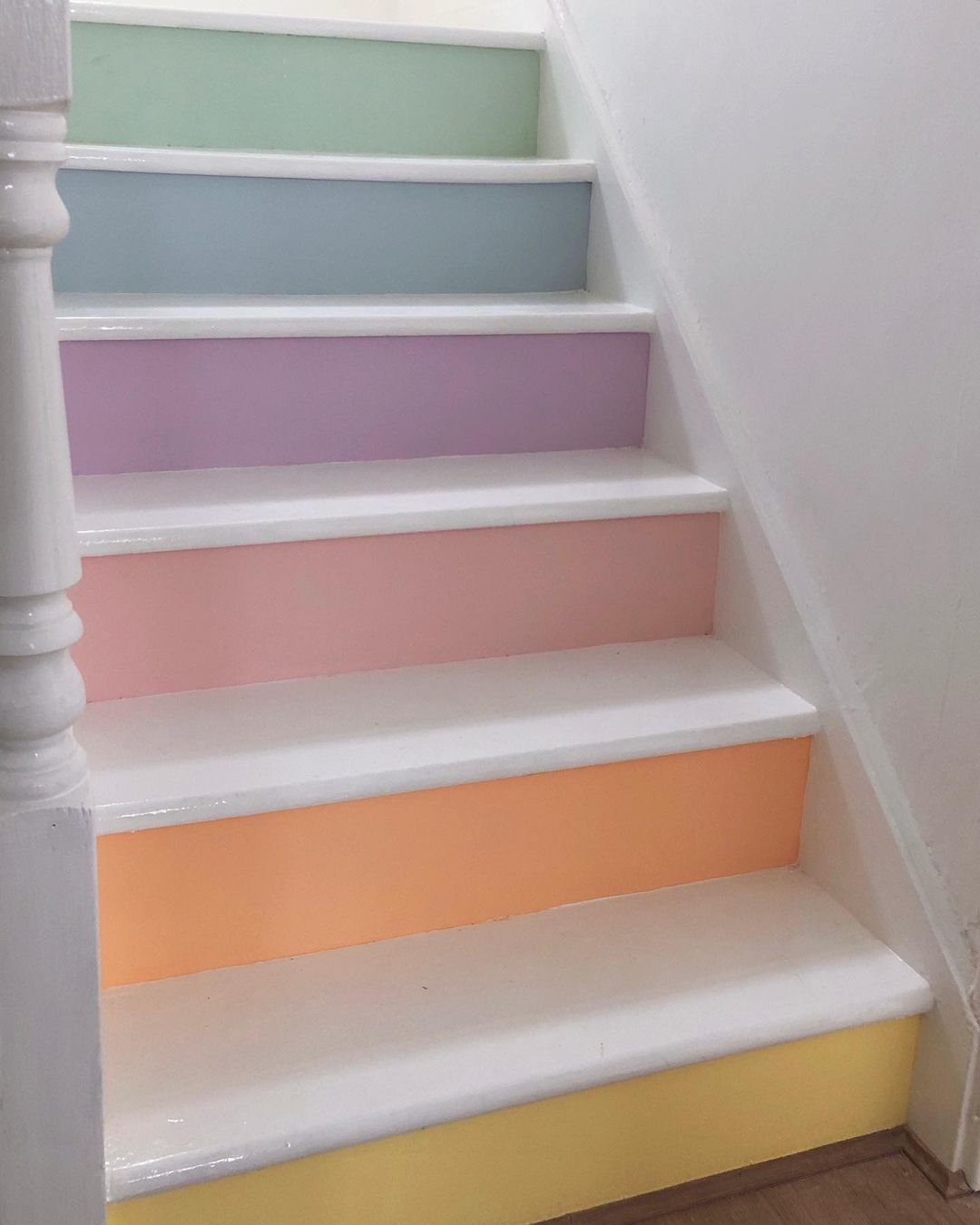 Feeling excited about re-inventing your hallway space?
Take a look at our range of paint colours to find your dream shade. Plus, remember we can colour match to over 2.2 million colours! Simply find a shade that you love and we can create the perfect paint match for your hallway.