Everyone's home working situation is different, as is the nature of their job. Therefore, the best colours for a home office are generally those which are personal to you and your working needs.
That said, certain colour schemes work best for specific office layouts as well as shades that have been tried and tested for the best focus and productivity.
What home office colours increase focus?
The debate surrounding whether colours can affect our mood, productivity and well-being has been argued for many years. In fact, one of the first studies to look into the links between colour and mood was in 1979 by Schauss. It was a study on American prisons who had found that they could reduce the inmates' aggressive behaviours simply by painting the walls pink. 
So, when it comes to choosing a home office paint colour that promotes increased focus, various research has been carried out to decipher which shades are best. Light blue seems to be the most popular shade in office colour schemes, especially for industries like accounting and finance where employees need to be productive and focused on repetitive tasks.
Intellectual blue is thought to soothe the mind, encourage clear thoughts, and reduce mental strain. That said if your job is more creative, then using yellows, oranges, or pinks in your office could be more productive for you, helping you to focus on the more inventive areas of your role.
Home office paint colours
Here are some home office colour scheme ideas to inspire you:
Neutral office paint colours
White
White is a clean and simple colour that can help promote clarity and focus. Painting your walls in a shade of white could provide a serene place to work or study, however, an all-white office can often appear stark and cold. Therefore, incorporate warmer shades of beige and cream through flooring, furniture and accessories to give a softer neutral feel.
Credit: Instagram - @daniandthetownhouse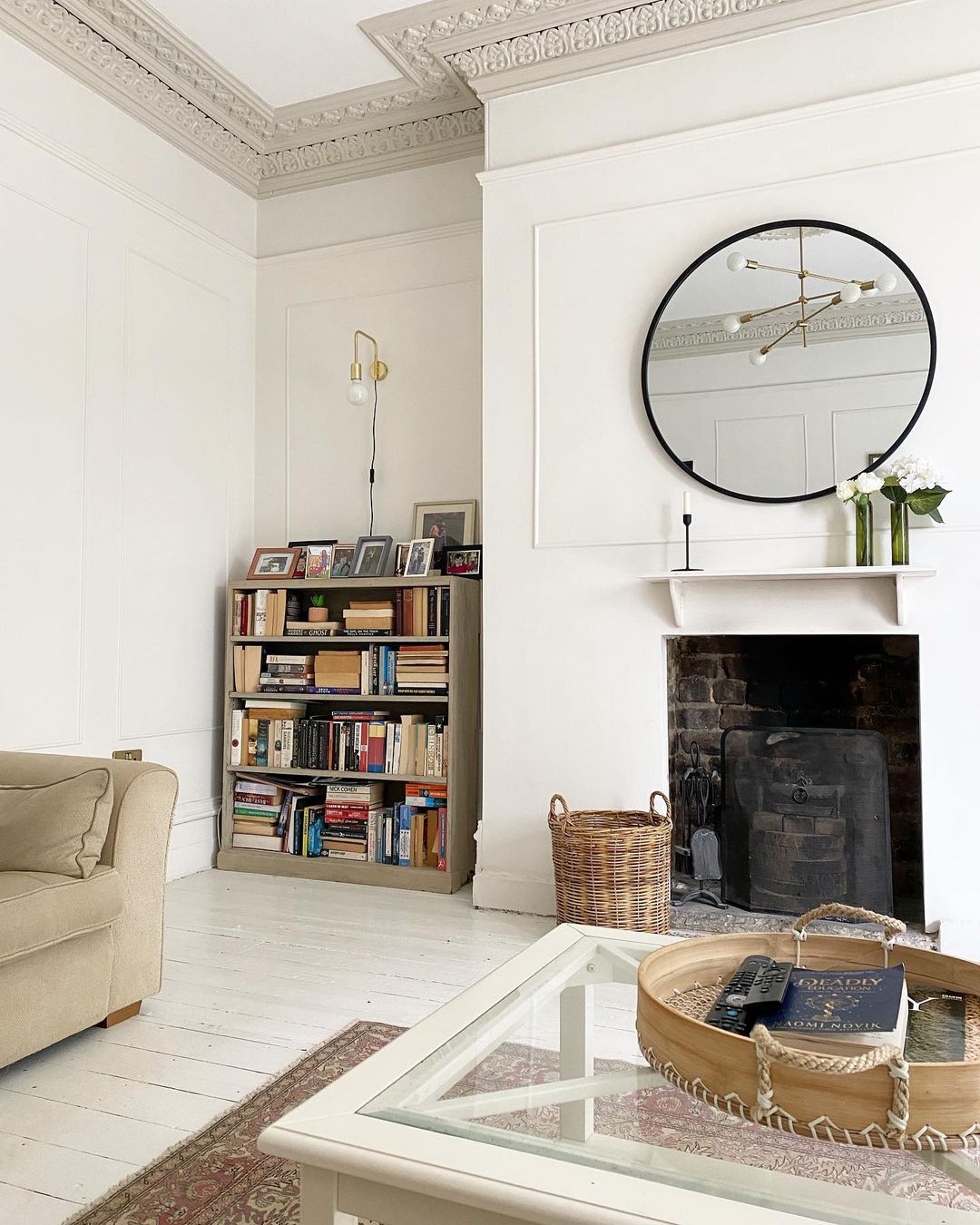 Greige
Warm, earthy and modern, a greige home office can provide an organic and natural space to concentrate and brainstorm.
Team greige walls with elements of white paint for an easy contrast, and bring in plenty of greenery and plants to boost your mood.
Credit: Instagram - @langfordlife_withrach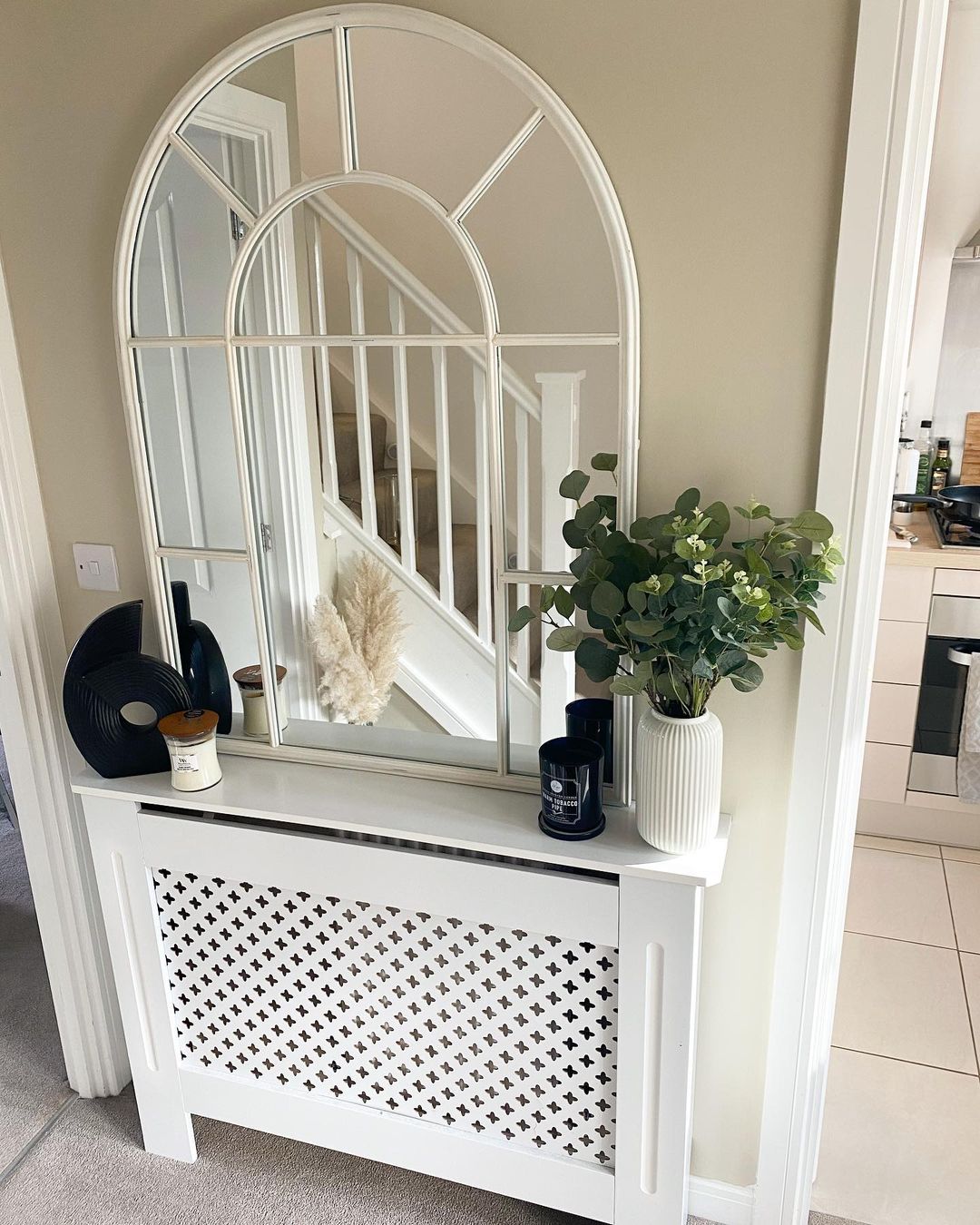 Grey
Grey is a neutral colour that can help create a calming and stable environment for a home office. It can also help to reduce distractions, which can be beneficial for focus.
Opt for cooler pale grey shades such as Moon Shadow or Apollo. Or, if you want a warmer grey approach, then Graceful Grey or Clay Figurine are great office choices.  
Credit: Instagram - @the_spanish_home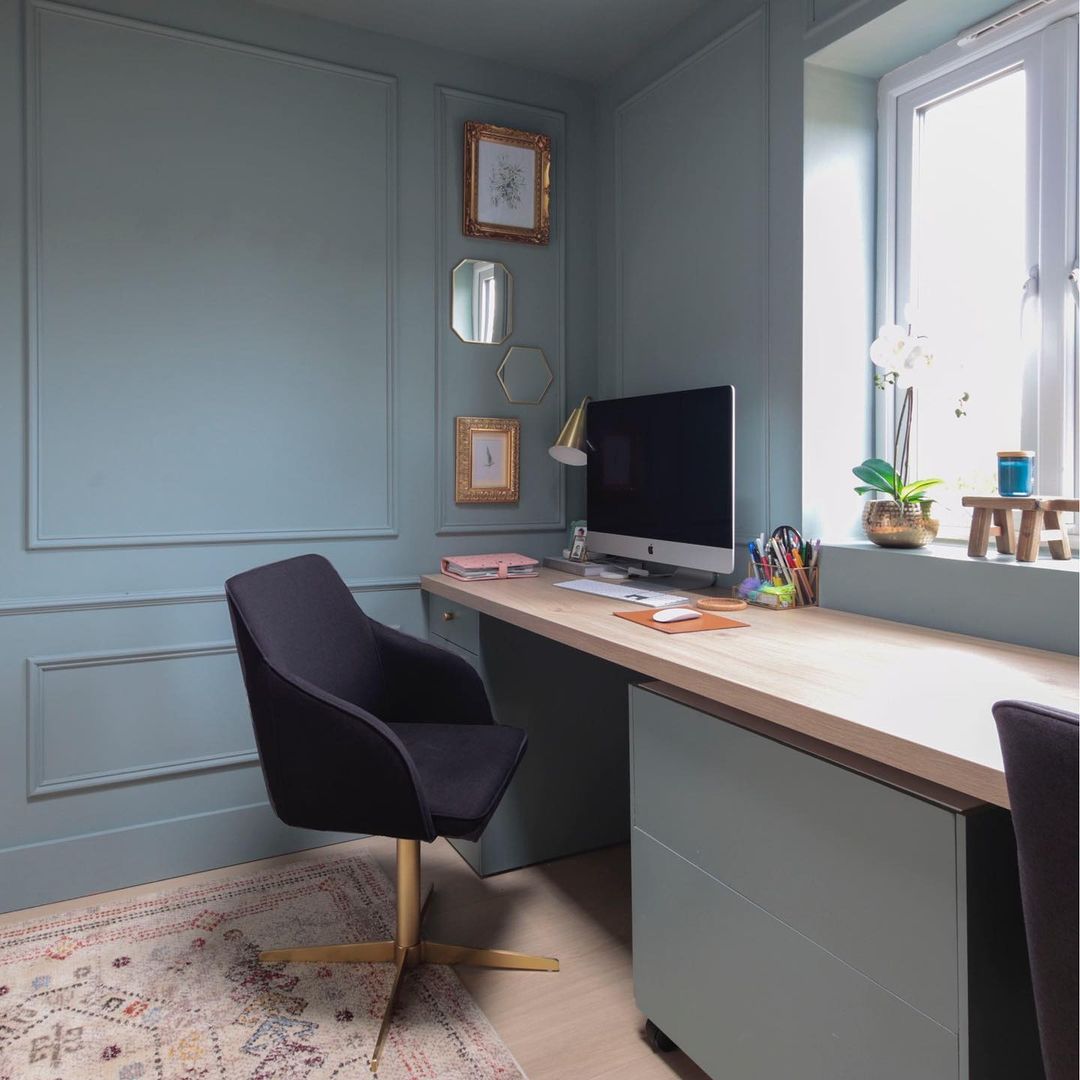 Navy blue
Navy is an intelligent and elegant colour which would suit a larger home office or workspace.
A popular colour for law firms, navy blue helps to create a sense of trust and authority. It is often used for furniture, wall paint, and even clothing, as navy suits are a staple in the legal profession.
Navy can pair well with many other colours, such as beige, white and gold, which can help create a professional and stylish look in your home office.
Credit: Instagram - @sheremadness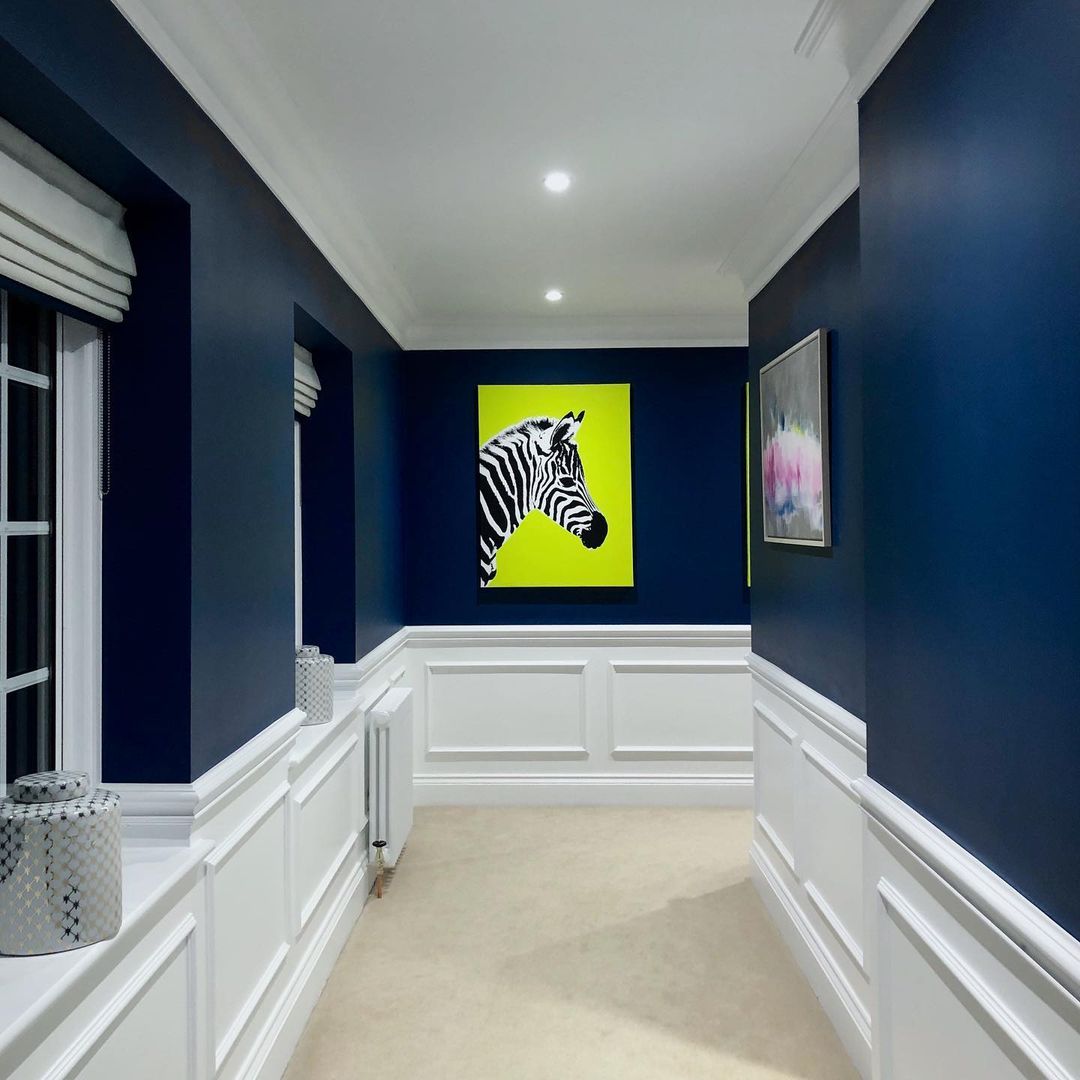 Soft blue
A pale blue palette offers a soft and gentle approach for your home office space.
Often used in therapy rooms, waiting areas and medical settings, soft blue is calming and tranquil, especially when paired with refreshing white shades and natural fabrics and textures.
Credit: Instagram - @lawnyhome
Bright blue
If your job requires innovation and creativity, then a bright blue feature wall might be the perfect fit for your home workspace.
Bright blue is vibrant and energising, and when teamed with other inspirational pieces in the room, such as artworks and prints, it is sure to get your creative juices flowing. Be aware that bright colours are mentally stimulating, however, so try to map out a quieter space within the room with more neutral, calming shades for downtime.
Credit: Instagram - @the_wildwood_house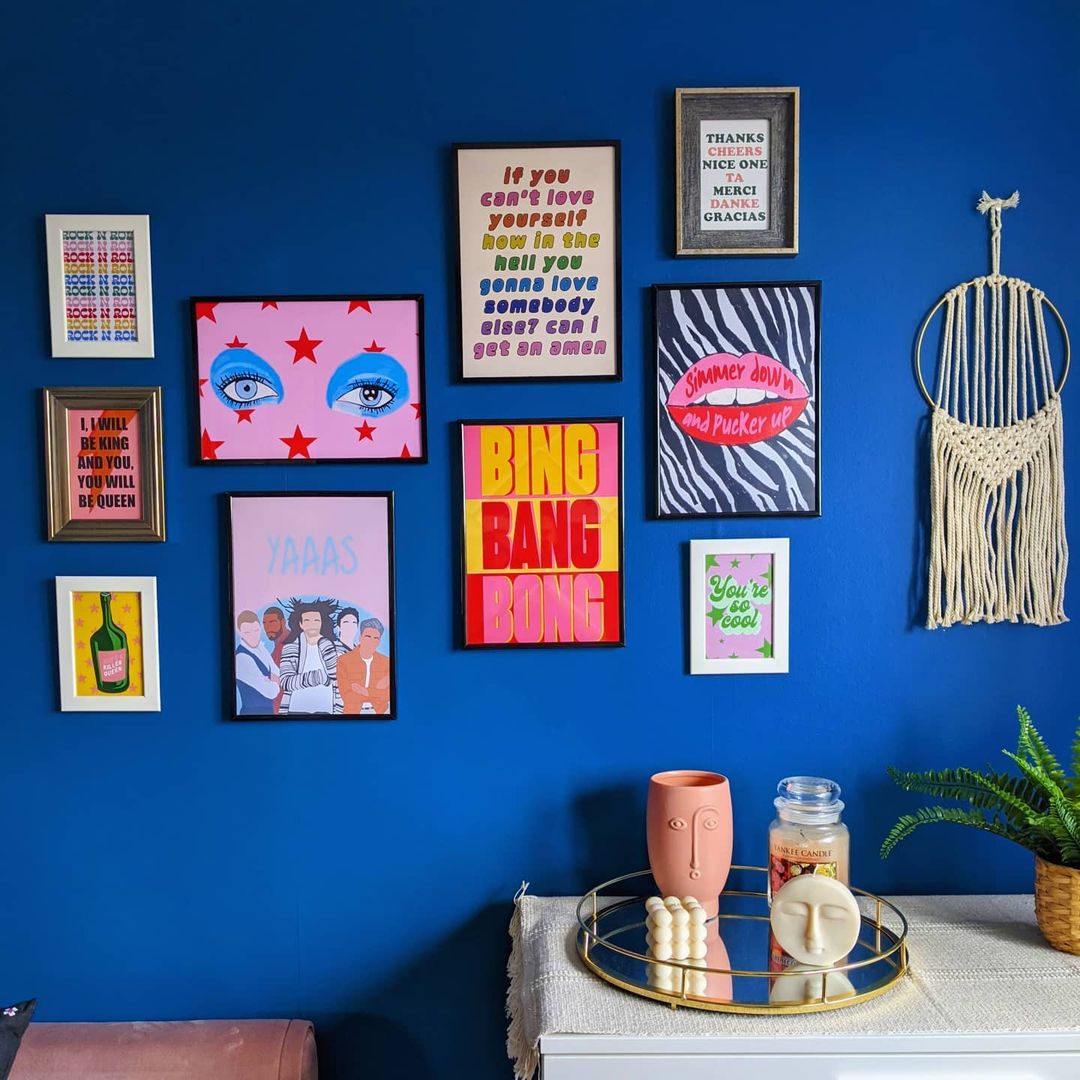 Soft blush pink
Pink is a cheery yet soothing colour that is growing increasingly popular in home office environments. It is a popular colour in creative industries such as graphic design and interior design, and helps to create a playful and whimsical atmosphere.
Opt for a pale, muted shade of pink, for example rose or blush, which are less stimulating, and chicer. Perfectly complemented with authentic wooden flooring and furniture.
Credit: Instagram - @megmonde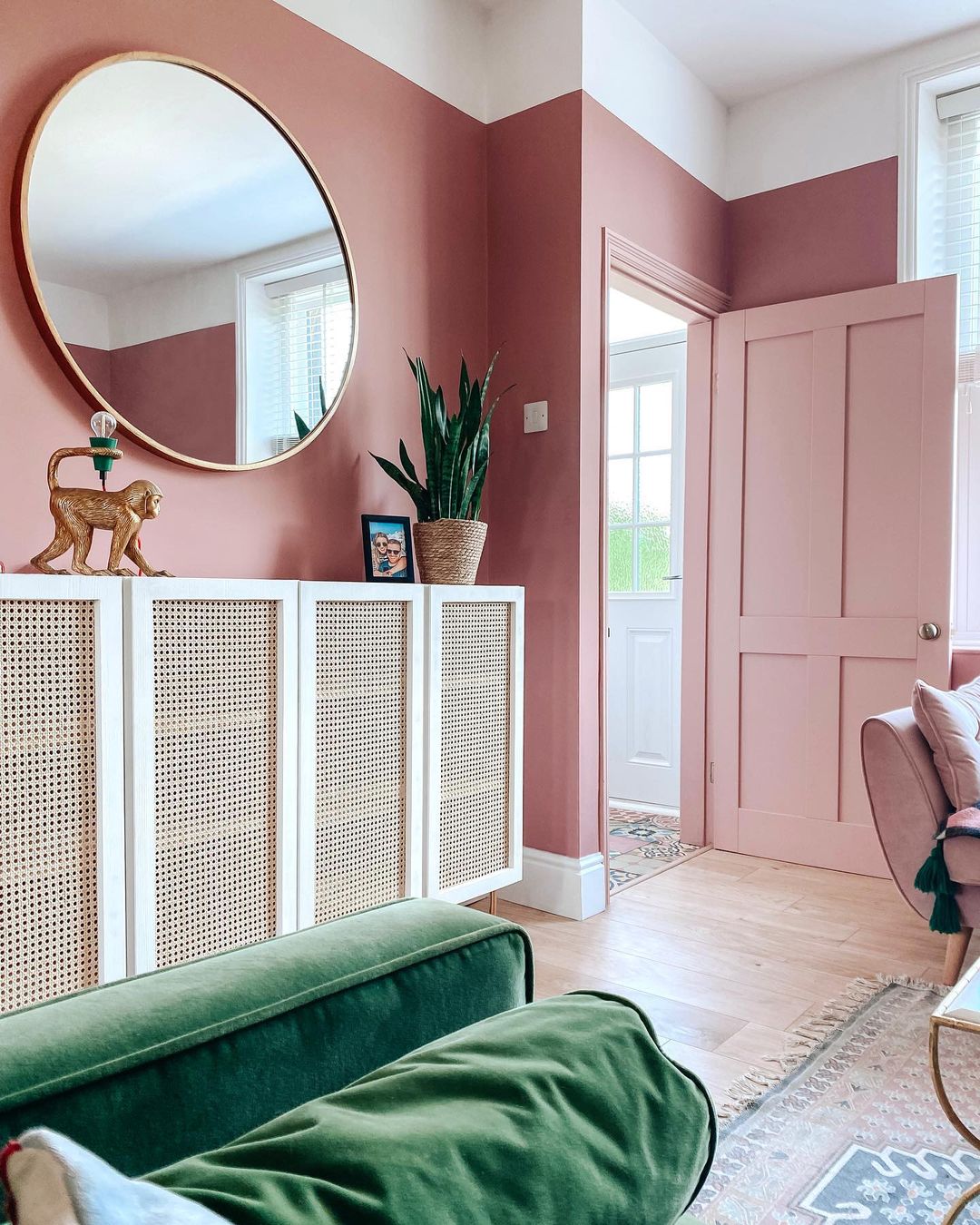 Vibrant green
Green is a colour of adventure and nature. It's perfect for a home office where you are looking for inspiration from the outside world.
Another great way to incorporate bright green into your office is by adding some indoor plants. Not only do you get the wonderful benefits of green, you also get a health boost from the fresher air and anti-stress effects.
Credit: Instagram - @thebresidence
Earthy green
For a green that is much softer and more of a reflection on calmness and focus, opt for an earthy shade such as Secret Retreat. 
Paired with creams, beiges, and wood tones it can create a sense of balance and harmony - it would be a good choice if you work in a high-stress environment.
Credit: Instagram - @thelandhome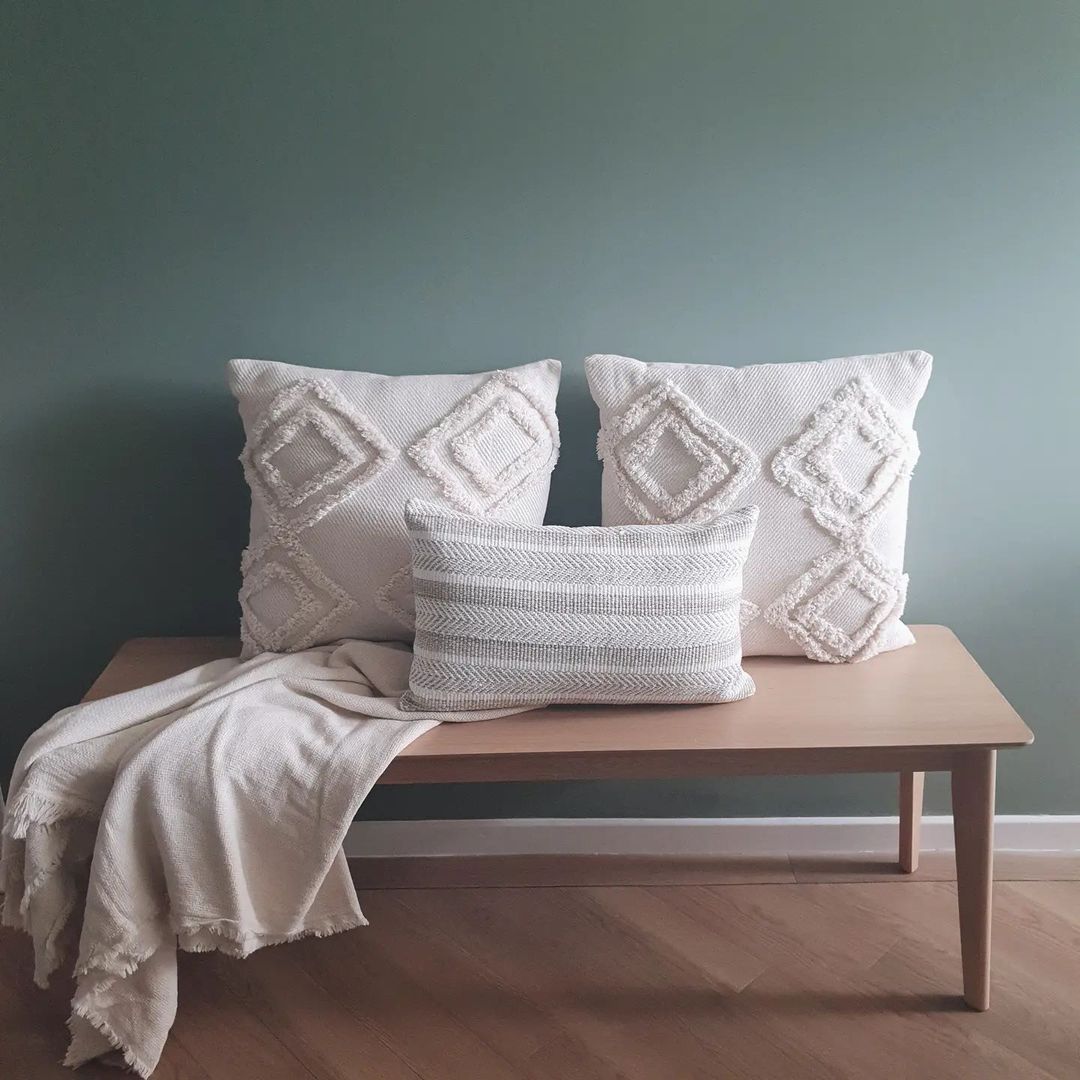 Yellow & orange office colour ideas
For most people, yellow is reminiscent of the sun. This makes it a warm and optimistic colour for an office setting.
By stimulating your spirit and soul, yellow inspires innovation and will kickstart your inner entrepreneur into action. When you need a boost, head towards the yellow shades!
Credit: Instagram - @ourhomeisajungle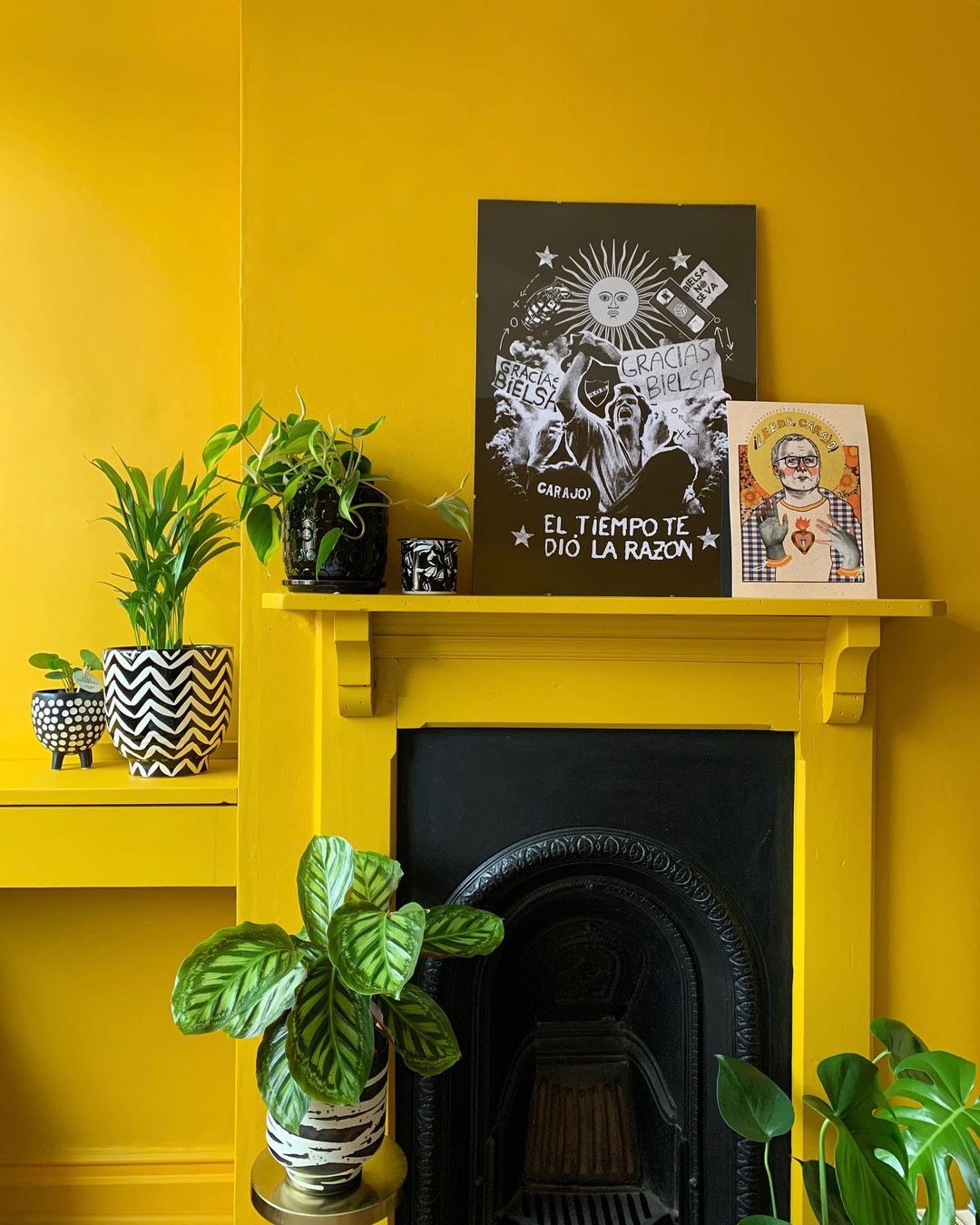 Warm yellow
As we established above, yellow is a bright and cheerful colour that can help boost energy and creativity. However, it can also be overstimulating in large amounts, so it's best to use it as an accent colour rather than a primary colour.
For a more muted and calming effect, choose a golden yellow with warmer brown tones. Flemish Tapestry retains all those positive yellow qualities but with less drama and stimulation.
Flemish Tapestry
L11dW23d
Coral
Coral is a delightful blend of pink and orange tones that are warming and cosy. It's ideal for a small, informal office area or a space to have catch-ups with colleagues or clients. 
Coral pairs well with other warm colours such as gold, yellow, and peach, as well as with cooler shades of white and pale grey.
Credit: Instagram - @overatclaires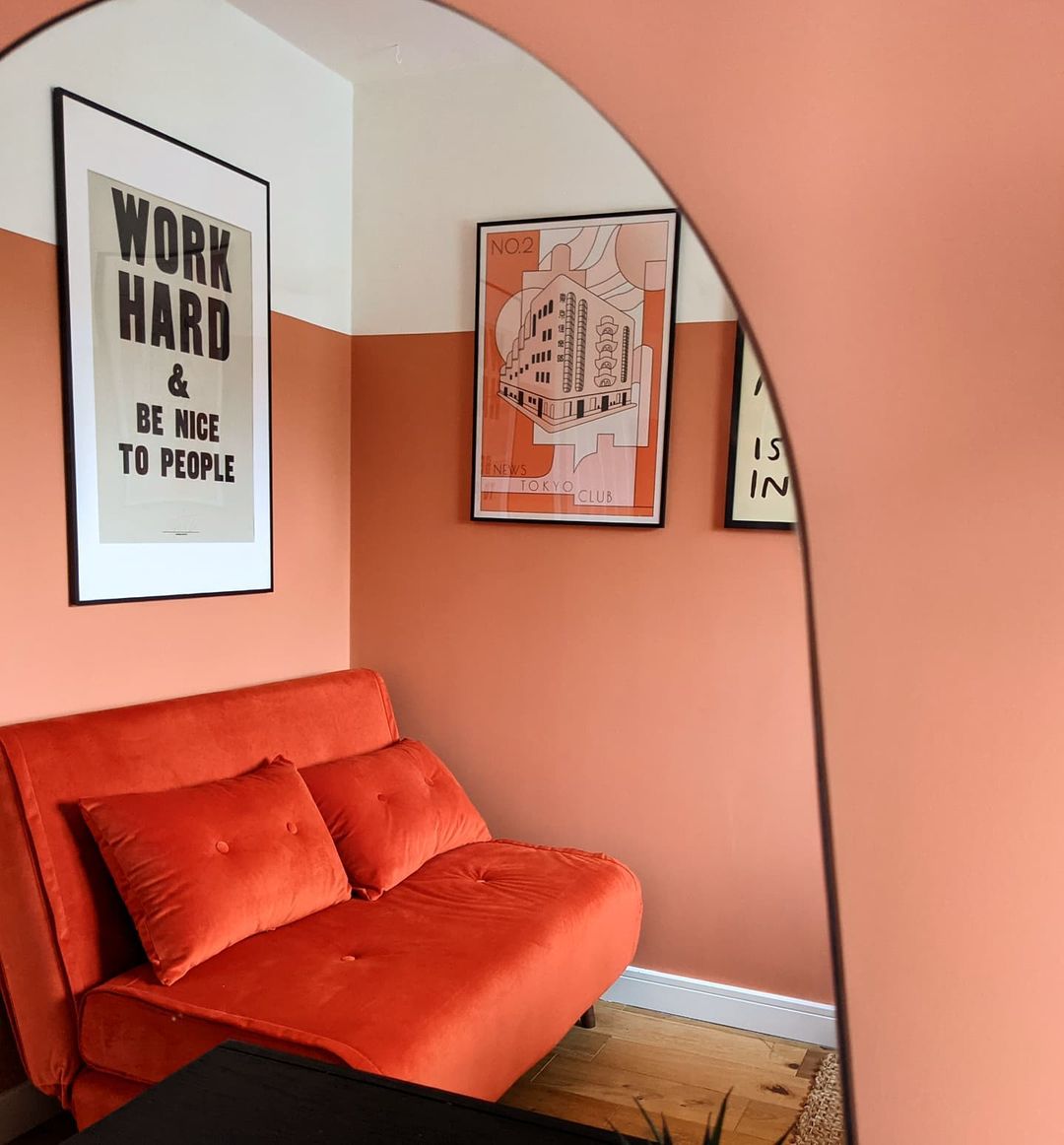 Office murals and wall art
Most of us spend the majority of our week at work, so incorporating fun and character into our workspace is really important.
Painting patterns or wall art onto your home office walls is a great way to add visual interest as well as a personal touch. Be brave and try a freehand painting technique to embrace your creative side, or alternatively opt for a stencil to help you keep things a bit more under control!
Credit: Instagram - @katieellenherrington
Charcoal
If your home office is bursting with natural light, then why not go for a popular, modern charcoal scheme with touches of mood-boosting green?
Dark schemes, such as the deep, almost black charcoal walls here, create an intimate environment for quiet contemplation.
Credit: Instagram - @home_for4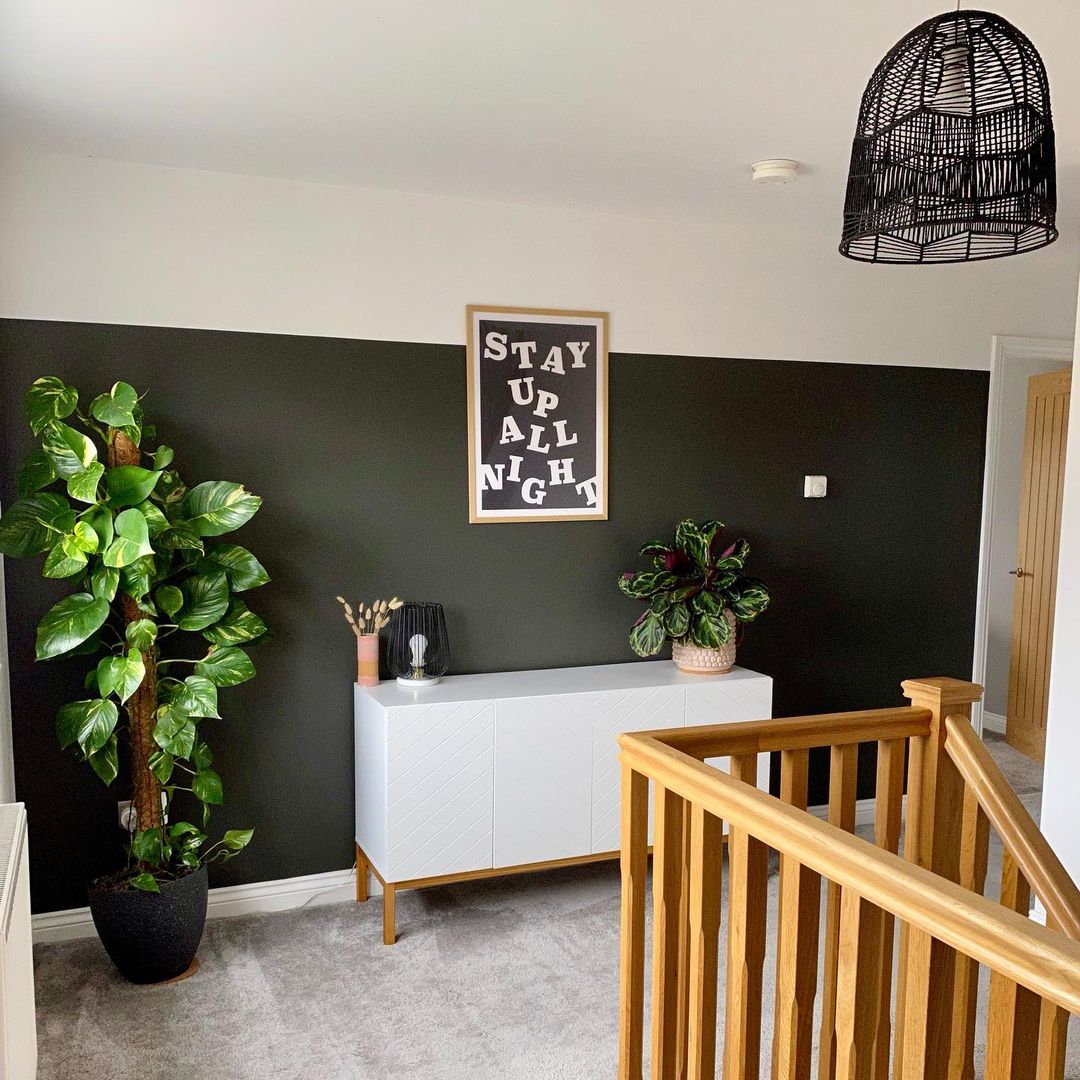 Black
Classy and chic, black painted walls in your home office can look professional and intelligent and are well-suited for consultation rooms or informal meeting spaces.
Team with lighter furniture and pops of colour in soft furnishings to balance out the light in the room and to keep things informal and cheery.
Credit: Instagram - @newbuildmeahome
Tempest's Teapot
L18dW35b
Inspired to refresh your home office interior decor?
Check out our handy Colour Match Tool - giving you access to over 2.2 million shades inspired by the things you love in your everyday life.