Upcycling is a wonderful way to breathe new life into great pieces of used furniture. Not only is it good for the environment to re-use in this way, but it also means you can create something truly bespoke that can be customised to your exact taste.
It's amazing how a few coats of great furniture paint can transform an item, with very little experience or prep work needed. You can upcycle old chairs, chests, dining tables and console tables with a fresh lick of paint, wallpaper and updated accessories to give them individual character and charm.
Below, we offer some upcycled furniture ideas and inspiration for your next upcycling project…
Get eclectic
Console tables are perfect storage solutions for small spaces, hallways and corridors. They are great for housing keys, mobile phones and other small valuables, keeping them safe and out of view.
This upcycled console table looks majestically modern, re-painted in a dark shade of teal. The green shade gives an earthy, Mediterranean feel, which blends well with an off-white surface and an antique brass drawer handle.
The eclectic theme is continued with a vintage brass mirror hung above the console, and the patterned floor tiles add a warming contrast to the plain concrete walls behind it.
Credit: @shes.electric
Quirky dining
Upcycling dining room table sets means you can modernise them instantly with an on-trend paint colour.
This antique dining table and chairs have been given a quirky modern revamp with grass green paint, adding nicely to a concept of nature and bringing the great outdoors, indoors. The chair seats have also been re-upholstered with green and white patterned fabric to complete the fresh new look, as well as offer a comfy place to sit on while enjoying a lovely breakfast or afternoon tea.   
The wall décor has been kept plain and neutral here, so the table set really pops out, and the floral displays and houseplants further enhance the theme of nature in the space.
Credit: @jackdmarch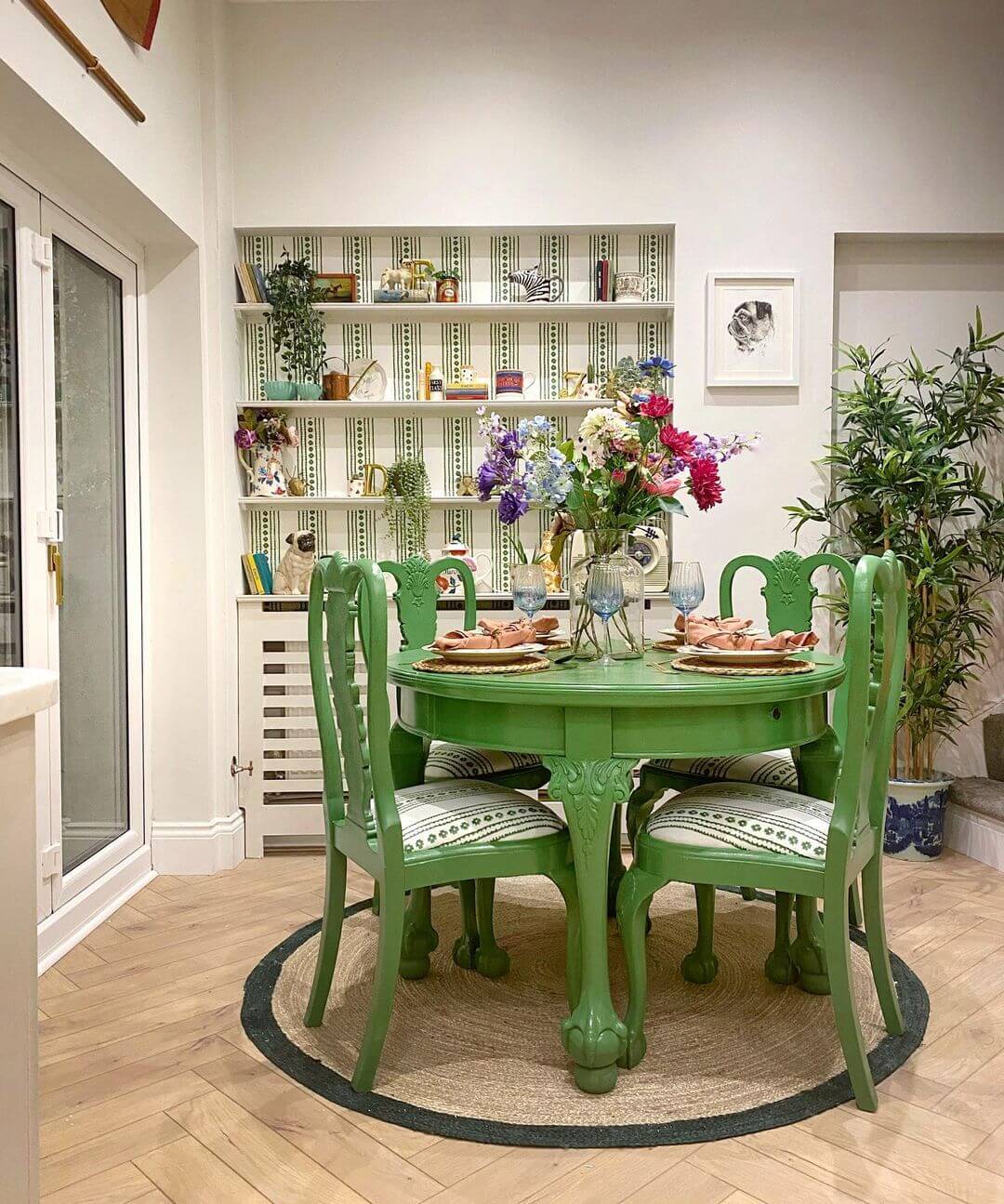 Hollywood dressing
A cleverly upcycled dressing table can transform a bedroom or dressing room into a vintage boudoir of dreams.  
This statement dressing table has been painted a shade of vintage teal and is finished with gold ring drawer handles, which match beautifully with the pink velvet chair and pretty pastel wall colour. 
Perfect for storing all your cosmetic essentials, the dresser creates a perfect spot for popping on your make-up and jewellery each day, while feeling like a true Hollywood film star!   
Credit: @ourmillcottage
Retro storage
Retro-inspired interiors are having a real comeback and upcycled furniture pieces are the perfect accompaniments to complete the look.
This chic and fashionable retro-inspired console chest could make a big difference to the ambiance of your living room, as well as offering ample storage. The dark navy paint colour gives a sophisticated and grown-up edge, while the unpainted oval wooden handles retain a firm representation of the mid-century vibe.
The chest looks sleek up against a neutral backdrop, while the square clock and shaggy rug make great accessories to complete the 70s trend.
Credit: @fiddle_faff_furniture
Bold under-stairs
Cleverly occupying space underneath a staircase, an upcycled desk makes a great storage option for both townhouses and cottages alike.
Whether you already have a desk at home that needs a revamp, or you manage to pick one up in a vintage market, a simple lick of colour can give you a whole new perspective of your home's entrance space.
The updated bright green shade of this desk gives it a bold, modern edge, while the brass drawer handles and round cupboard door handles soften the style to blend in with the rest of the period interior.    
Credit: @thepinkterrace
Kensington Gardens
L19dW38b
East-asian chic
These dressed up, East-Asianstyle drawers are sophisticated and demur, and would fit perfectly into a bedroom or dressing room for housing all your glamourous essentials.
The chest has been upcycled using a putty grey paint and stylised wallpaper has been applied to the front of the drawers, making it unique and eye-catching.  
Using patterned wallpaper on an upcycling project gives you plenty of creative scope to play around with pattern and colour. There are so many wonderful designs and patterns available, that you are sure to find one that fits just right with your room interior.
Credit: @revereinteriorsuk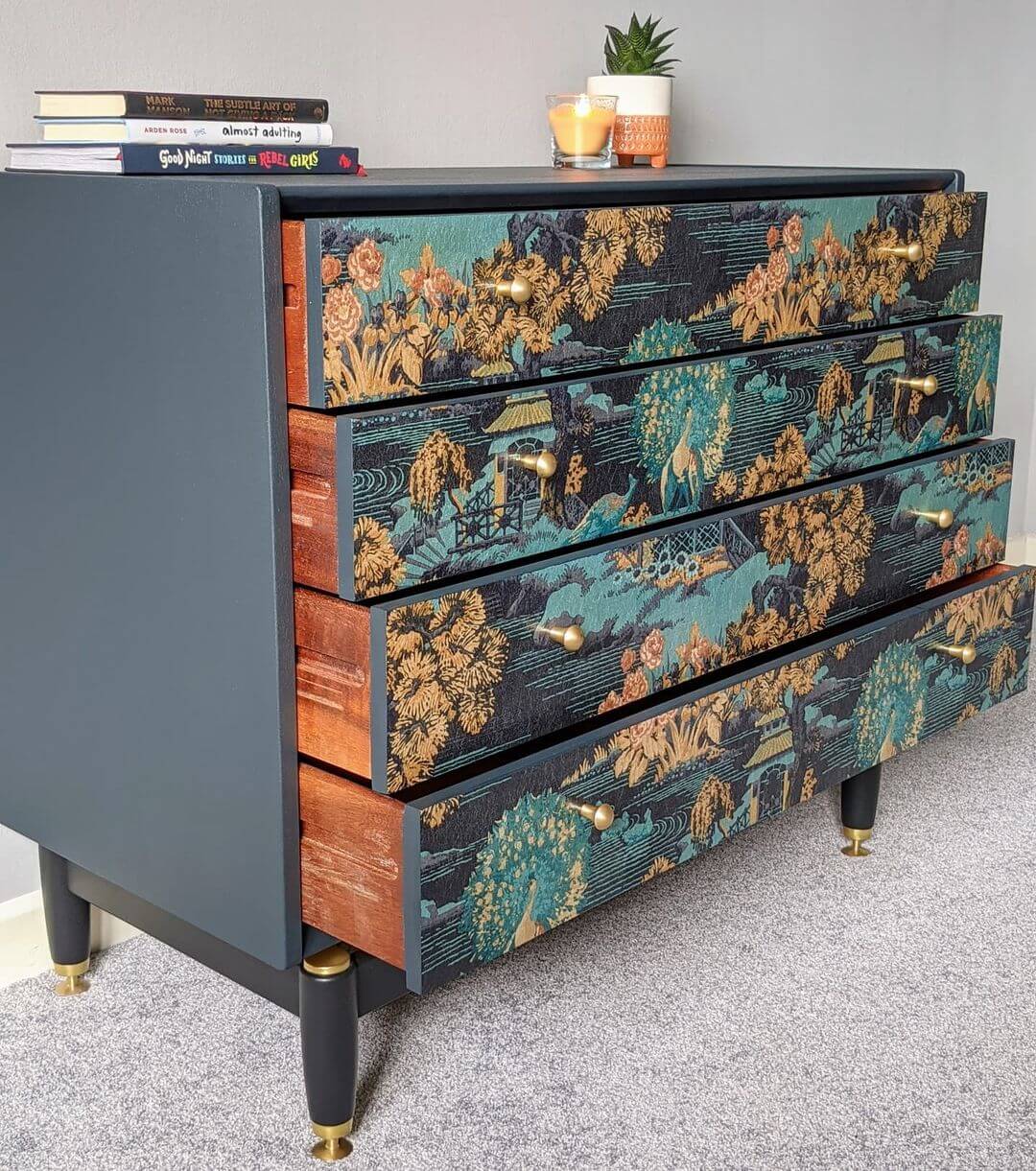 Flamin-go wild
When you're feeling brave and bold, opt for a furniture colour that is just as bright as your personality.
Shades of pink give us an emotional boost of joy and happiness, and although we might not want our whole room décor to be in pink, introducing it with a piece of upcycled furniture is a great compromise.
This vintage cabinet has been given a total rehaul, making it perfect to store drinks or pretty glasses in a dining room or living space. The back of the cabinet has been lined with a pretty floral wallpaper, which tones beautifully with the flamingo pink paint, and adds a sophisticated charm.
Credit: @maiseshouse
Scandi styling
If you are considering sending an unused bedside table or small cabinet to the tip, then think again! Even the plainest of furniture pieces can feel refreshed with a splash of paint and new accessories. And, there is always a good place for clever storage.  
This small chest of cabinet is a great addition to a landing, hallway or an empty corner of the living room. Not only is it practical, it's also easy on the eye. Here it is used to hide wiring from a light fixture, and to display books and flowers.  
Painted in a stylish neutral, the cabinet is effortless, yet charming, adding a modern Scandinavian feel to the space.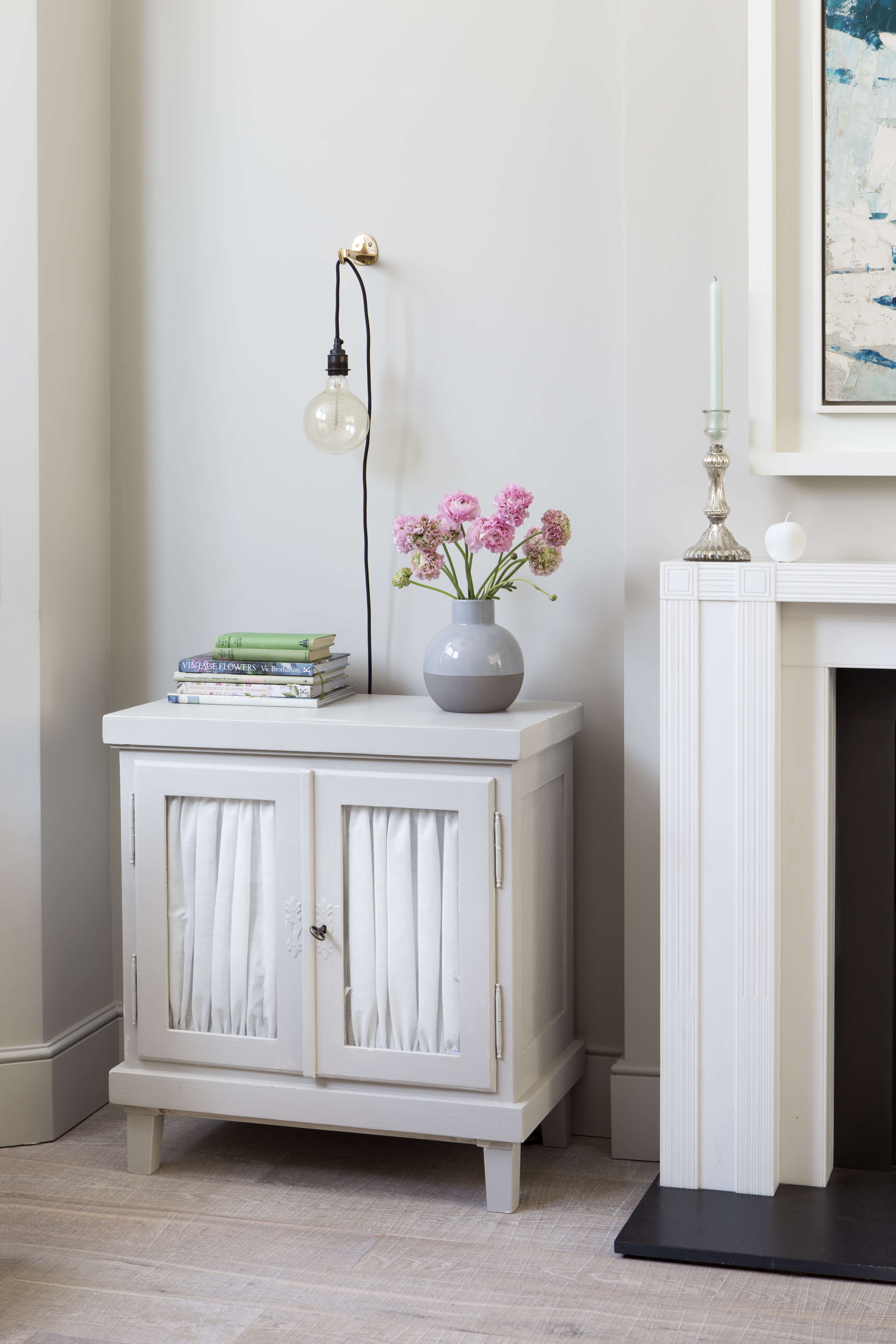 Pretty peach
Who said that kitchen cupboards have to be bland? A simple change of colour can make even the most boring pieces of kitchen furniture into objects of desire.
Having been upcycled and repainted, this pretty peach cabinet is transformed into something delicate and dainty, while still being practical and sturdy enough to hold crockery, table linen and glassware inside.
The peach shade blends effortlessly against the pastel pink walls and looks great standing proudly on top of the monochrome floor tiles.
Credit: @northernsouls.littlehole
Wacky wardrobes
Got an old wardrobe that is looking a bit sorry for itself? A lick of paint might be all it needs for a brand new lease of life. 
Plus, who said you need to paint it all the same colour? This vintage wardrobe looks totally modern and funky with a dual colour design that would suit both a kids and adults boudoir. 
Remember to update the door knobs too for further contemporary appeal.
Credit: @banksie1707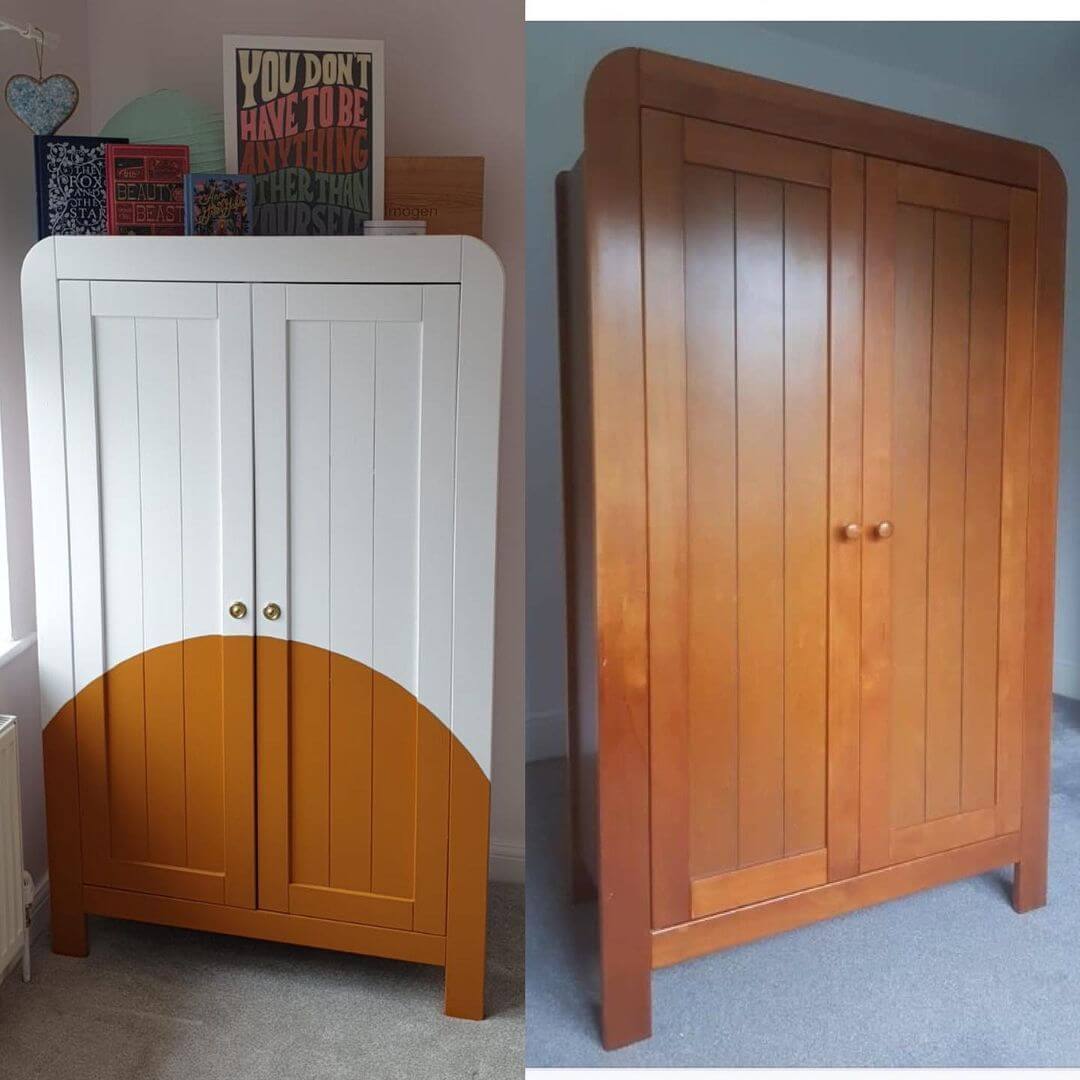 Pink Fireplace
The lively shade of pink used to upcycle the fireplace injects a playful and spirited energy into the room. It serves as a focal point, adding a dash of whimsy to the space. The colour choice is unexpected but ultimately uplifting, demonstrating that even traditional elements like fireplaces can embrace modern, daring stylistic choices.
Credit: @ourhomeisajungle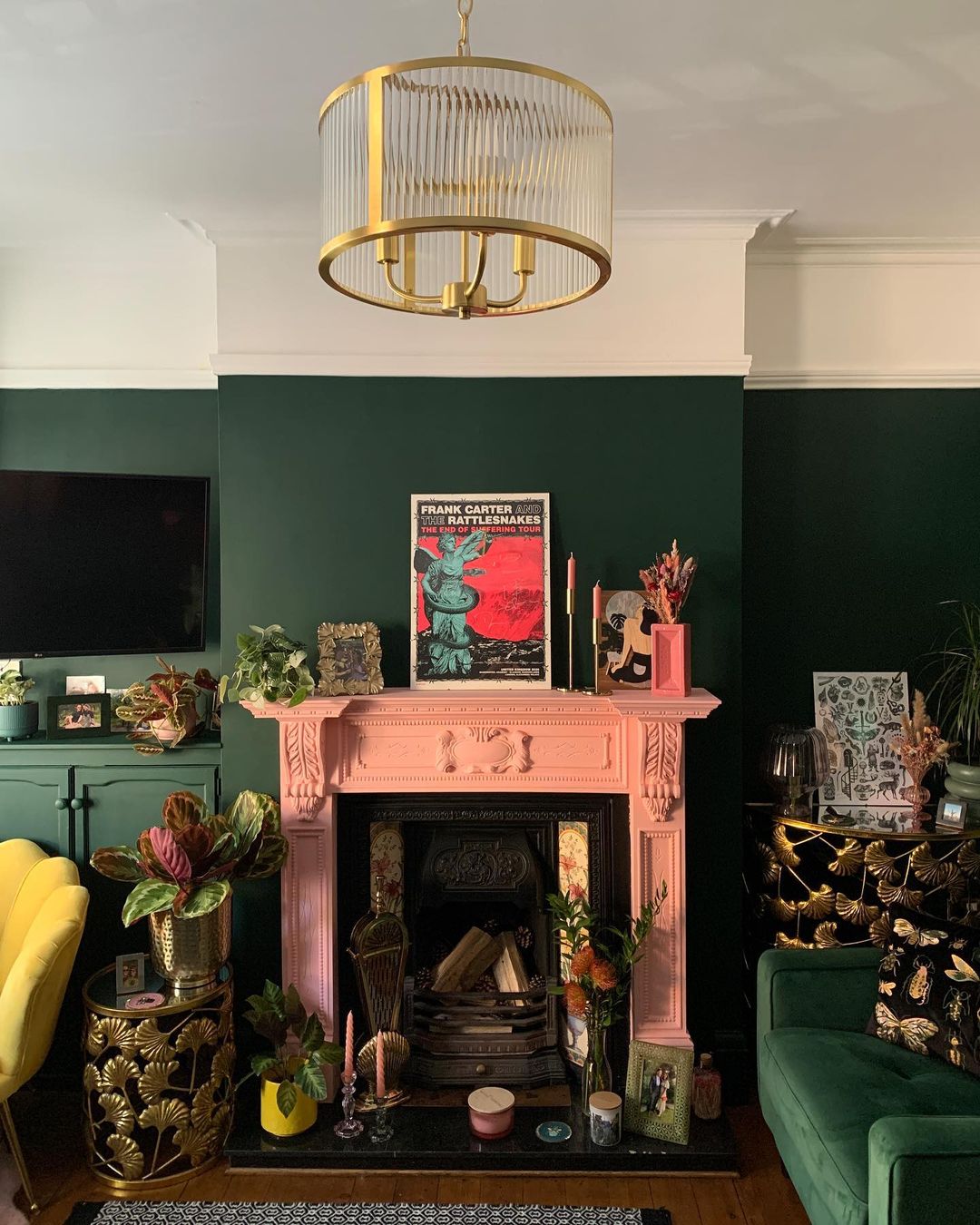 Impactful Drawers
This vibrant orange set of drawers is a charming example of how upcycling can transform a mundane piece of furniture into a statement piece. The bold orange hue immediately captures attention, infusing a sense of energy and warmth into the room. Furthermore, the vintage design of the drawers adds a touch of nostalgia. This is an excellent choice for anyone looking to add a pop of colour and personality to their space.
Credit: @walbirchmansion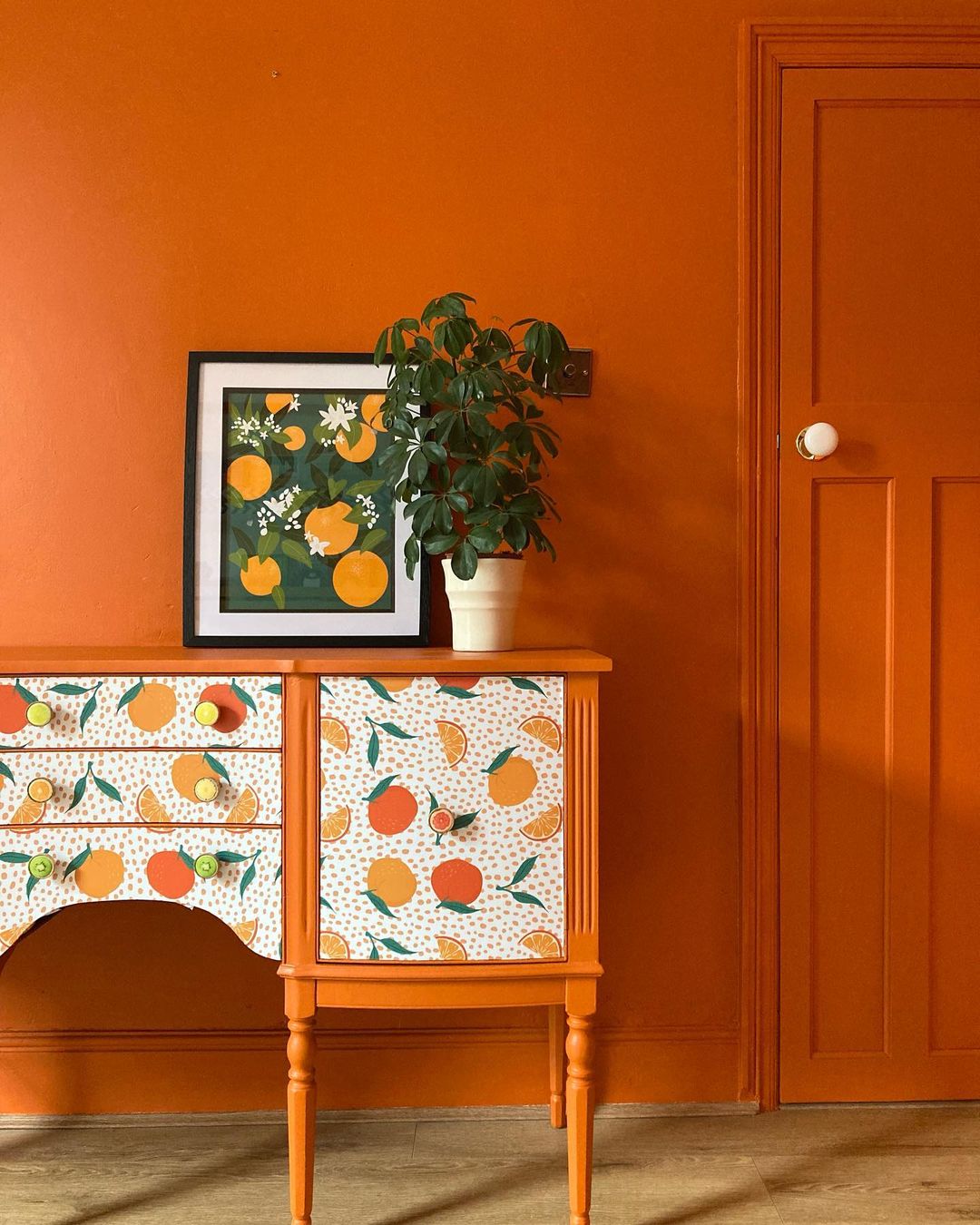 Pastel Chairs
These pastel-coloured chairs are clear representations of how upcycling can infuse life into tired pieces of furniture. The pastel palette allows the chairs to blend seamlessly with a variety of interior styles, while still adding a touch of personality with the cushion choices and bright colours on the bottom of the legs. The vintage flair of these chairs, combined with the fresh, modern colours, makes them perfect statement pieces for any room.
Credit: @upcycle_and_paint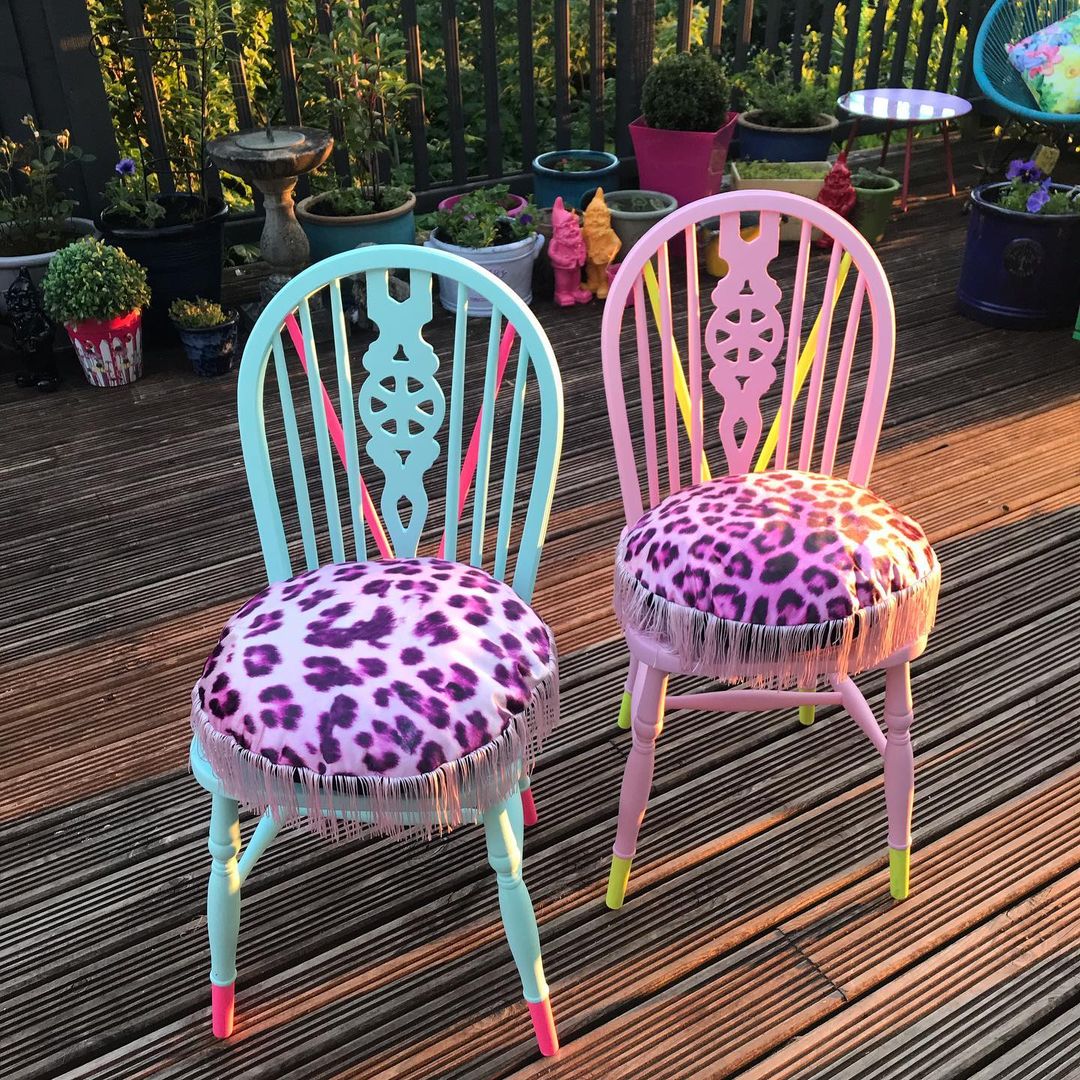 Go Bold Radiator Covers
This bold and colourful radiator cover is nothing short of a stunning transformation. With a bold purple hue, it uplifts the overall aesthetics of the room, turning a usually overlooked item into an eye-catching feature. The colours chosen for covers not only radiate warmth but also add a dash of vibrancy and cheerfulness to the space.
Credit: @ouremporium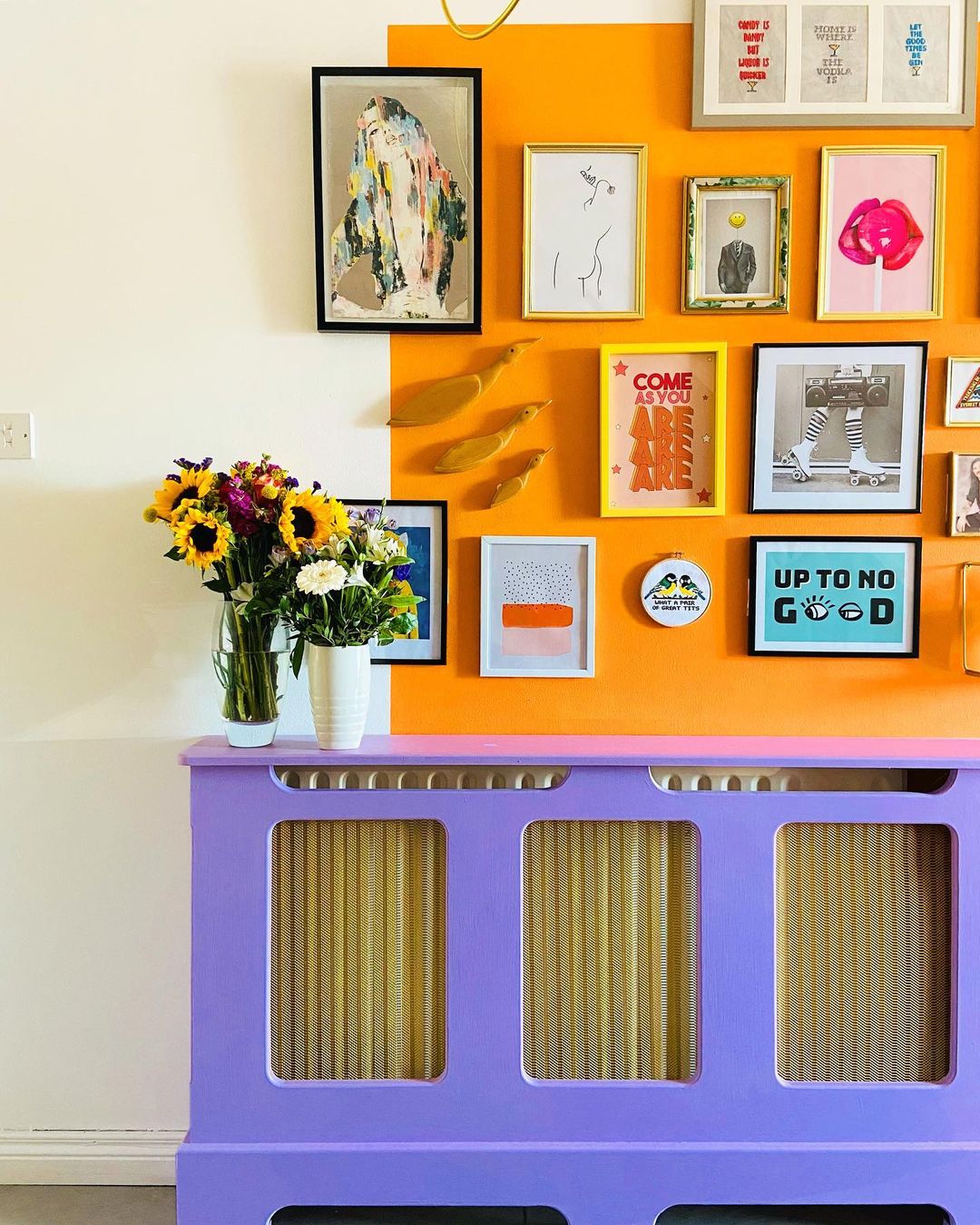 Dusty Pink Shelves
The dusty pink shelves beautifully exemplify the transformative power of upcycling. The muted pink hue lends a soft, romantic touch to the room. The addition of books, plants and assorted ornaments further enhances their appeal, showcasing personal style and creativity.
Credit: @homemilk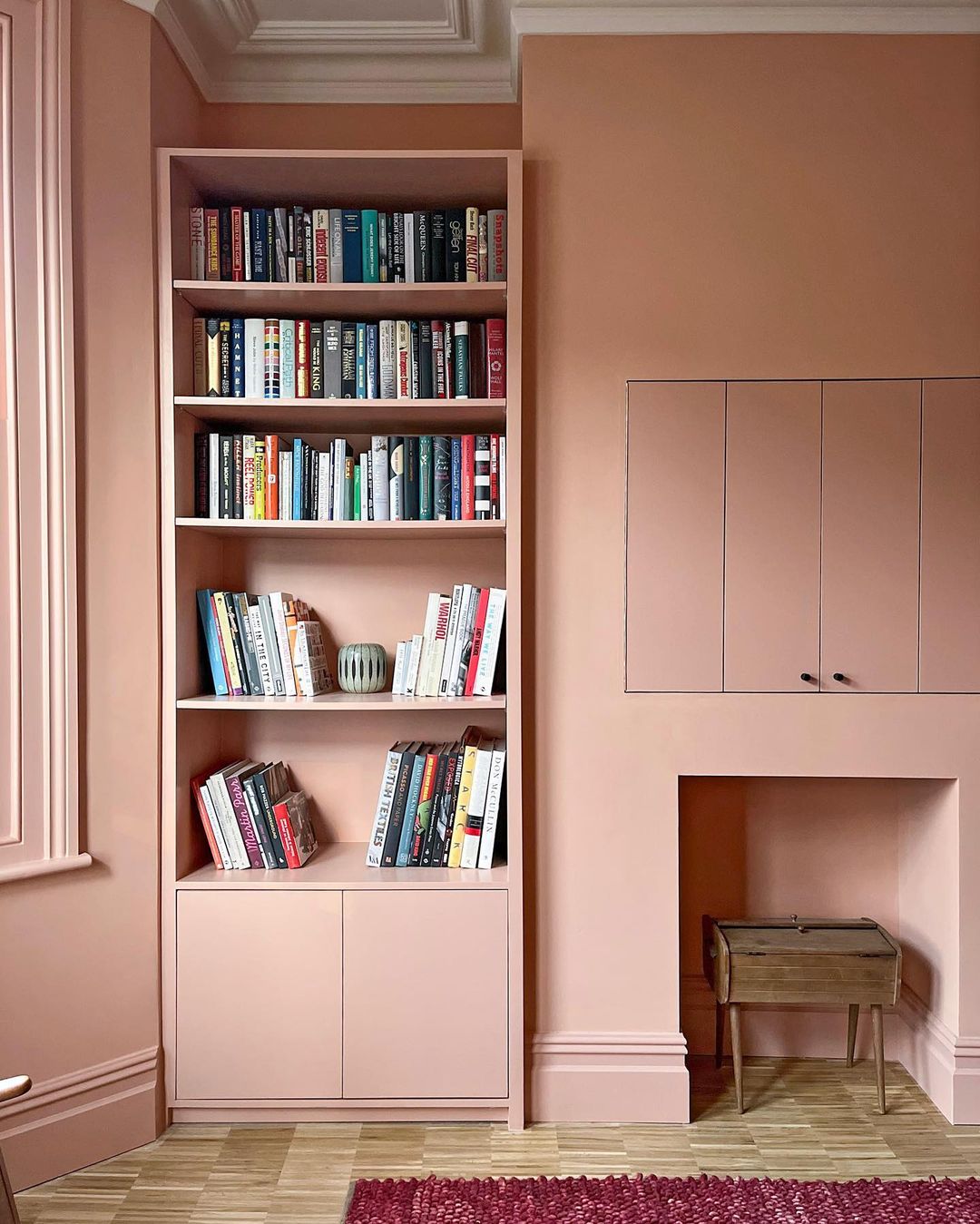 Teal Cabinets
The teal cabinet presented below is a splendid illustration of how upcycling can lend a fresh lease of life to old furniture. The striking teal hue is a bold and adventurous choice, immediately drawing the eye and becoming the focal point of the room, despite the bright wall colours.
Credit: @ginandhome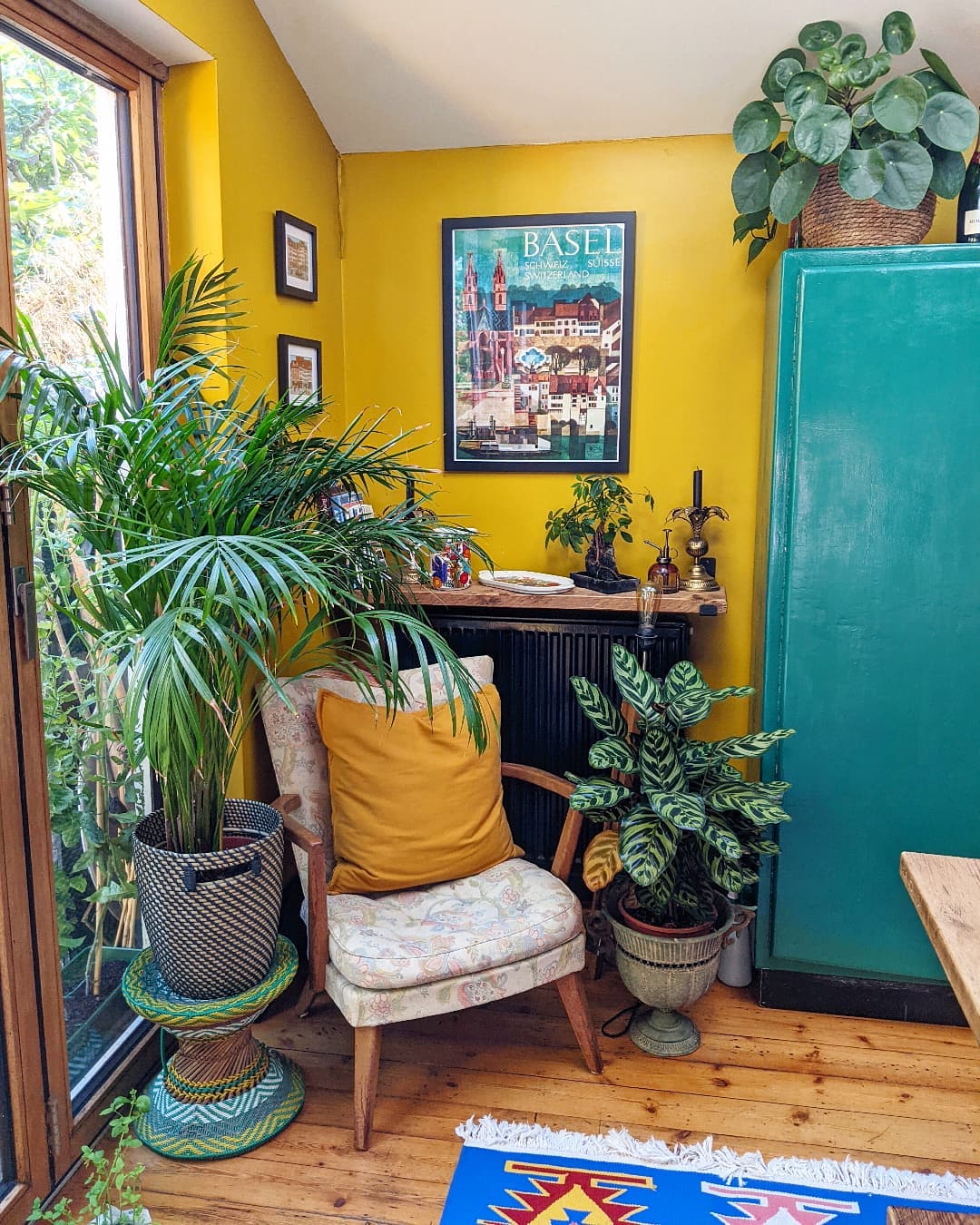 Rainforest Retreat
X113R232A
Forest Green Bedroom Furniture
The green bedroom furniture set pictured below is a superb example of upcycling's potential to breathe new life into dated furniture. The refreshing forest green shade introduces a calming, serene atmosphere into the room, evoking feelings of being in nature. Paired with the lighter tones of the room, the furniture stands out as a distinct, elegant feature.
Credit: @endofthegrove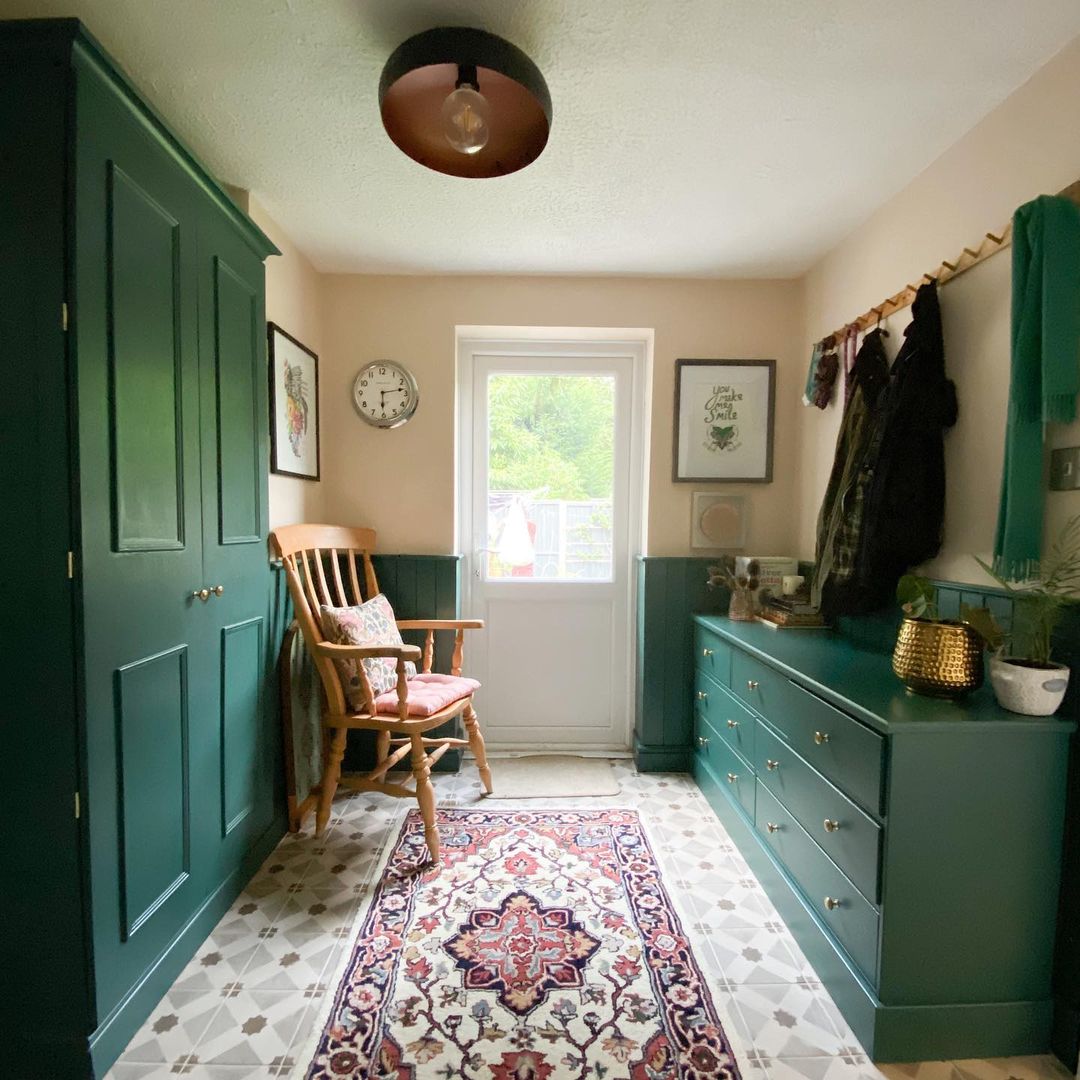 Midsummer Night
X136R267A
Sage Wardrobes
Painted in an enchanting sage green, this wardrobe exudes a tranquil, earthy vibe that enhances the overall aesthetic of the room. The metallic handles add a contemporary contrast to the faded green, creating a stunning balance of colour and style.
Credit: @ty_victorianhouse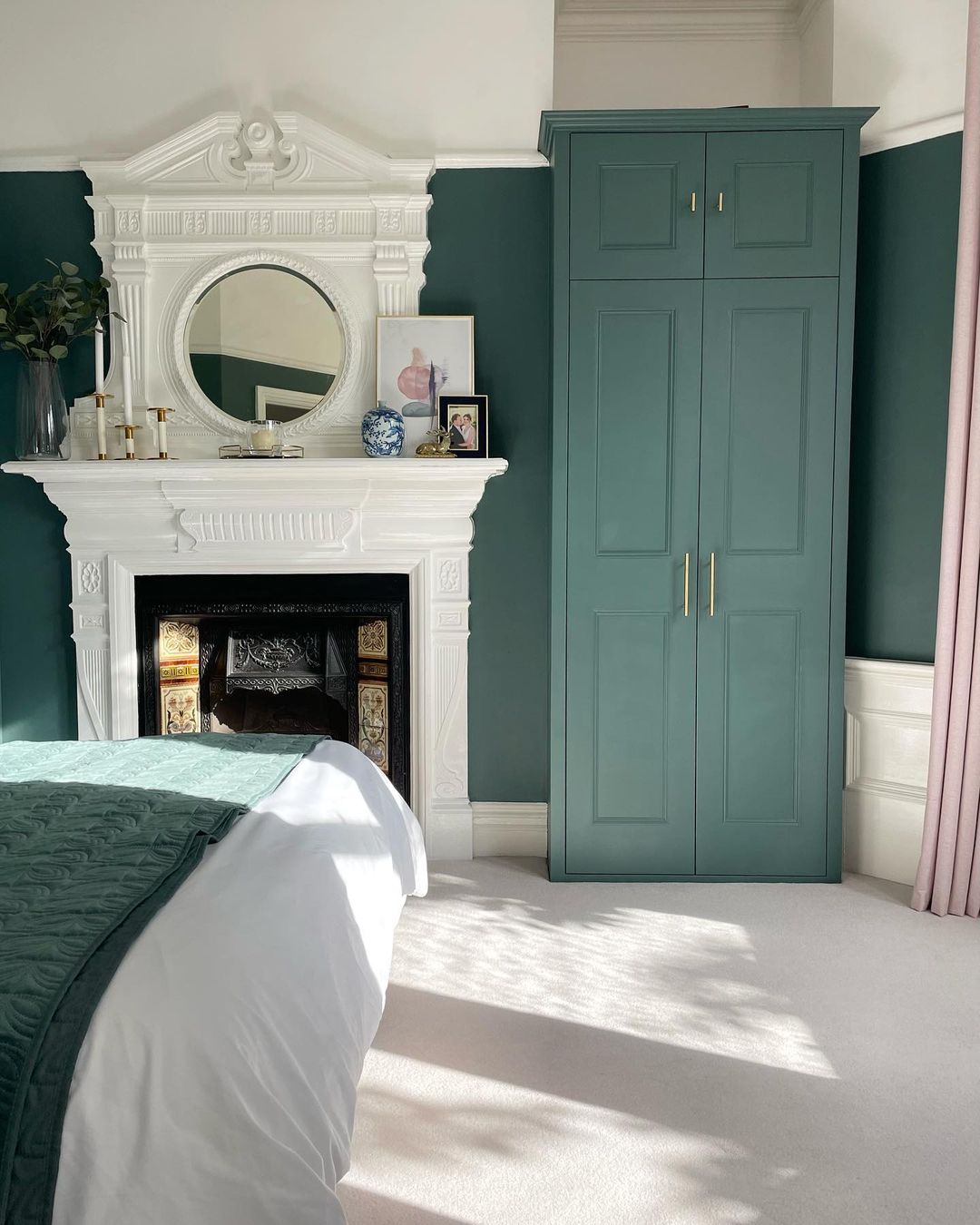 Neutral Nursery Cot
The neutral nursery cot is an exquisite example of the transformative power of upcycling in creating a serene and calming space for the little ones. The cot, painted in a soft, neutral shade, blends seamlessly with the minimalist aesthetic of the room, providing a serene and soothing atmosphere.
Credit: @oursmallterrace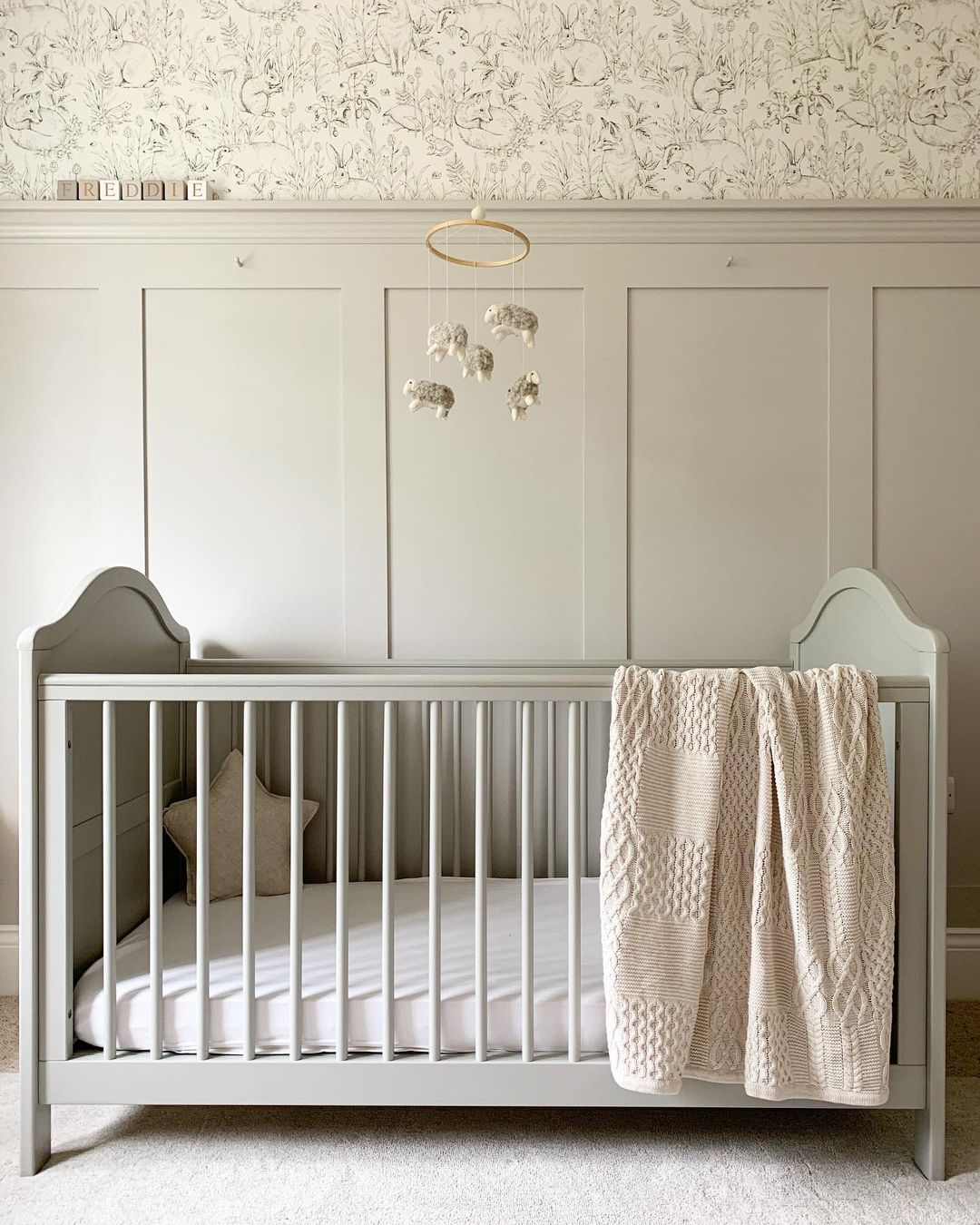 Deep Green Cabinet
The deep, earthy green shade brings a sense of calm and tranquillity to the space while also acting as a bold statement piece. The gold hardware complements the dark green beautifully, adding a touch of sophistication and elegance. The cabinet offers storage space, demonstrating that practicality and aesthetics can go hand in hand.
Credit: @be_home_at_11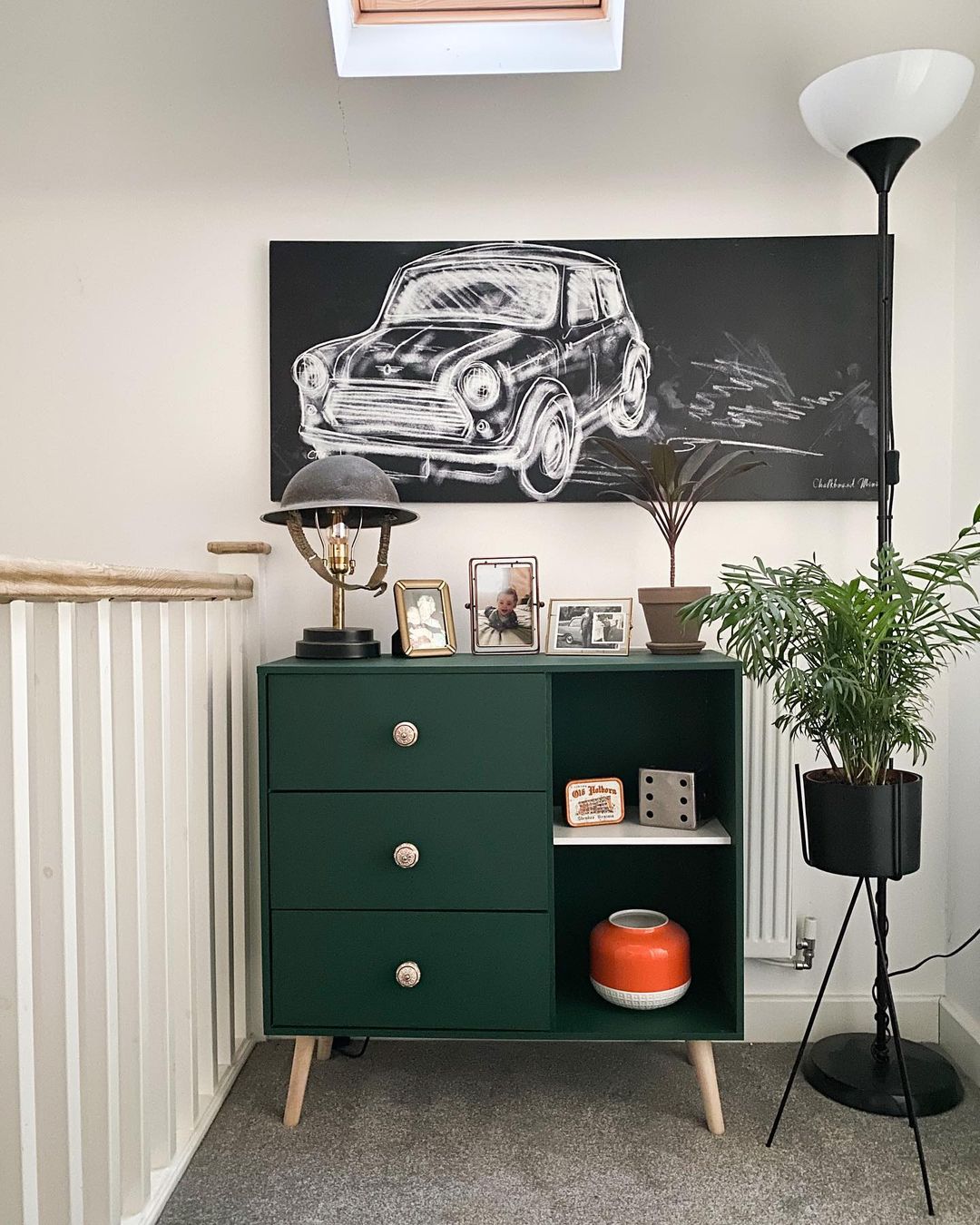 We hope that we've given you plenty of upcycled furniture ideas for your next project. But, before you start, be sure to take a read of our article on finding furniture for upcycling and also our guide on how to paint shabby chic for plenty more helpful advice and inspiration.