Small dining spaces have many benefits. 
Socially, they can create an informal, intimate and cosy atmosphere for entertaining family and friends, while practically, they can be much easier to clean and maintain than larger spaces. 
If you have a small dining room, then there are many ways to amplify its character and create a beautiful and welcoming space.
How can I get the most out of my small dining room?
Here are 5 simple ways to get the most out of your small dining room:
Opt for a neutral colour palette to maximise light. 
Choose the right functional furniture. 
Utilise height and wall space for storage.  
Amplify the space with atmospheric lighting. 
Avoid clutter and unnecessary decor to keep things simple.
Our post on small room decoration ideas may be able to provide some inspiration on the decorating aspect of your dining room.
Small dining room decorating ideas
Soft and neutral colour palettes
Using a light and neutral colour palette across your walls, floors, and furniture can make your dining area feel more spacious and roomy. 
Light shades such as white, beige and pale grey reflect more light, creating a brighter and more open feeling to your space.
Credit: Instagram - @ourmonktonheathfieldhome
Savvy use of your square footage 
When it comes to the layout of your dining area, it's useful to plan things out on paper first to ensure you are making the best use of space before you start decorating or buying furniture and accessories. 
When you are planning the space, think about room flow and how you will access the kitchen to serve food or clear away. You also want to ensure that walkways will not be limited by placing a table in the way, or chairs sticking out causing a hazard as you walk by.
Functional furniture
Functional furniture is essential in a smaller dining area, where space is premium. 
Opt for seat benches that can be tucked away under the dining table or explore the use of drop leaf or extendable tables that can be made larger when needed. 
Many dining tables also come with built-in storage for placemats or cutlery which can often come in very handy for practical purposes.
Credit: Instagram - @zebra.homeinspo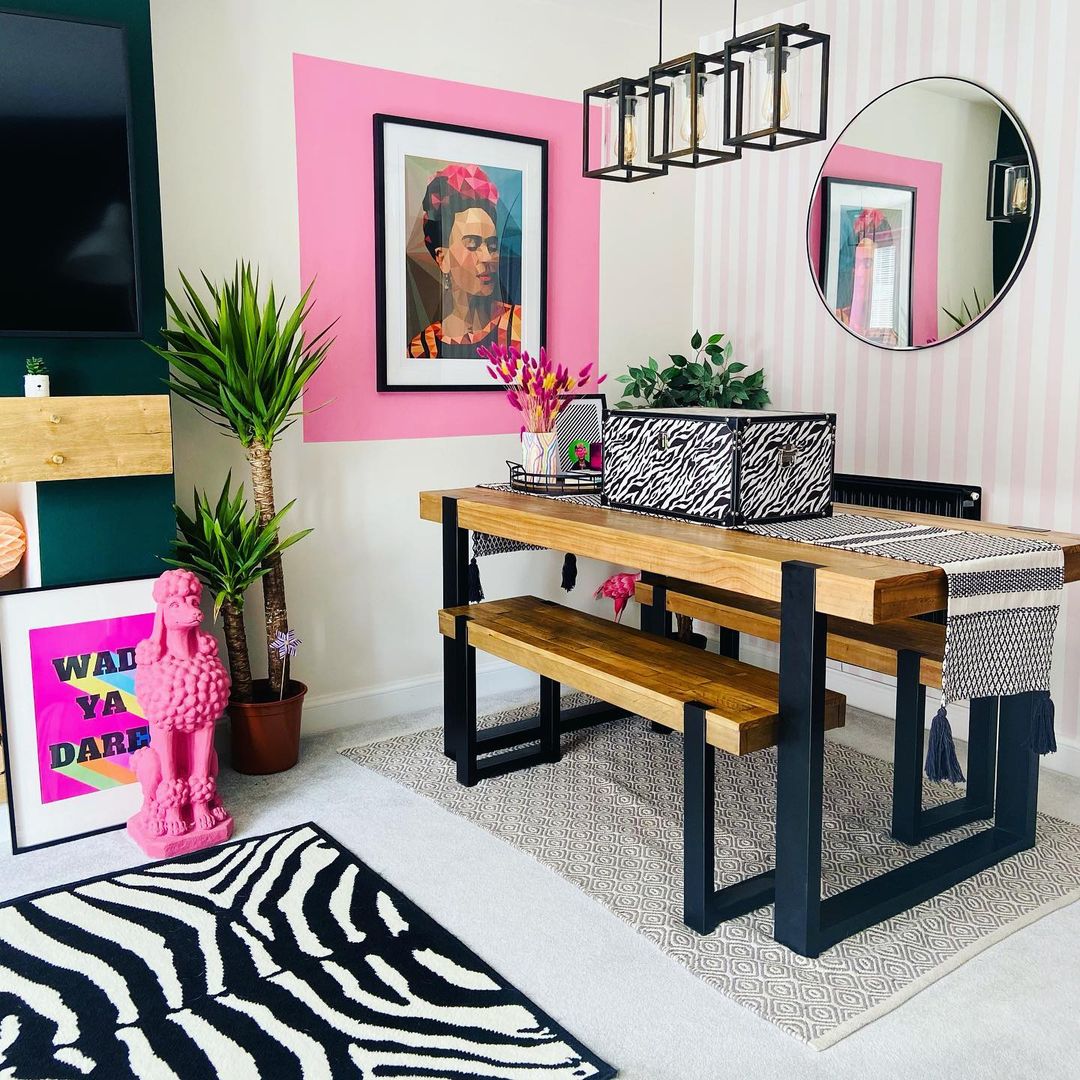 Embracing simplicity
Simplicity is key when it comes to creating a tranquil and relaxing dining room area. 
Natural materials and nature-inspired colour palettes offer a welcoming and calming space to sit and eat as well as socialise.
Remember less is often more, so avoid over-cluttering or the use of overly decorative objects on your dining table. 
Credit: Instagram - @life_at_no3
Use all available natural light
Using natural light is key in a small space to maximise light. 
Consider placing your dining room table and chairs next to a large window or French doors to help create the illusion of outside al fresco while still being inside. 
Credit: Instagram - @_homeatno.12
Try a round table
A round table can often be more sociable than a square or rectangular table, creating a more intimate and personal feel to the dining space. 
Round tables are also great space savers and take up less room than their angular counterparts.
Credit: Instagram - @70shousemanchester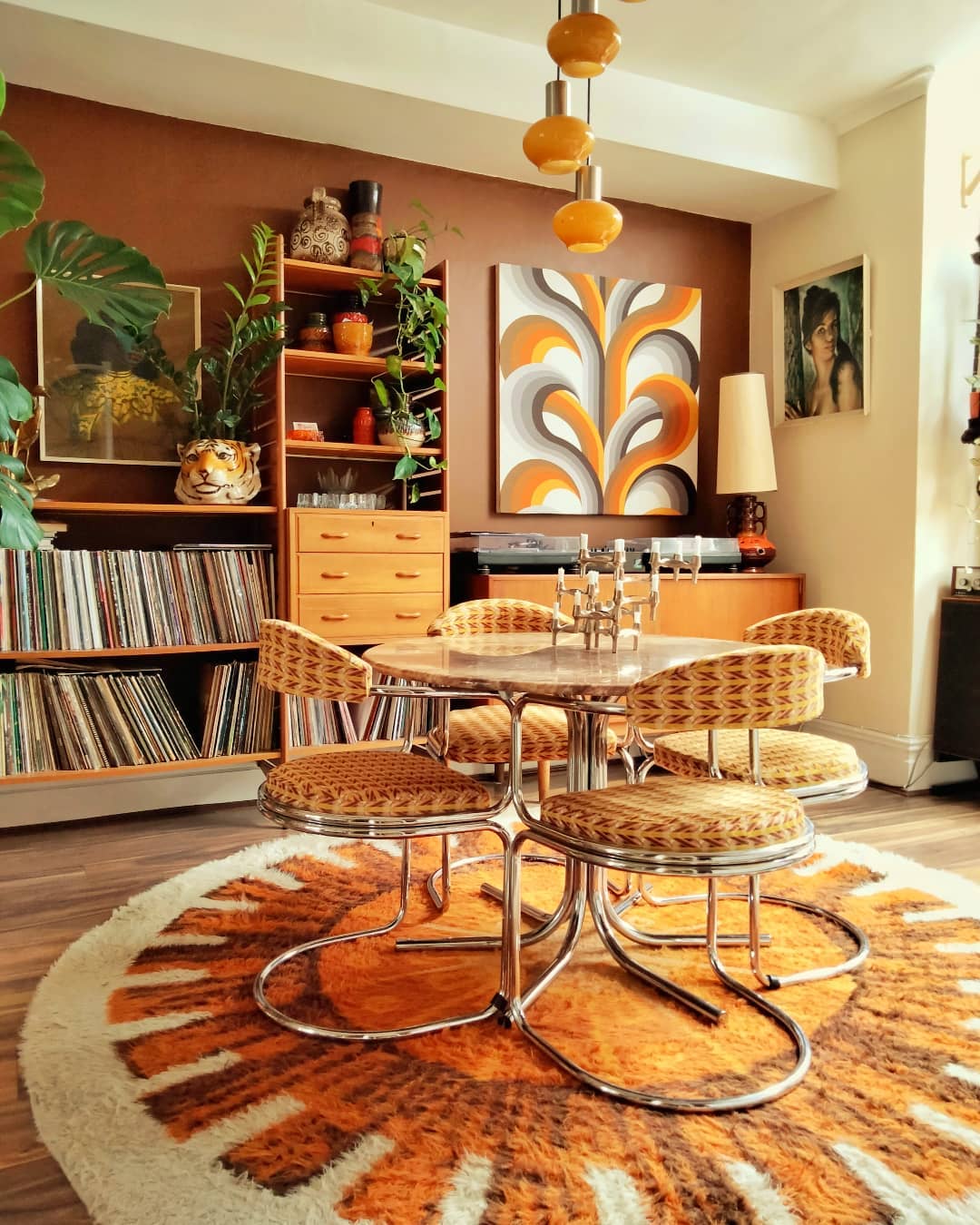 Add a mirror
Hanging a mirror can certainly help to create an illusion of more space, as well as redirecting light around the eating area too. 
Opt for the largest size available to you, and place it on a wall that is likely to receive natural daylight reflecting onto it.
Credit: Instagram - @_ournewhouse
Pick a feature wall
Feature walls are a fantastic way to inject some colour into a small space that you don't want to overwhelm with all walls painted. 
This burnt orange shade adds both warmth and personality to the dining area and creates a frame for the table and chairs.
Credit: Instagram - @the_wildwood_house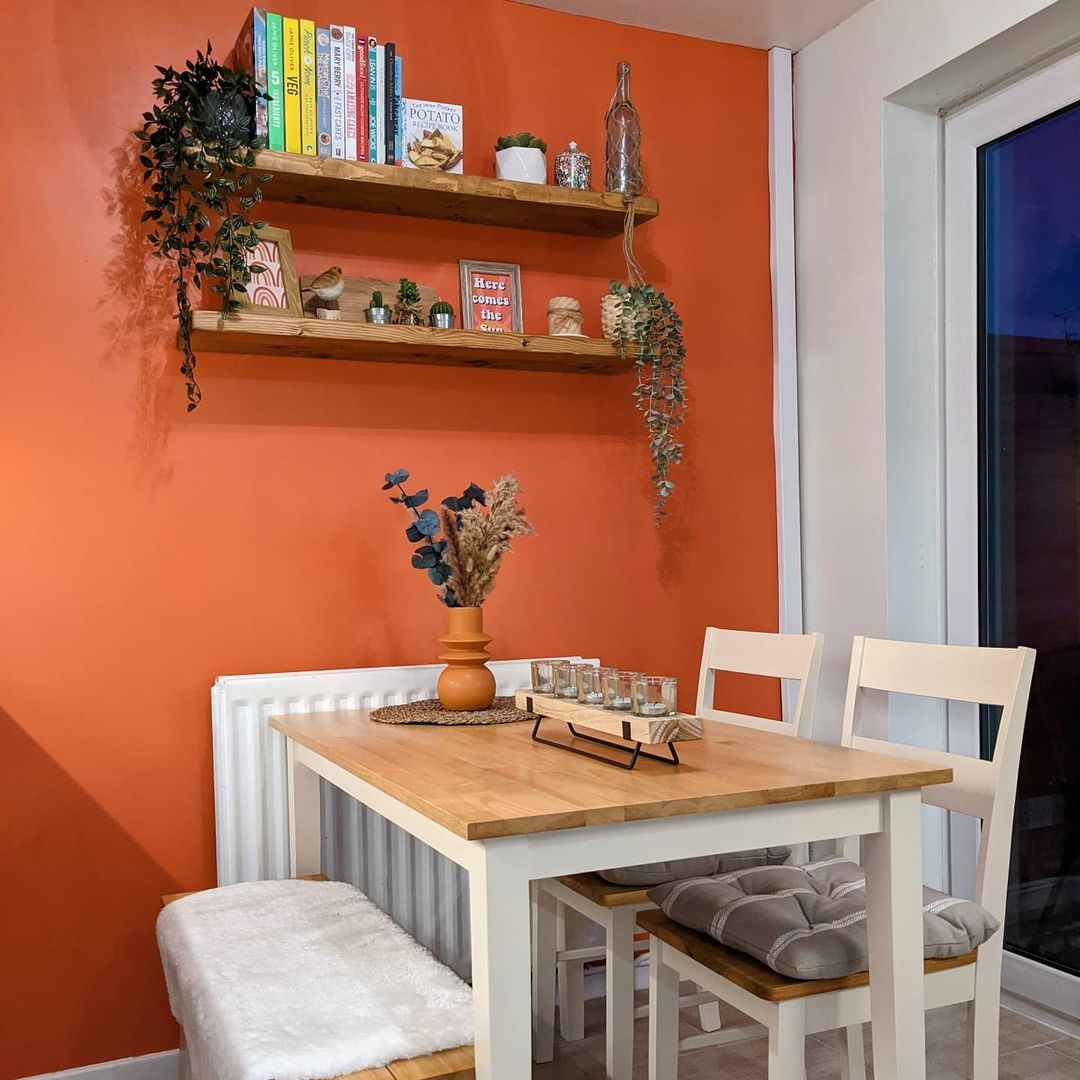 Storybook Sundown
X62R134F
Opt for built-in seating
Looking to fit more people around the dining table? Adding built-in seating next to your dining table is a great way to maximise seating space, enabling more people to fit in.
Fitted corner benches are great for squeezing into tight spaces, and often come with the benefit of underneath storage options too.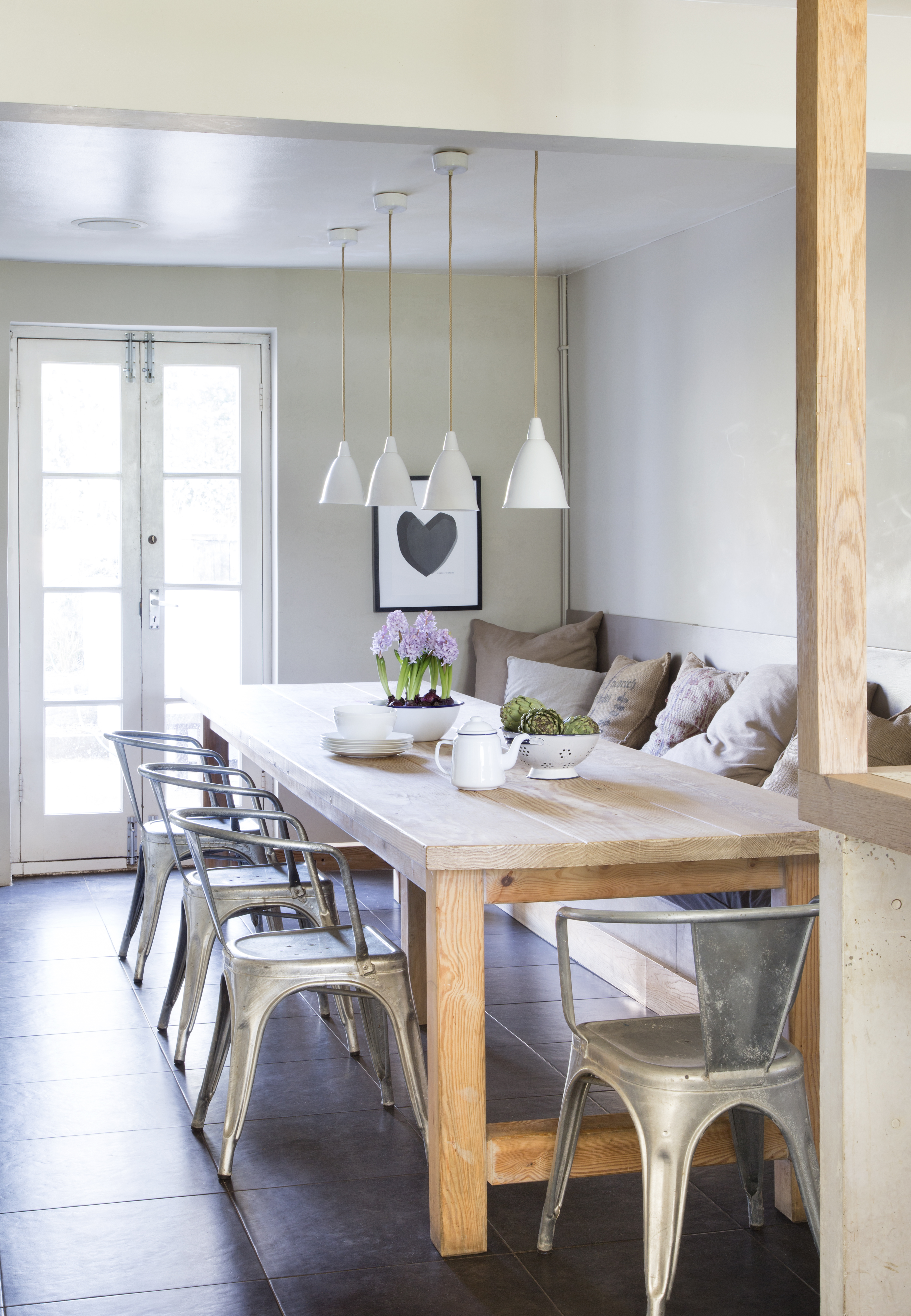 Install shelving
Install floating wall shelves into your dining area to achieve greater height and depth without needing lots of bulky storage units in the space. 
You can use floating shelves to hold dinner table essentials such as glasses, plates, dishes, mugs and serving platters. 
Credit: Instagram - @jackdmarch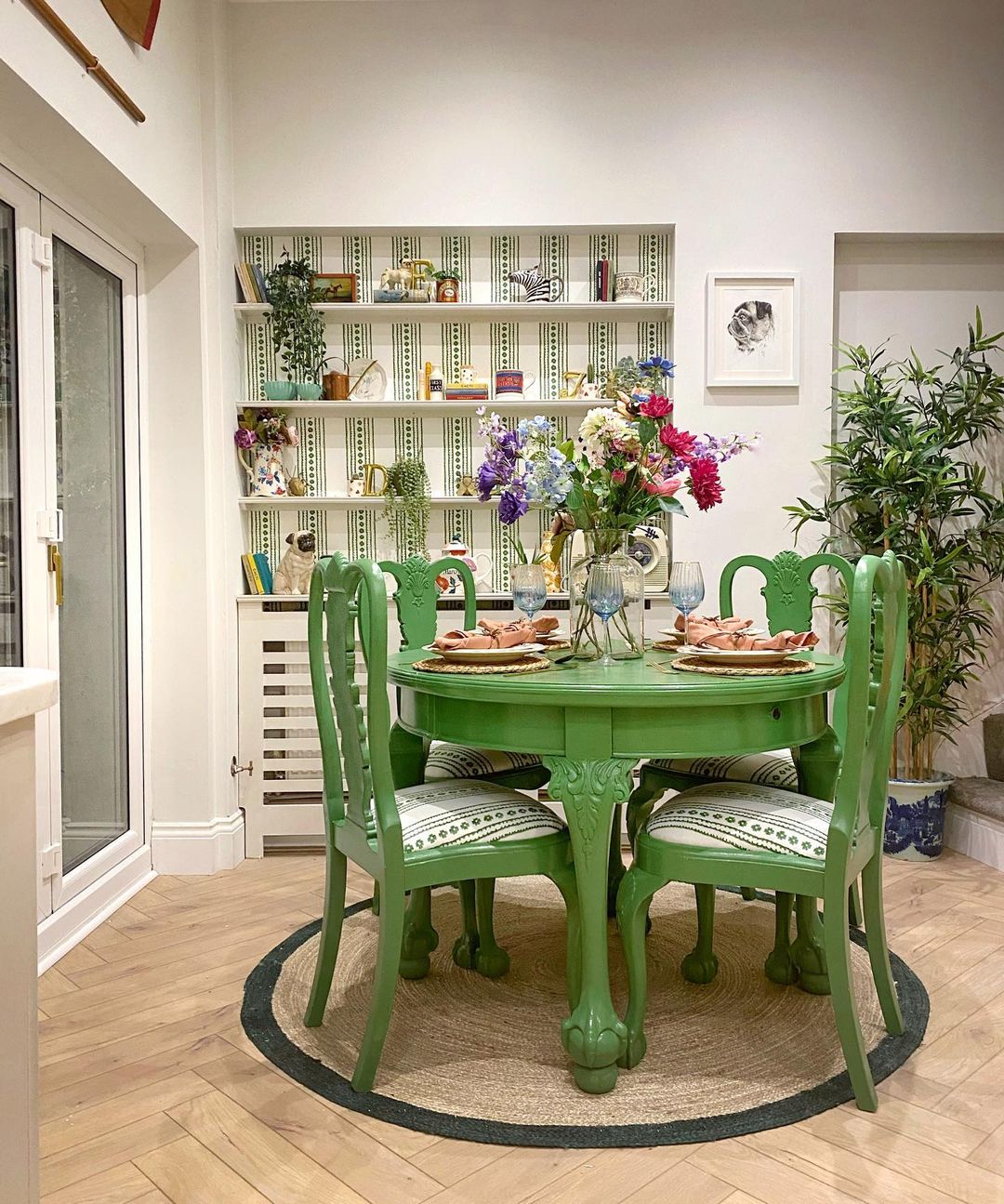 Play around with lighting
Artificial lighting can play a big part in creating the atmosphere of your dining zone. 
Overhead pendant lights can help to create a focal point of the dining table, whilst table lamps and candles offer intimacy and character without being too intrusive on space. 
Play around with the placement of your lights to ensure they offer enough brightness to see but without being too bright and off-putting.
Credit: Instagram - @dundridgerenovation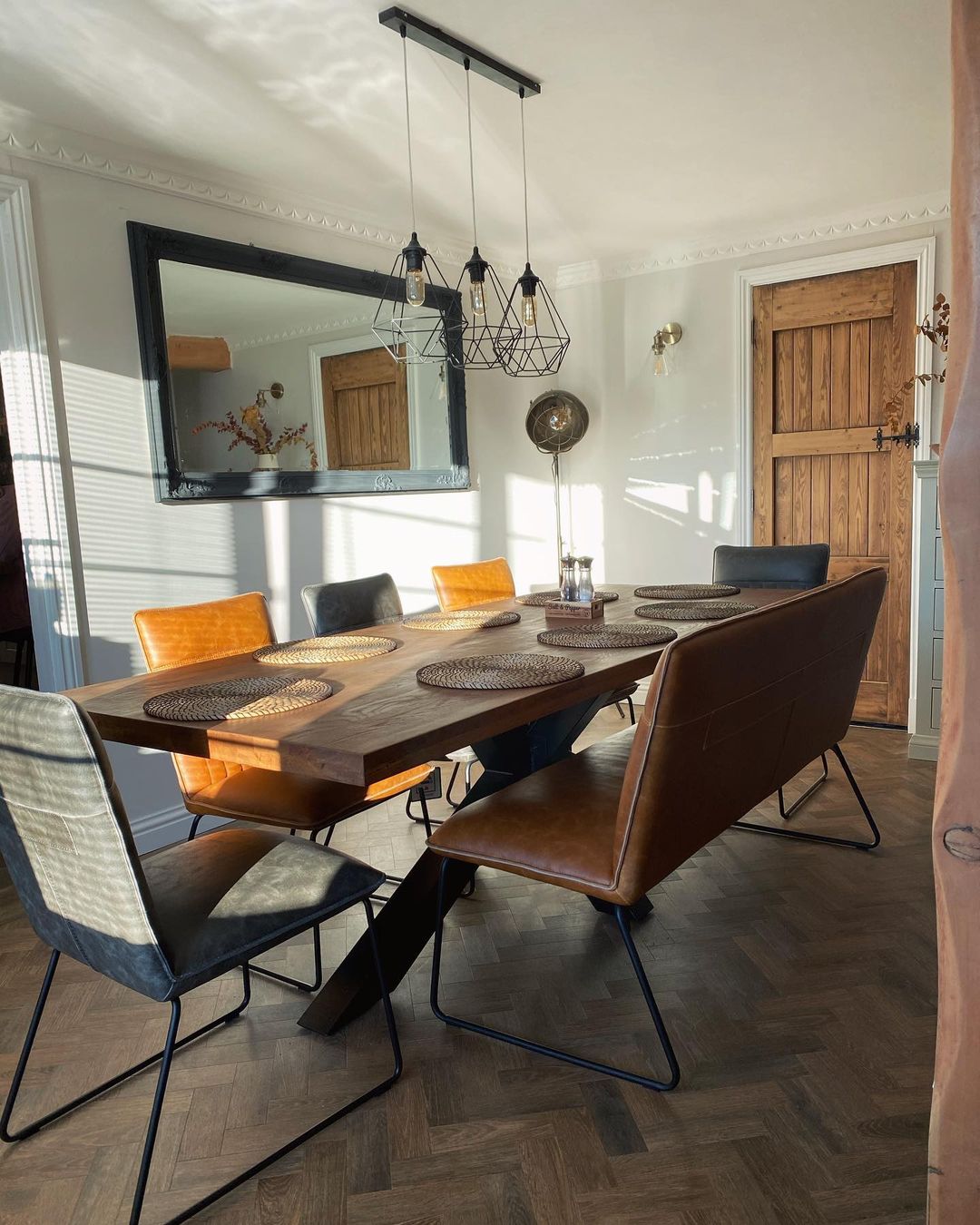 Be clever with storage
When you're working with smaller spaces, you need to be clever with your storage to ensure the area doesn't become cluttered and overcrowded. 
Many tables come with built-in storage drawers for cutlery and table accessories.
You could also explore the option of flexible and moveable storage units, such as a bar cart, which can be wheeled in and out of the way when you need it.
Credit: Instagram - @our_grey_bungalow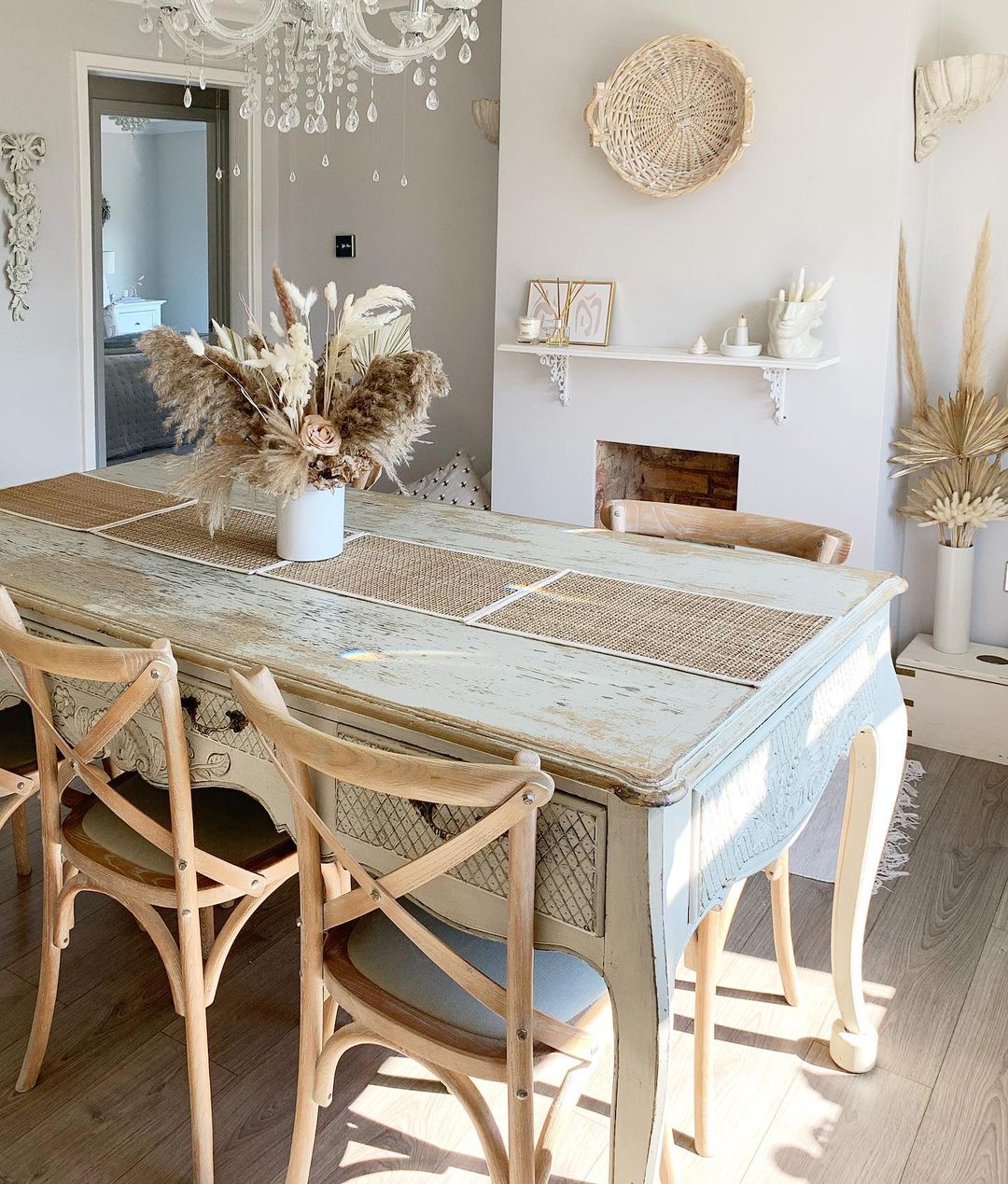 Don't be afraid of pattern
It's a great myth that patterns should never be used in a small room. 
While it's true that too much pattern and colour on walls and flooring could overwhelm a small space, making it look even smaller, there is still scope to inject colourful patterns using accents into your small dining space via table linen, seat coverings and artwork. 
Credit: Instagram - @heatherrosieolivehome
Declutter regularly
Whatever small dining room decor scheme you adopt, a mandatory rule is to keep it clean, tidy and free from clutter.
A small dining space can soon accumulate mess, which can disrupt the relaxing and stylish vibe that you've worked so hard to create. Clear away after every meal, ensuring everything is back in its home before the next sitting!
Credit: Instagram - @coach_road
Find your colour match with Valspar
Our Valspar Colour Match paint allows you to decorate your dining room with a shade that is completely personal to you. 
Simply take a photo of a colour or item that inspires you and upload it online so we can colour match it into a beautiful paint shade for your project.