Small Kitchen Ideas on a Budget

Small kitchens can be beautiful, cosy spaces. Using a well-thought out interior decor theme, a cohesive colour scheme and cleverly-chosen accessories, you can create a handsome and welcoming space without blowing the budget.
What colour suits a small kitchen?
If your kitchen is on the smaller side, using light colours as a base can be a good idea to keep the space feeling bright and open. Light, neutral colours such as white, beige, cream, and pale grey can help to reflect more light around your kitchen, whereas darker colours tend to make a space feel smaller and more confined.
This doesn't mean, however, that you can't introduce splashes of colour and personality into your kitchen. Using tiles, appliances, artwork, and accessories, there are many ways to incorporate colour into a very small kitchen, on a budget, while still keeping the overall theme nice and light. 
Small kitchen ideas on a budget
Opt for a light wall colour
Using a light wall and ceiling paint in your small kitchen will instantly make your kitchen appear larger and brighter. Whether you have opted for light, dark or coloured kitchen units, a white, beige, or pastel wall shade will help to balance things out and create a light and calming space.
Credit: Instagram - @enter_the_baileys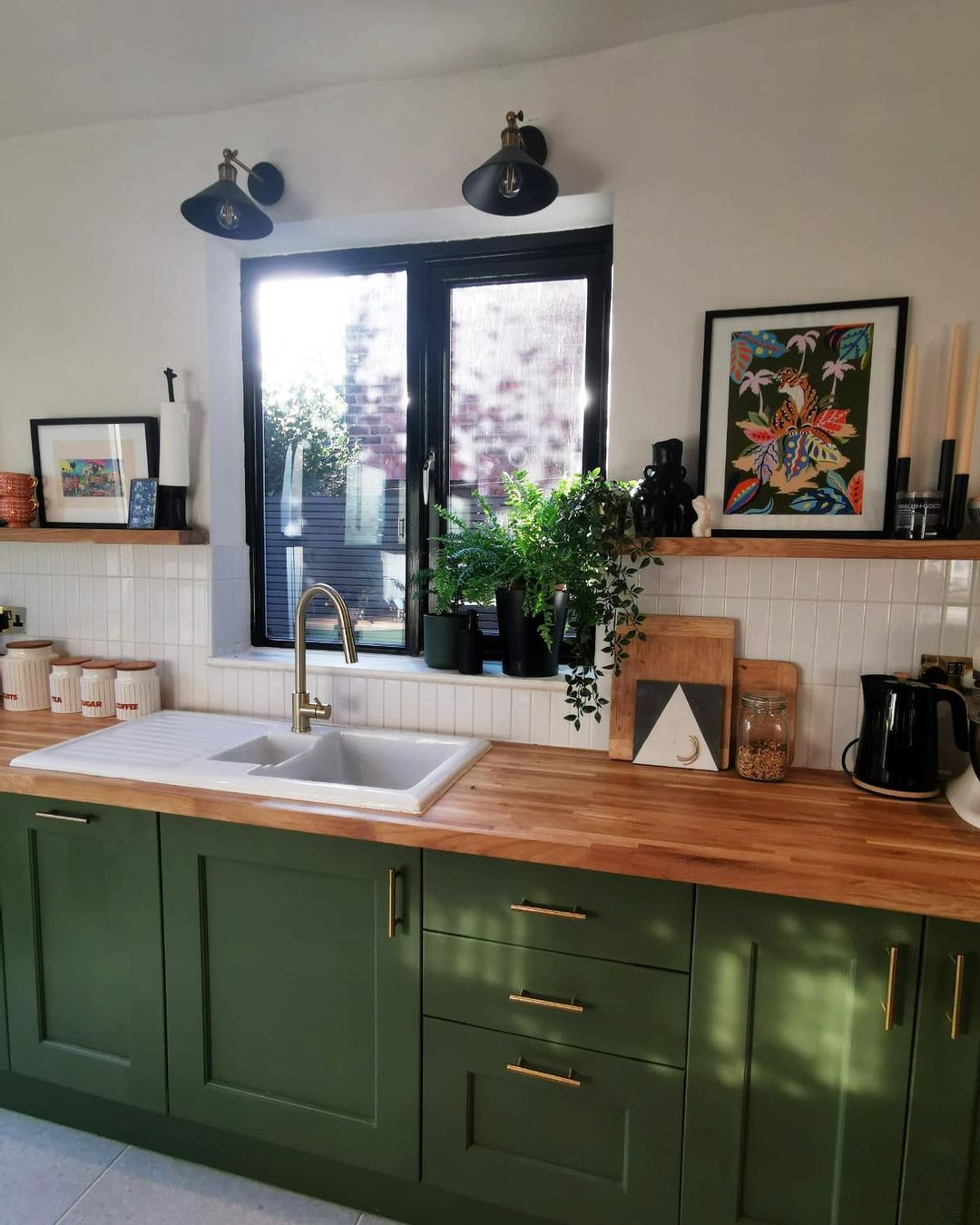 Use open shelving
Not only are open shelves a cheaper solution compared to wall-hung kitchen cabinets, but they can also help to create a more open feel in a small kitchen. A wall filled with closed kitchen cabinets that can often make the space feel confined and closed in, which is what you want to avoid.
Credit: Instagram - @harnhamhouse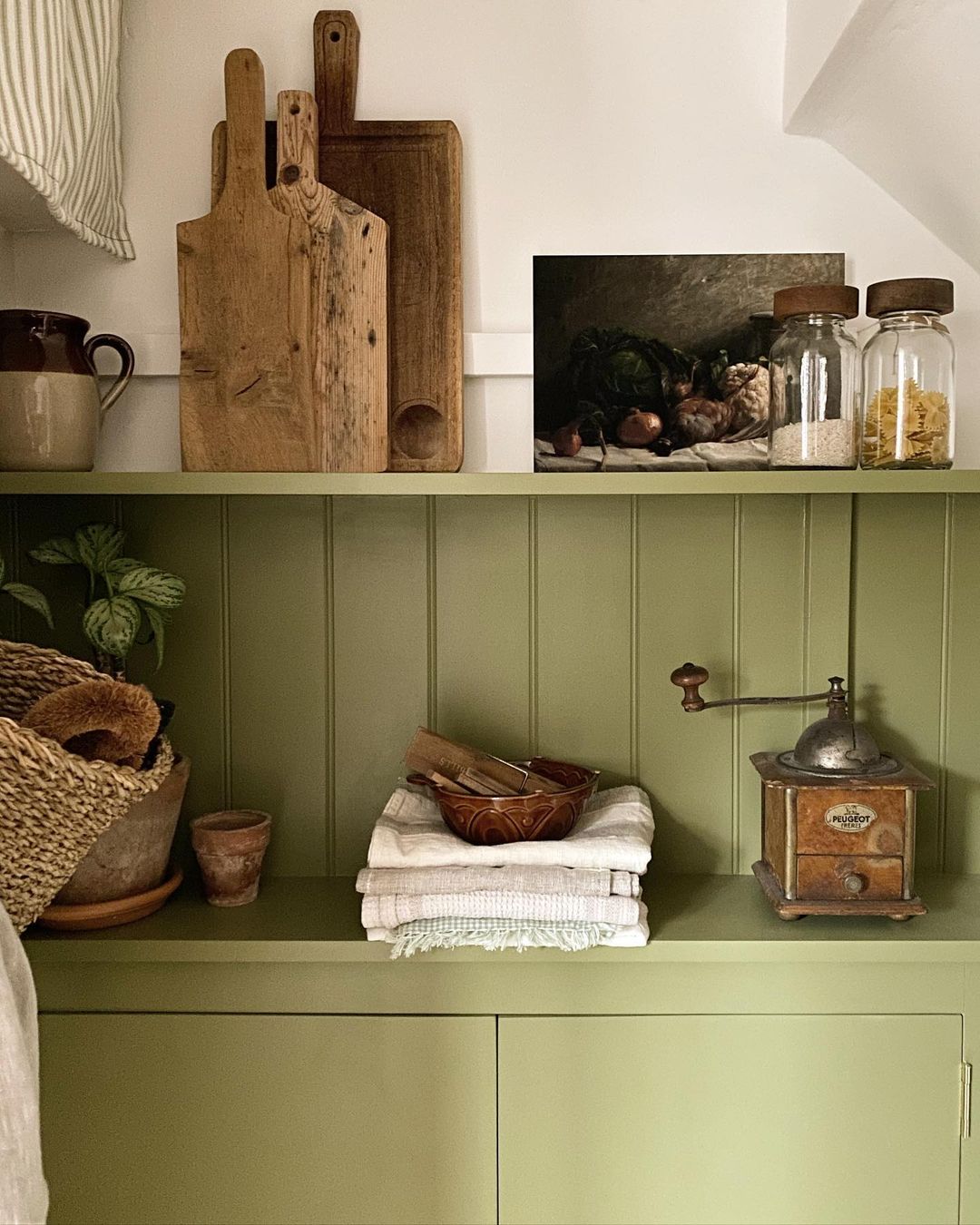 Add interest with patterned tiles
Placing patterned tiles either on the walls or floors can inject a huge amount of character and charm into an otherwise neutral kitchen. These monochrome feature floor tiles look stylish and stunning against the white walls and pastel mint units.
Credit: Instagram - @soul_canteen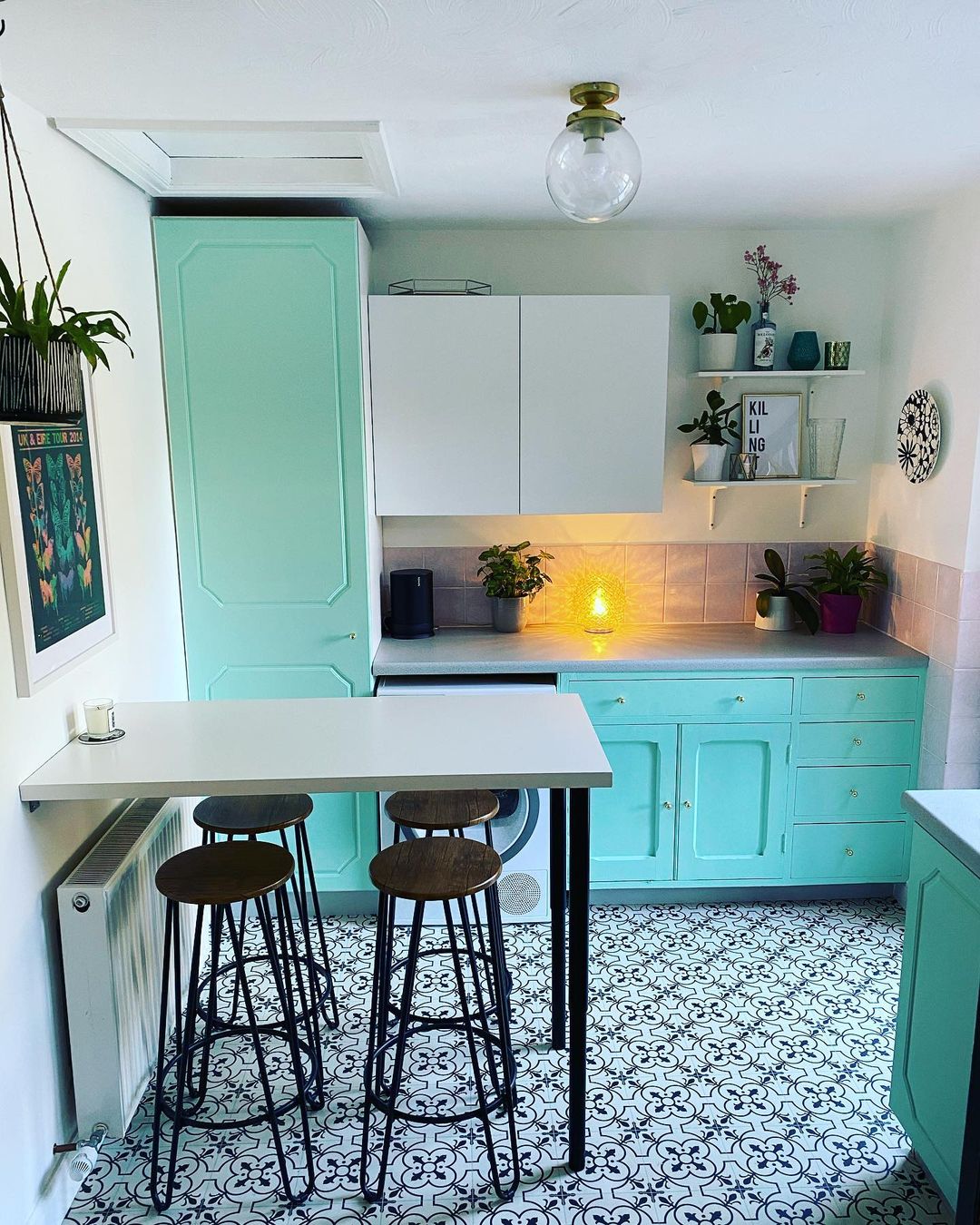 Upcycle your cabinets
If you don't want to spend lots of money on a whole new kitchen, but are looking for ways to update it, then painting your cabinets or other pieces of furniture can be transformational. Be sure to take a look at our guide on upcycling furniture before you start. 
Credit: Instagram - @northernsouls.littlehole
Choose reflective surfaces
Choosing either mirrored or glossy surfaces on your worktops will reflect light and create the illusion of more space compared to darker or wooden surfaces. Pairing this with white glossy wall tiles will provide even more reflection around your kitchen.
Credit: Instagram - @styling.house.stark
Utilise wall space
If space is tight, installing shelving or cabinets that go all the way up to the ceiling will maximise storage space and ensure that every inch of the available room is utilised. This way you will have all the space you need for the kitchen essentials.
Credit: Instagram - @tinyhomefortwo_plustwo
Add character with accessories
Even the smallest of accessories can create oodles of charm in a neutral kitchen space. Pretty storage jars, lush houseplants, bijoux kettles, and carefully positioned wooden chopping boards make this kitchen friendly and characterful against the beautiful earthy tones of the walls and cabinets.
Credit: Instagram - @houseofthomas.period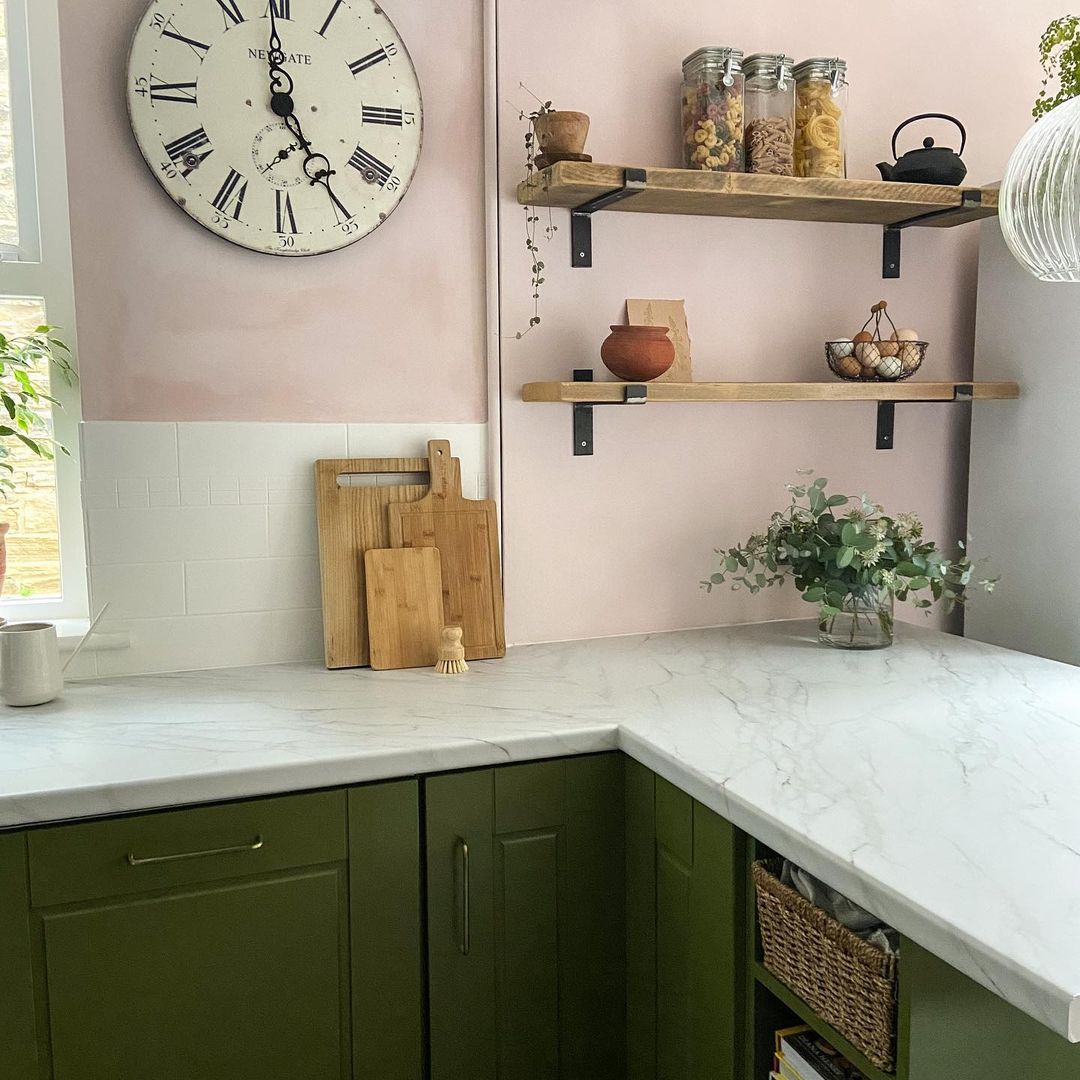 Use the space above your units
When you are looking for small kitchen ideas on a budget, you need to take into account every inch of space you have on offer. Using the tops of the cabinet units to place plants, artwork, and accessories ensures that you are not taking up valuable space elsewhere.
Credit: Instagram - @cloatnumber4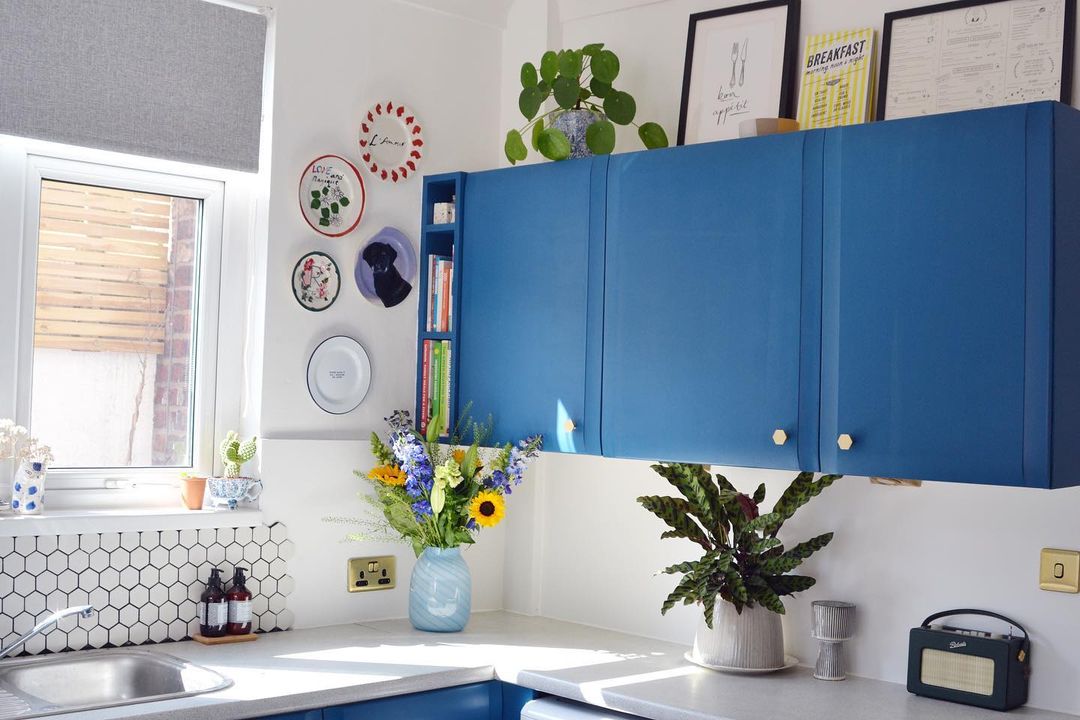 Paint a nearby feature wall
If you've opted for a light colour paint for the base of the walls and ceilings in your kitchen, then painting a feature wall nearby might add some depth and visual interest to the space. Your feature wall only needs to be small, and decorating it with a clock, mirror, or artwork will help bring it to life and create a striking focal point.
Credit: Instagram - @housetohome.jk
Go for monochrome
A monochrome theme literally means using one colour palette - usually black, white and grey. By using just one colour palette in your small kitchen including the cabinets, countertops, and walls, you can create a cohesive look that makes the space feel more open. You can still obtain depth and texture by using different fabrics, fibres, and natural grains in your furniture and accessories within your monochrome theme.
Credit: Instagram - @littlegreyhaus_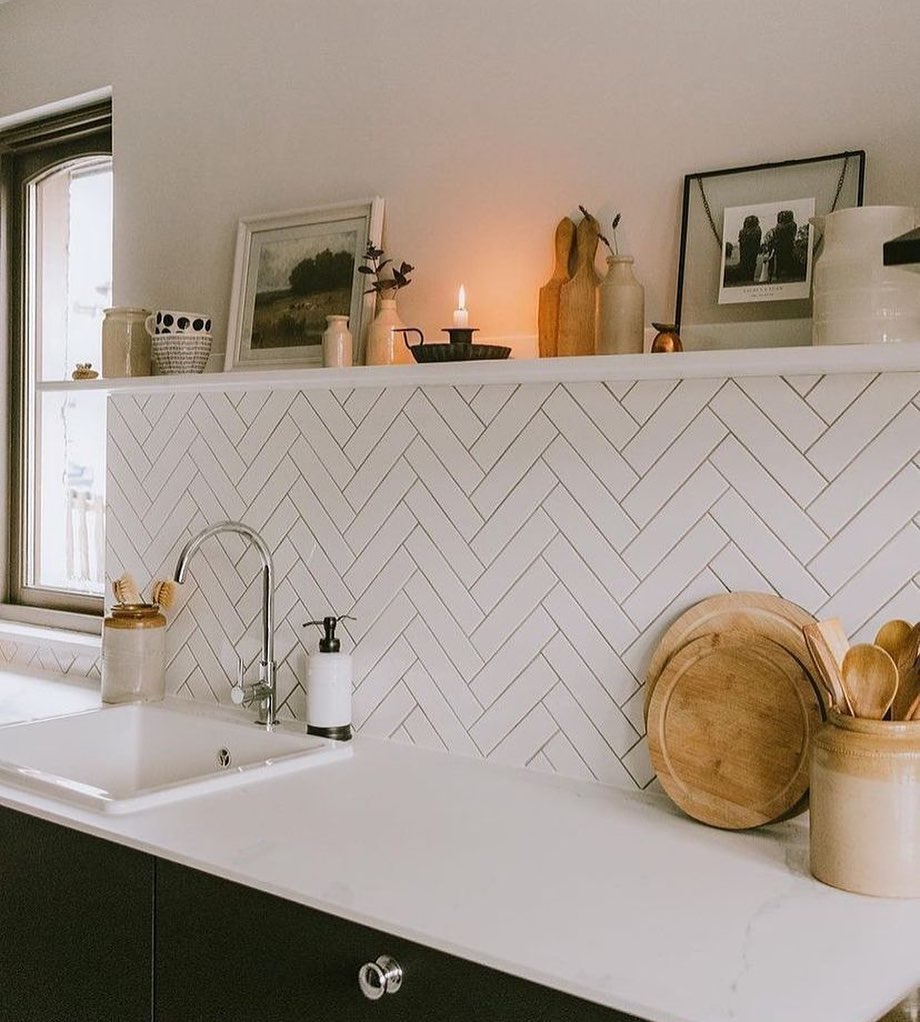 Use multi-functional furniture
Using multi-functional furniture can save you money as well as freeing up precious kitchen space. Choose furniture that can serve multiple purposes, for example, a dining table with built-in storage or drawers for cutlery, or a foldable or extendable table that can also be used for food prep. Seating benches with built-in storage underneath can be used for storing larger kitchen essentials such as pots, pans, and utensils.
Credit: Instagram - @our_grey_bungalow
Bring in as much natural light as possible
Daylight is free, so allow your kitchen to soak up as much of it as you can to create the illusion of a bigger, brighter space. Avoid heavy blinds or shutters to ensure you are getting as much sunlight in as possible and place light-coloured walls or kitchen units strategically so that they reflect the light coming in around the space.
Credit: Instagram - @thepinkterrace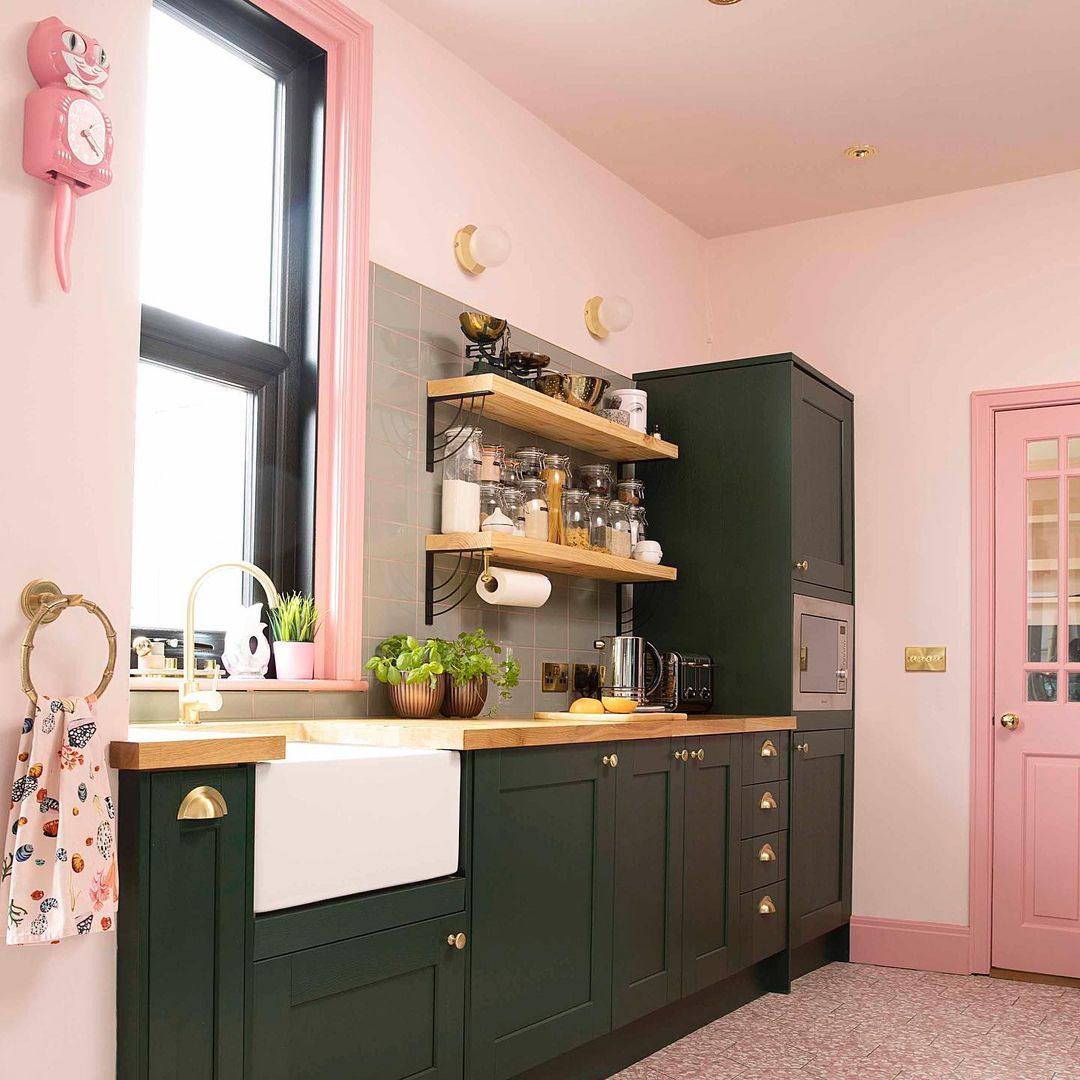 Minimise clutter
Kitchen clutter and mess will make your small kitchen feel even smaller. So one of the ultimate small kitchen ideas on a budget is simply to keep it clean, tidy, and clutter-free. Place only absolutely necessary items on the countertops and everything else stored away out of sight. A minimalist approach can make the space feel much less crowded and much more calming.
Credit: Instagram - @my_paisley_tenement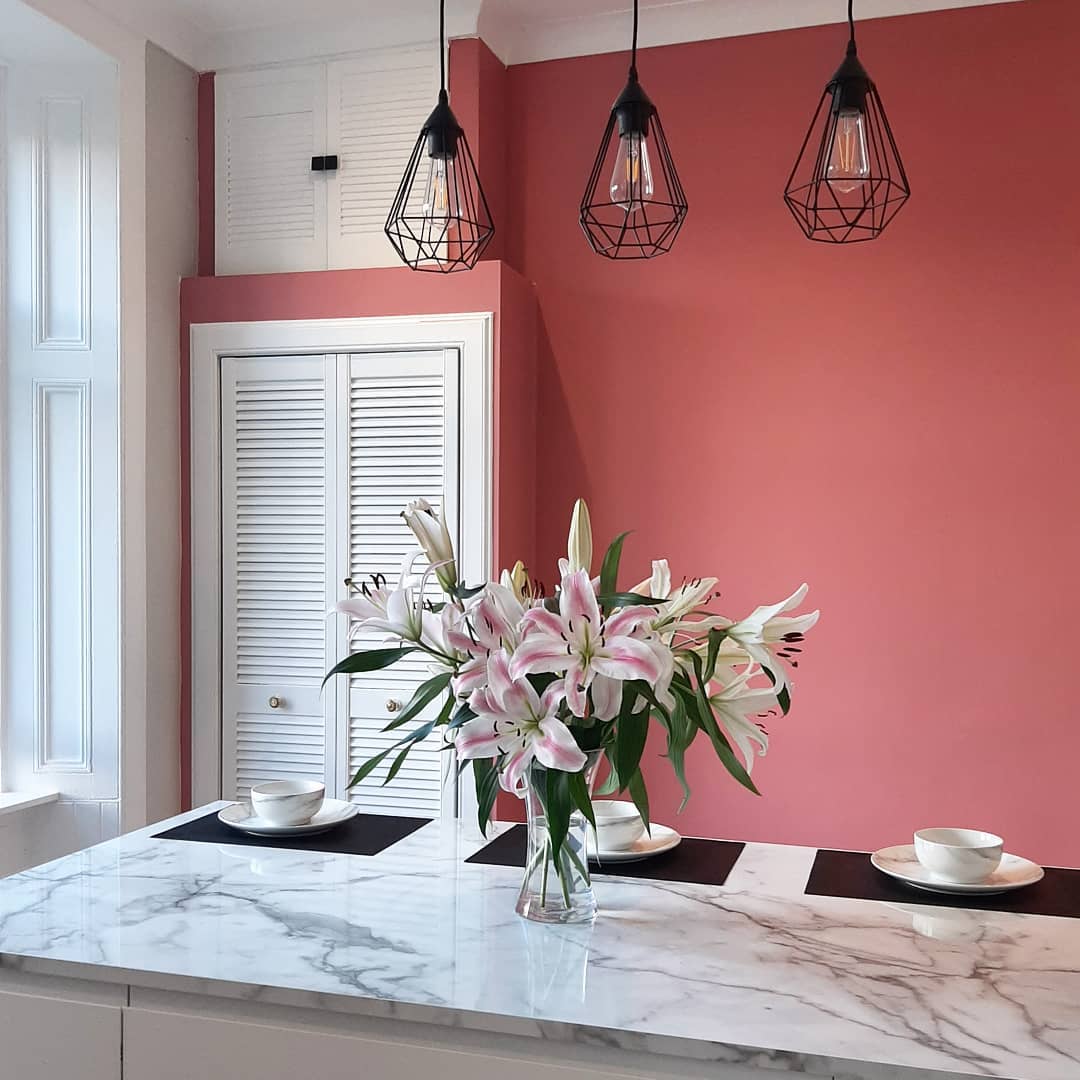 Choose smaller appliances
On the topic of having less clutter on your worktops, opting for smaller appliances can make a big difference to the amount of space available. Do you really need a 4-slice toaster, or could you manage with a more compact 2-slice version? Similarly, there are lots of space-saving integrated oven and fridge options available that are perfect for apartments and urban townhouse kitchens.
Credit: Instagram - @at_the_mcgillens
Hang mirrors
Mirrors magically create the illusion of more brightness and openness, therefore, hanging one in a prominent position in your kitchen is a great way to add space. If you have the opportunity to hang your mirror opposite a window that brings in natural light, then all the better!
Credit: Instagram - @life.of.moo
Decorate your small kitchen with Valspar
As you can see, there are many small ways to decorate your small kitchen on a budget. We hope you have found some inspiration for your forthcoming project, and that you are inspired to get going!
Seen a colour that fills you with joy? Use our photo uploader tool to find your perfect Valspar paint match.  
Also, you can find other small room decoration ideas in our inspiration articles.