Using Blue in the Bedroom

Blue is a popular and trending colour for home interiors. It's a versatile colour that can be used in many different ways to create a variety of moods and styles. 

Lighter shades of blue, such as baby blue or sky blue, can create a calm and peaceful atmosphere, while darker shades of blue, such as navy or royal blue, can create a more dramatic and sophisticated look. These darker shades are also great when it comes to drifting off to sleep. Blue is also a popular shade for a wide range of interior design styles, including coastal, farmhouse, modern, and traditional.
Is blue a good colour for a bedroom?
Blue in the bedroom can be a great colour choice due to its associations with tranquillity and relaxation. This makes it an ideal colour for a space intended for rest and rejuvenation.
Its versatility means that blue can be paired with a range of other colours to create different moods and styles. For example, combining blue with white or beige can create a fresh and airy atmosphere, while pairing blue with warm tones like orange or yellow can create a more energetic and lively space.
Blue bedroom ideas
Here is a selection of blue bedroom ideas to inspire your next interior project…
Panels away
Painting the panelling behind your bed can give your bedroom a fresh and updated appearance. Choosing a dark blue shade can modernise outdated wood panelling as well as adding a pop of colour to otherwise plain walls. Painting your panelling blue is also a much more cost-effective way to update your bedroom compared to completely decorating the walls.
Credit: @beatie.at.home
Baby blues
Blue is a great colour choice for a nursery or a kid's bedroom because it's calming and blends well with other colours like green, white, and brown when you want to create an earthy and organic space. Lighter shades of blue, like sky blue or baby blue, can make a small room feel more spacious and airier.
Credit: @our.home.atno50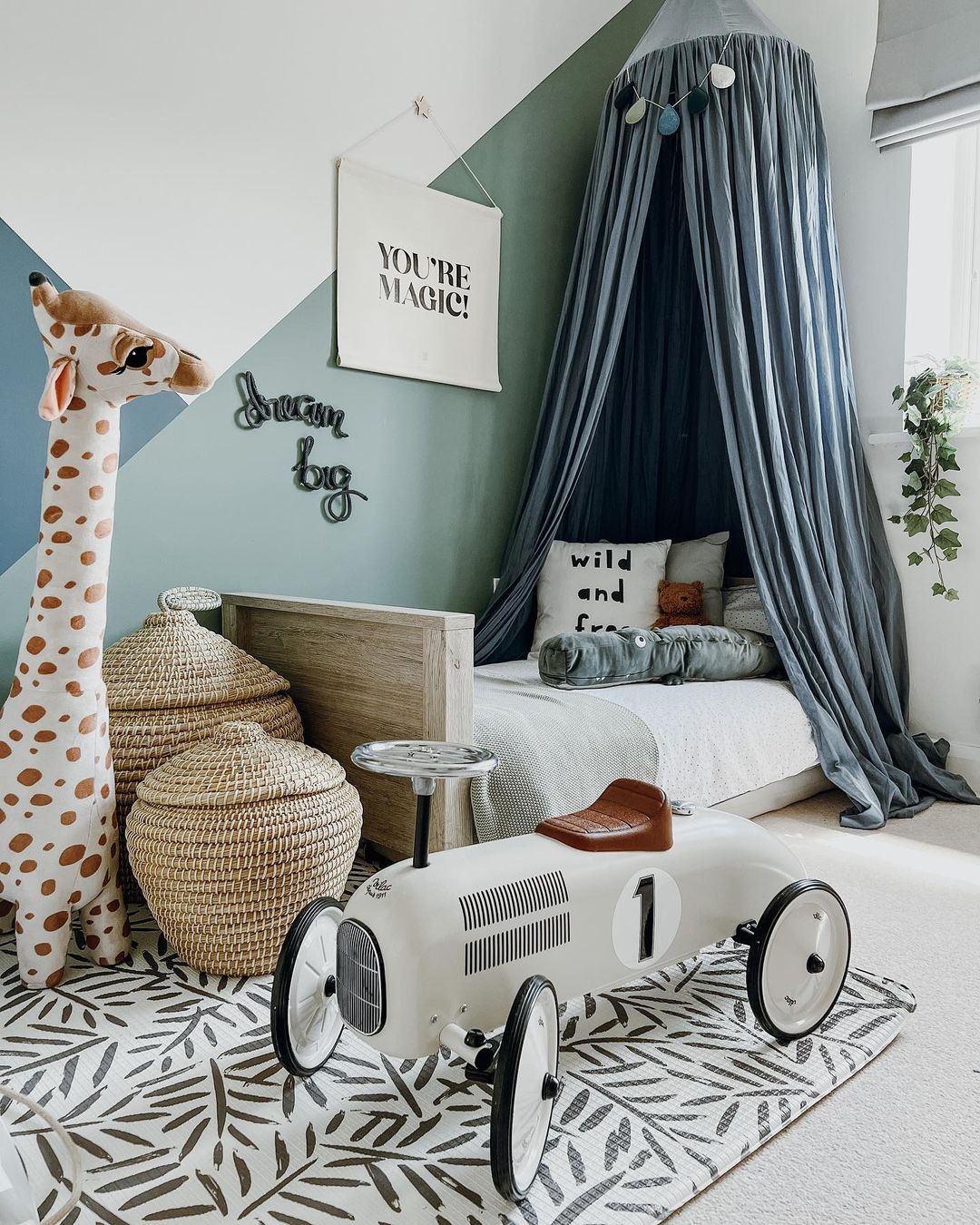 Dark & demure
Darker shades like navy blue or royal blue can create a cosy and intimate feeling in a bedroom. Whether you choose one dark blue feature wall or decide to paint the whole room in one colour, you are sure to create a dramatic and romantic feel around your bed area. Disco ball optional! 
Credit: @housemouse_farmhouse
Deep Blue Spruce
X107R203A
The blue statement wall
If you want to create a statement gallery wall to show off your favourite pieces of bedroom art, then opt for a vibrant blue paint as a backdrop. Colours like pink and yellow pop against a bright blue wall, as do a variety of frame colours and styles.
Credit: @the_wildwood_house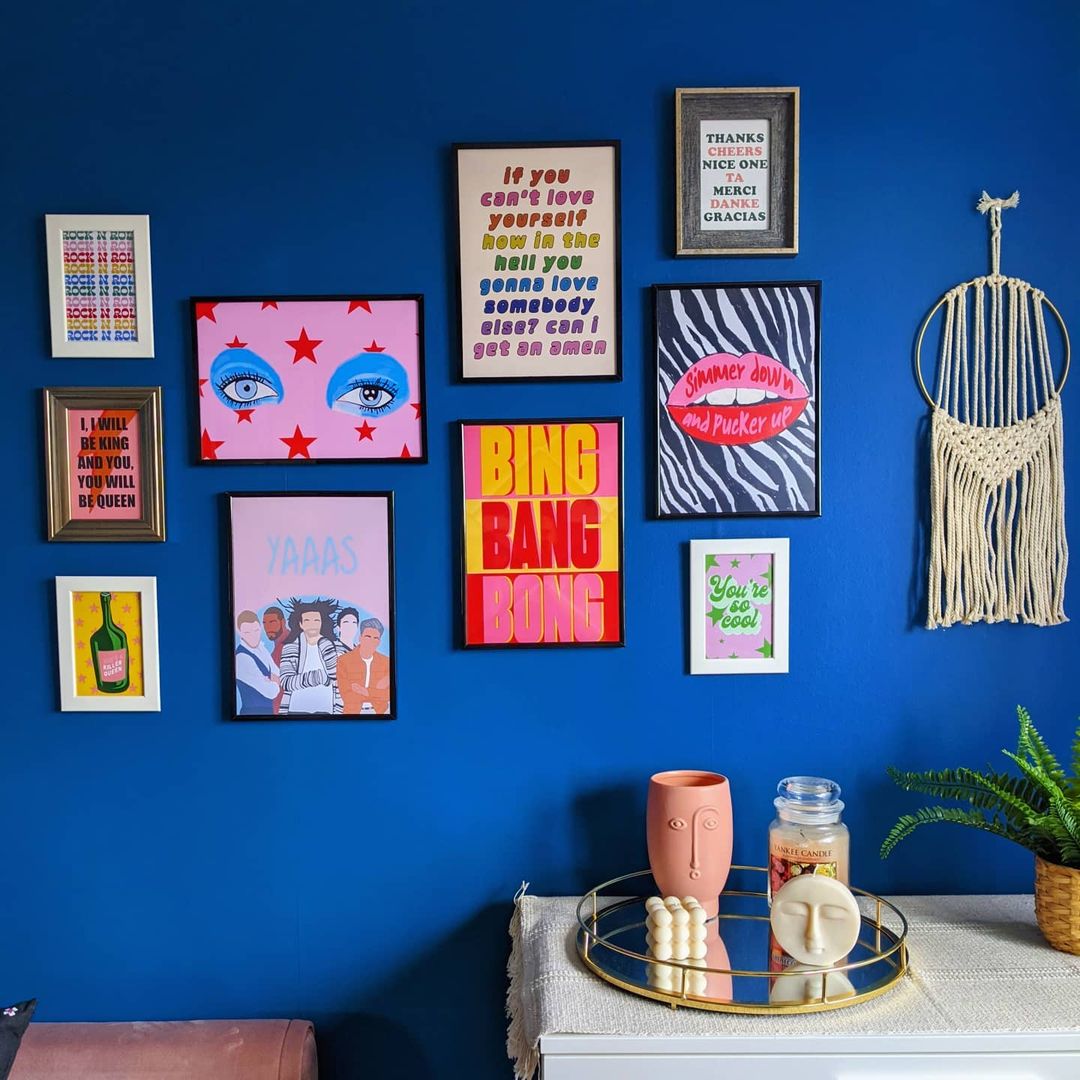 Coastal tones
Coastal shades are calming and serene – transporting us away to distant shorelines with shiny pebbles and washed-up shells. Choosing a sea-inspired paint colour behind your bed will ensure you soak in this tranquillity each time you get in so that you can start feeling relaxed and ready for a peaceful sleep.
Credit: @sarah_dreamofhome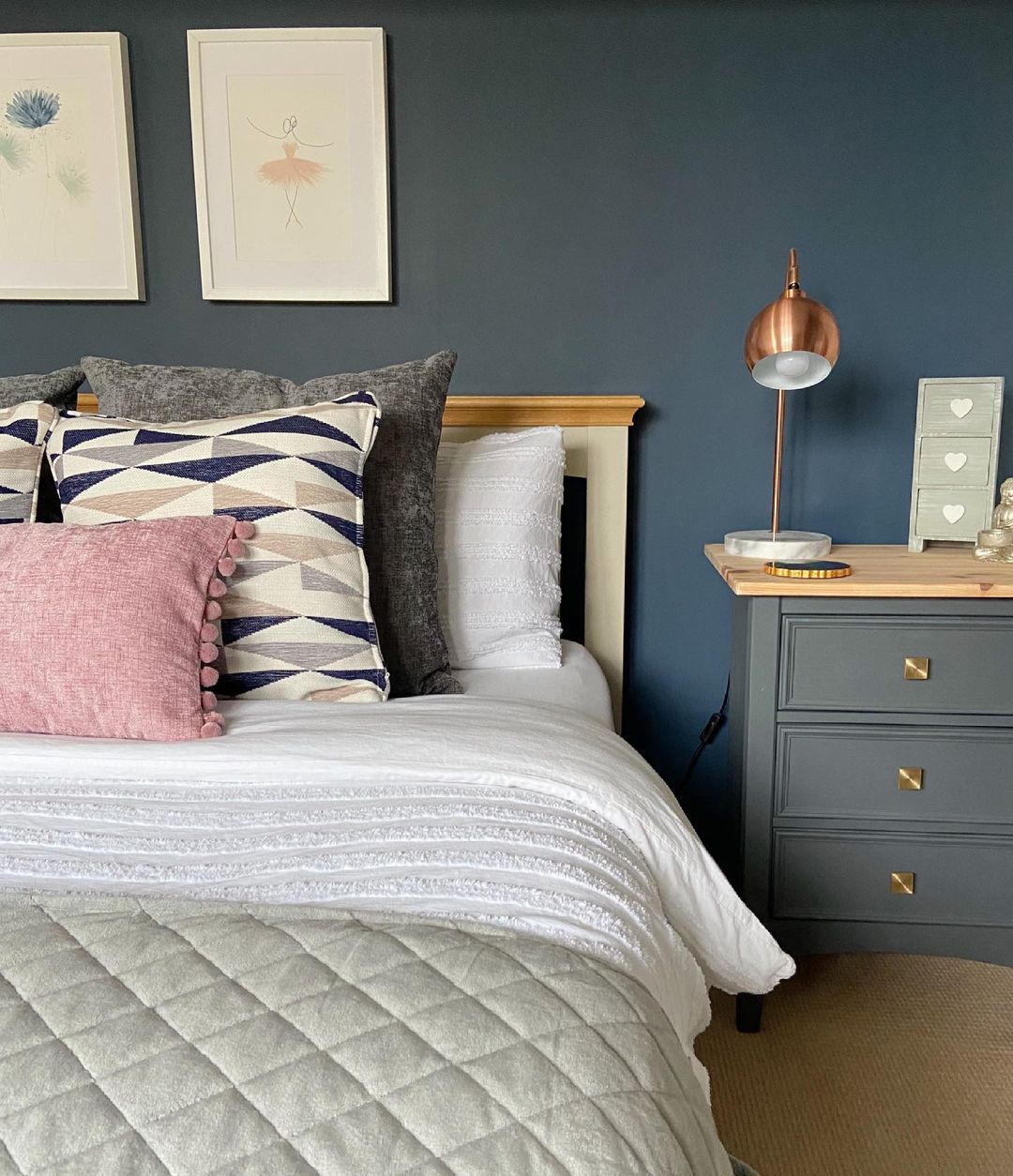 Upcycle in blue
If you are keen to keep your bedroom wall paint to a neutral shade, you could incorporate blue furniture into your bedroom to add a splurge of colour this way. Try painting a wooden headboard in a blue shade, or upcycling your dressing table chair to get a completely fresh effect.
Credit: @upcycle_and_paint
Peaks of blue
Wall murals can make a bedroom space feel adventurous and exciting – especially in a child's room. Using stencils or painter's tape, you can create a landscape backdrop of blue-shaded mountains or geometric forestland to help your little one feel inspired by nature. 
Credit: @our.wee.project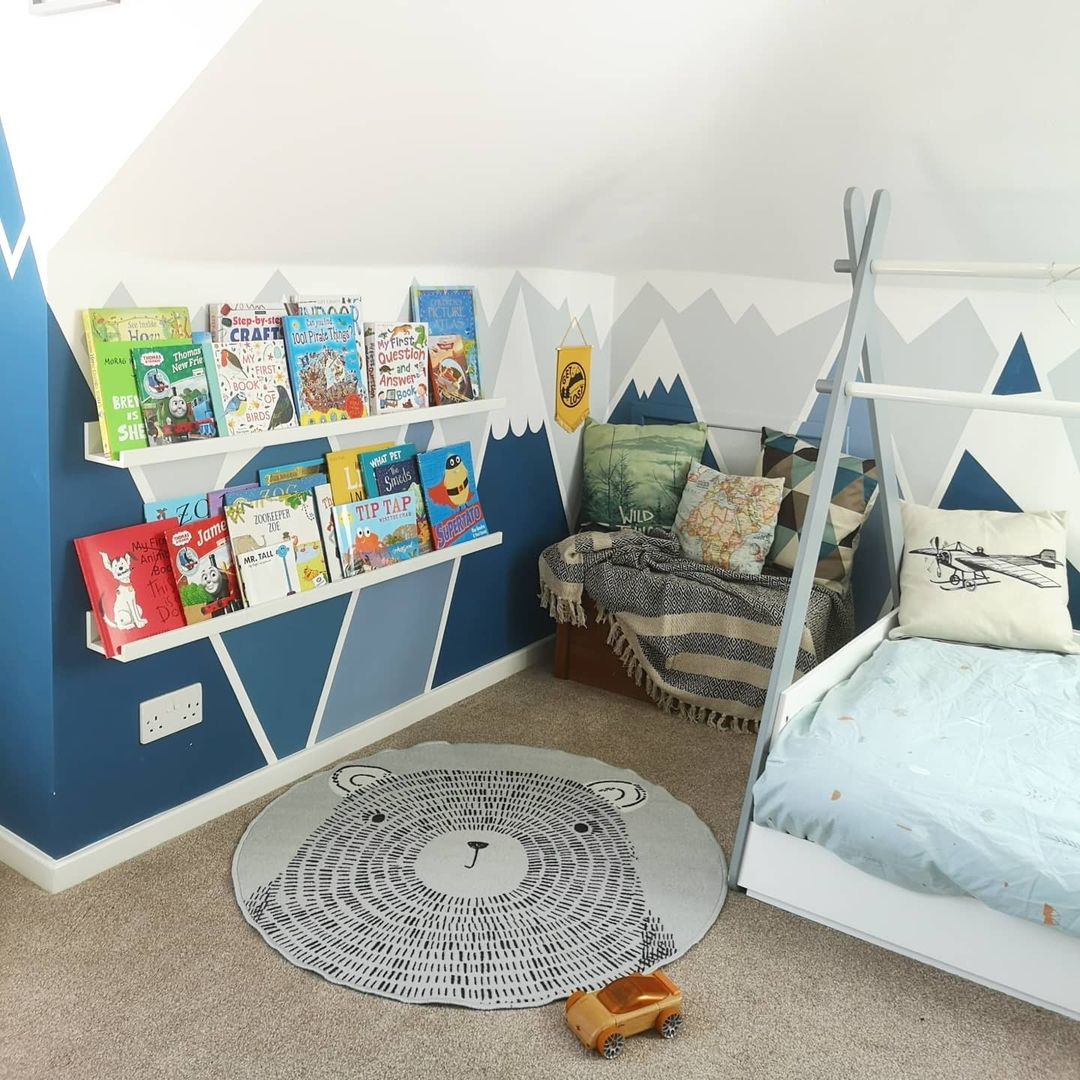 Tiny accents
Placing tiny blue accents in your room, such as vases, candles or lamps will add small bursts of colour and texture to your space. Even the smallest of blue accents add interest to a neutral colour scheme or depth to a monochromatic look.
Bedding Blues
A blue bed or blue bedding can add a larger spread of colour to your bedroom to create a cohesive look without it being too overwhelming or dark. You can also introduce further colours into the interior scheme, such as green bedside tables, culminating in a well-balanced and harmonious space to sleep.
Credit: @atnumber_24
Turn up the heat
Accessories and bedding aren't the only ways you can incorporate elements of blue into your bedroom. You can also add pops of blue through otherwise mundane objects - such as the radiator! This vibrant blue adds a touch of flamboyant colour without intruding too much into the space.
Credit: @girl.franks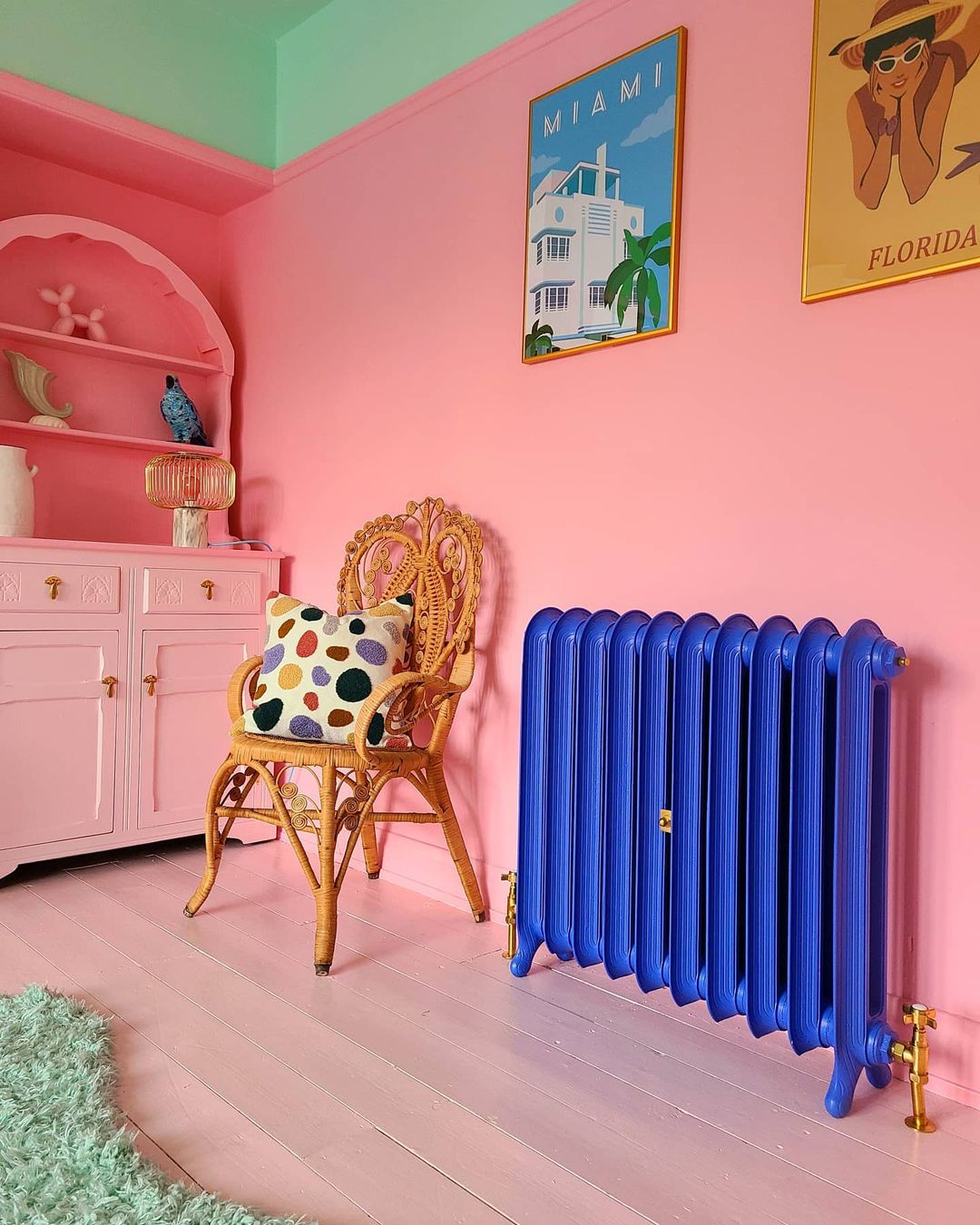 Shades of the med
A lively combination of blue and orange in the bedroom can create a warming Mediterranean vibe, that is spirited yet calming. Picking out shades from a patterned cushion or print can help to keep things tonal and cohesive, and if you are sticking with a Med-inspired theme, then be sure to place plenty of plants and greenery in the space to bring it to life.
Credit: @the.eccentric.flamingo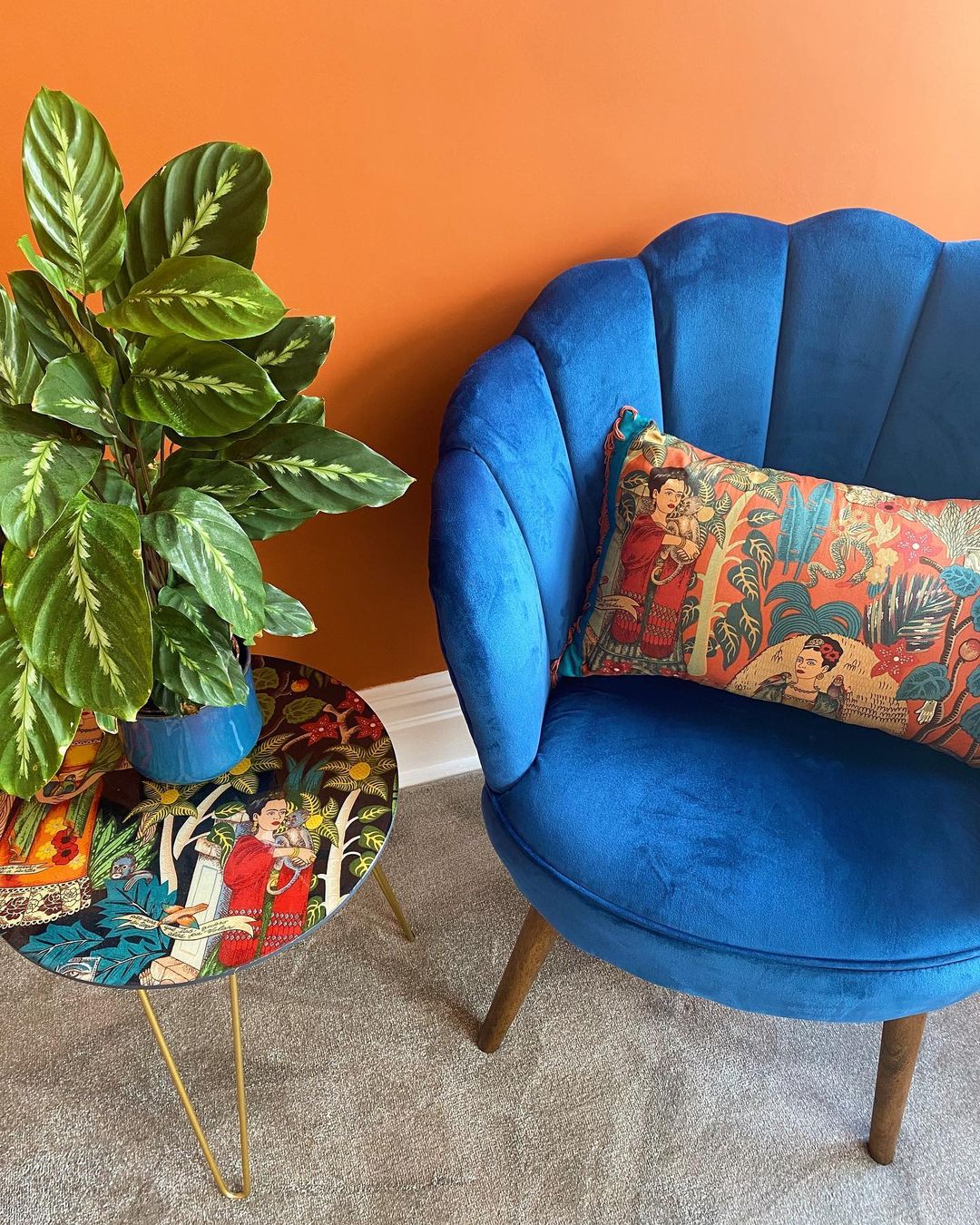 Teally nice
Teal is a rich, deep blue-green colour that can create a calming and serene atmosphere in a bedroom. It is a versatile colour that can work well with a variety of other colours such as white, yellow, and pink, and a variety of design styles, including traditional, modern, and bohemian.
Credit: @weeleithcolony
Arches of joy
If you are lucky enough to have arches or any other curved walls in your bedroom or dressing room, then why not accentuate the beautiful lines with a vivacious shade of blue. Painting an archway in a separate colour can also help to divide a space, creating a clear boundary between two areas with different functional uses. 
Credit: @doodle_moo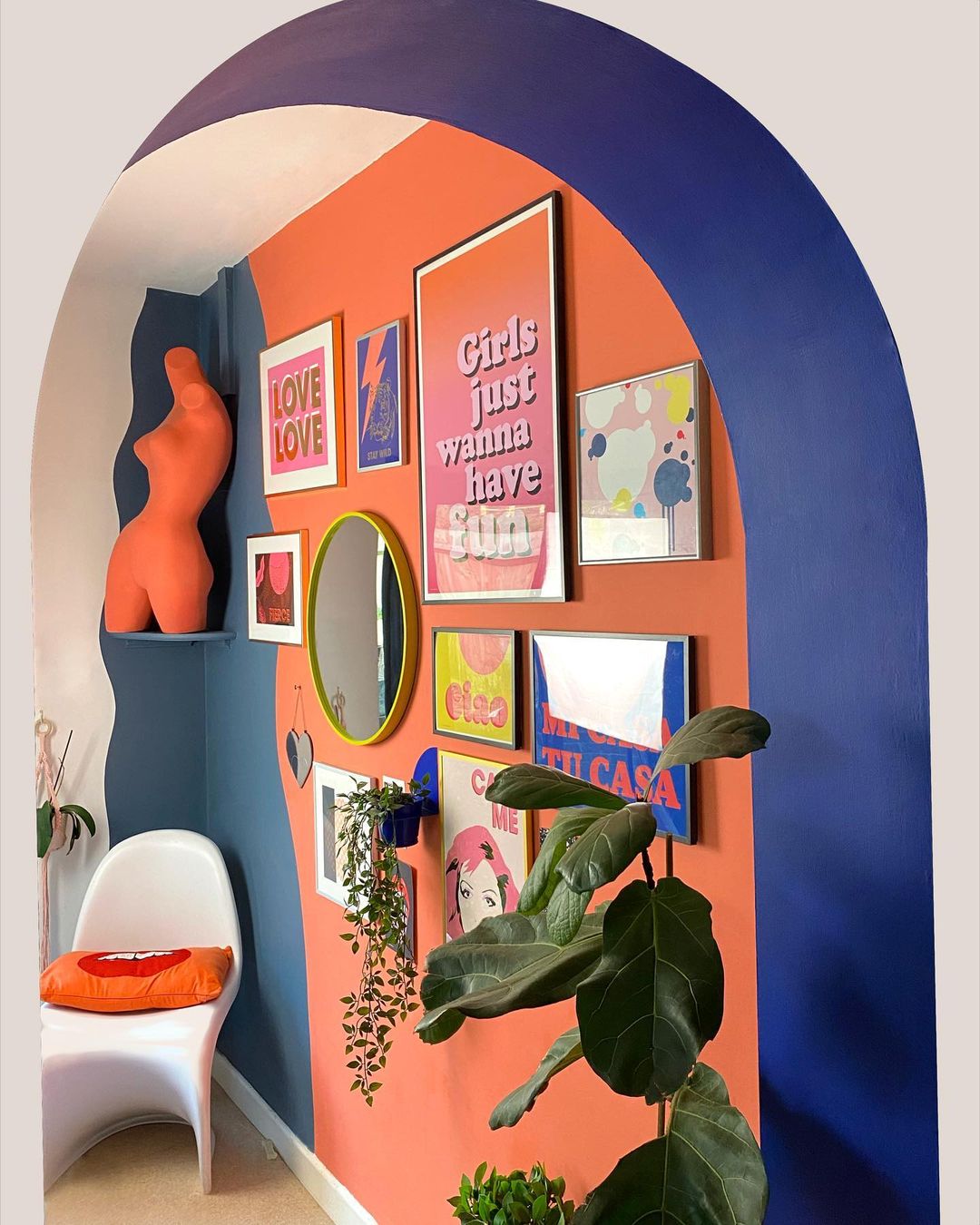 Super stencils
Stencil painting is a fun and easy way to add pattern and interest to a bedroom. Using blue paint you could paint a circle, crescent, stripe, or wave to your wall or ceiling, adding fun and creativity into your personal space.
Credit: @home.at.horseshoe.crescent 
Coastal charm
Turquoise is a blue shade which conjures up imagery of beautiful, crystal-clear waters surrounding tiny islands and coral reefs. If painting a full wall or room in turquoise seems overwhelming to you, then you can always incorporate small essences of the colour by upcycling a piece of wooden furniture to achieve just the right amount of coastal chic.
Credit: @shes.electric
Colour by art
Artwork that features shades of blue can add interest to your bedroom and tie your overall colour scheme together. You could choose a painting that incorporates blue tones or opt for a photograph that features a blue sky or ocean.
Credit: @the.tiny.colourful.terrace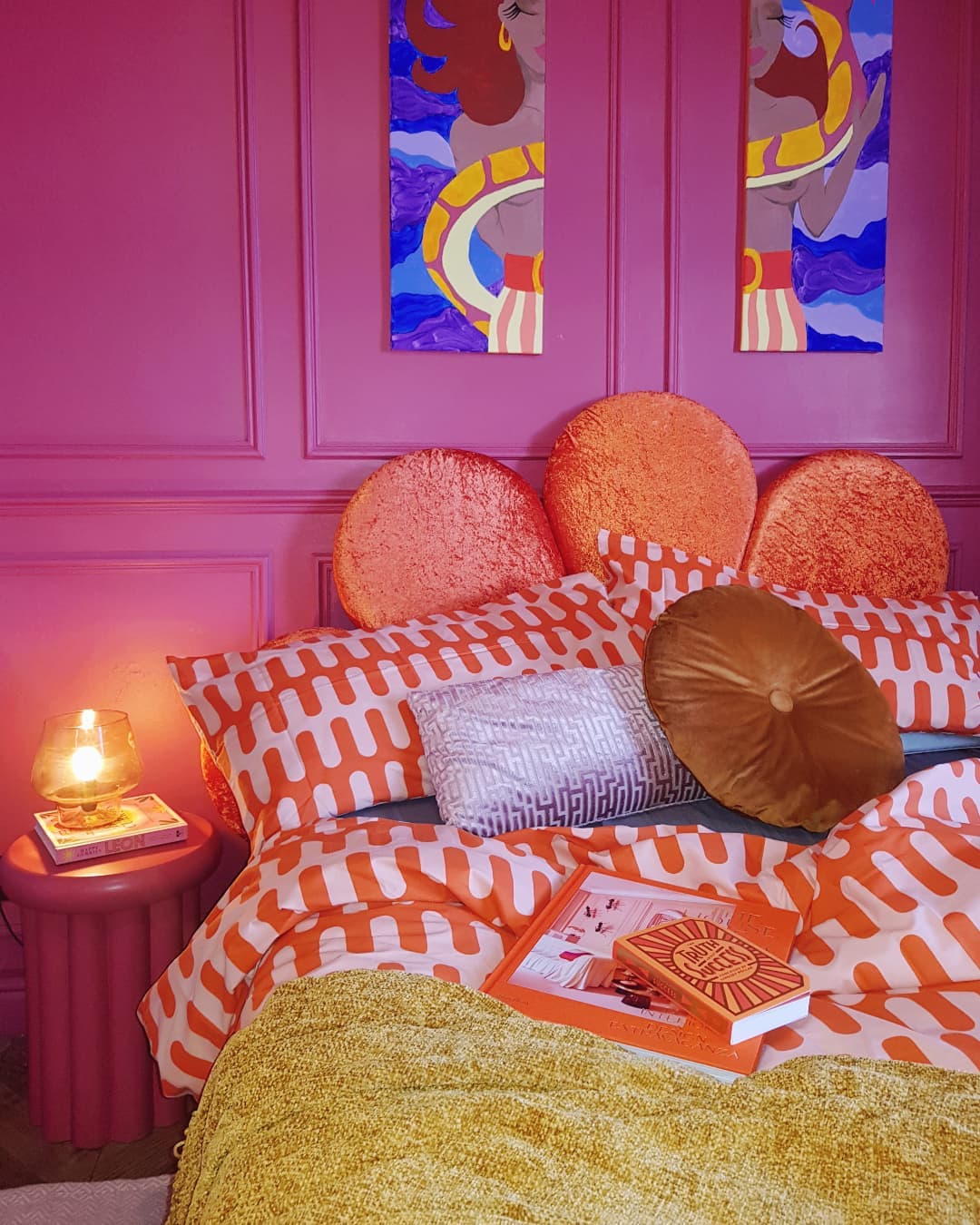 Fireplace fantastic

Feature fireplaces in a bedroom are characterful and charming. But, if you want to make yours stand out and become a focal point, then painting it blue will certainly double the charm. Why not colour match a blue from a beautiful wallpaper print to ensure your space remains consistent and super-styled?
Credit: @niceinnotts
The blue door
Your bedroom door is the point of transition from the rest of the house into your own personal zone of privacy and calm. Therefore, painting it in a peaceful shade of blue can help to make that transition all the more simple. Painting your bedroom door is a relatively simple task, providing you take all the right steps first.
credit: @mynortheastterrace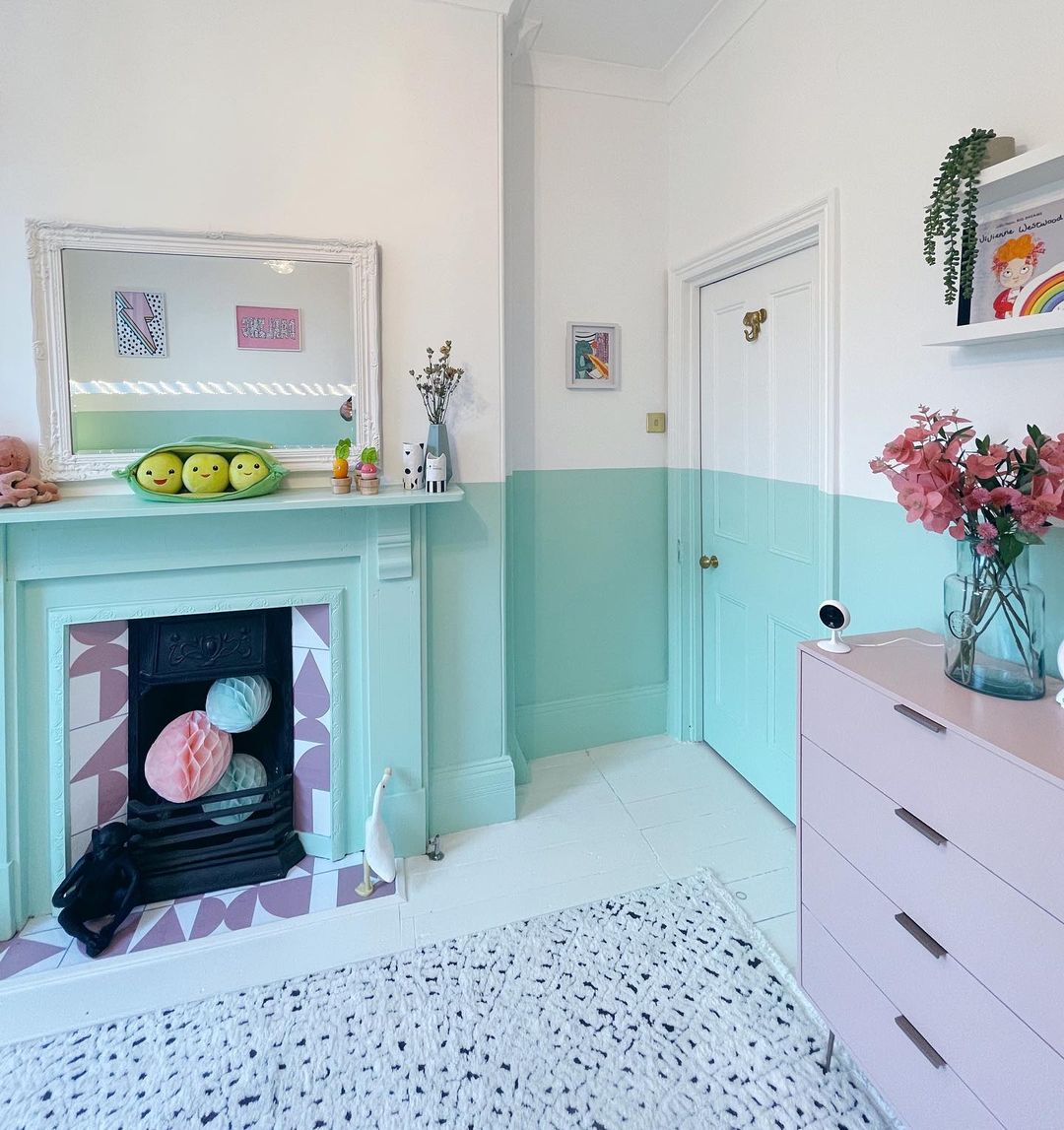 Sitting pretty
This stunning upcycled antique chair in sea blue looks totally in place against the luscious teal tones of this bedroom wall. This colour combination results in a striking Oriental-inspired feel, which is further accentuated by the traditional fans and framed butterflies hung in the background. 
Credit: @renovating_the_graham_gaff
Find your perfect shade of bedroom blue
If you feel motivated to create a blue-inspired bedroom, then take a look at our wide range of blue paint colours to discover a shade that suits you and your space.
We also have plenty more blue paint ideas for the rest of your home too!